Supreme Court Justice Anthony Kennedy Retirement Rumors Has Washington on Edge For Next Term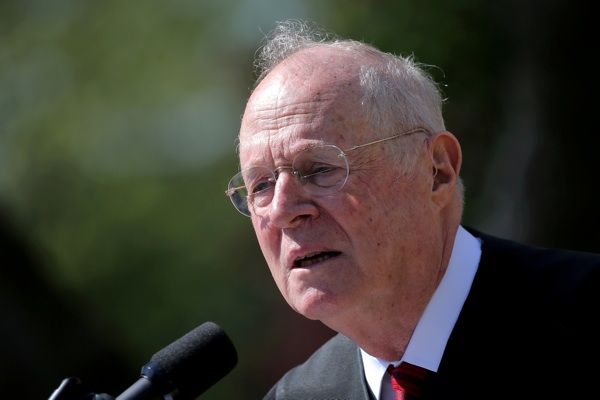 As the Supreme Court prepares to give its final opinions of its nine-month term on Monday, fear in Washington continues to grow concerning Justice Anthony Kennedy's potential retirement. The justice, who will celebrate his 81st birthday in July, has been at the epicenter of retirement rumors for months now, and sources close to Kennedy recently told CNN that he is "seriously considering" retiring, according to a Saturday report.
Although the sources were unable to reveal if Kennedy plans to step down following the conclusion of the term, which started in October 2016, CNN reported dozens of Kennedy's former clerks said they were worried their upcoming private clerk reunion would be their final chance to meet with him as a justice. Several of the clerks are already headed to Washington to attend the reunion, which takes place every year.
The justice, who was appointed to the Supreme Court by President Ronald Reagan in 1988, recently declined requests to comment on his retirement plans nor would he address questions pertaining to private meetings with President Donald Trump or members of his administration, according to a a CNN report released in May.
Despite Kennedy's refusal to comment on his potential retirement, some Republicans have already started considering who would replace the justice should he decide to give up his seat on the bench at the end of the current term. Some of Kennedy's former clerks and a number of judges from Trump's initial list of nominees are being considered to fill Kennedy's spot.
Back during his campaign, Trump issued a list of 21 prospects that he'd consider to take open spots on the Supreme Court bench, including Justice Neil Gorsuch, a former clerk under Kennedy. Along with Gorsuch, who was confirmed by the Senate in April, Trump named other potential picks including Judge Raymond M. Kethledge of the U.S. Court of Appeals for the 6th Circuit, Judge Thomas Hardiman of the 3rd Circuit, Sen. Mike Lee of Utah and Judge Amul Thapar of the United States District Court for the Eastern District of Kentucky.
Judge Brett Kavanaugh of the United States Court of Appeals for the District of Columbia and former Solicitor General Paul Clement weren't on Trump's original list of contenders, but there seems to be some speculation that they could make the cut now that Trump is in office.
Trump has previously said that he was unaware of Kennedy's retirement plans, telling the Washington Times back in May that he didn't want to discuss the rumors.
"I don't know. I have a lot of respect for Justice Kennedy, but I just don't know," Trump said. "I don't like talking about it. I've heard the same rumors that a lot of people have heard. And I have a lot of respect for that gentleman, a lot."
However, during that particular interview Trump noted that he would be considering some of his original nominees if a spot on the bench was to open up.