In the world of sports, injuries are unfortunately democratic. Whether you're a star player or a benchwarmer, you can get sent to the sidelines by a bad break. Indianapolis Colts quarterback Anthony Richardson is an unfortunate example of that reality.
After scoring a touchdown, the rookie self-reported concussion-like symptoms. He left the game and entered the NFL's concussion protocol.
The return-to-play process, however, can be something of a mystery to fans. Let's delve into the concussion protocol and see what it can tell us about Richardson's future.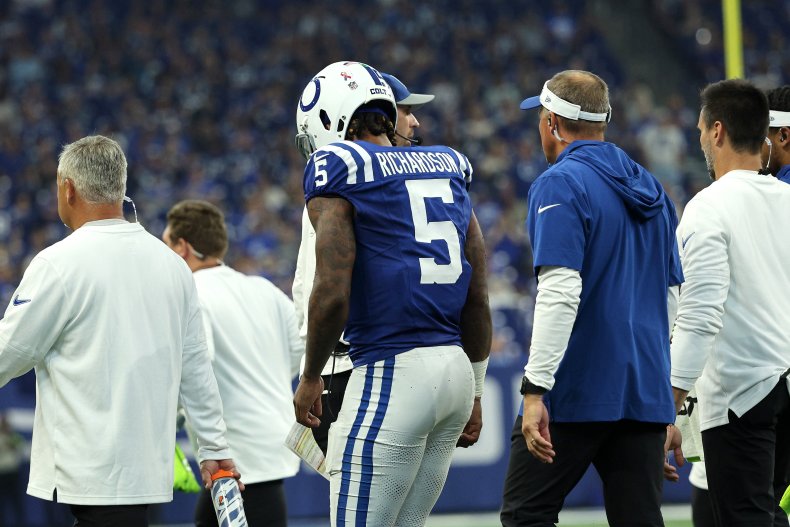 Richardson's Injury: What We Know
When it comes to head injuries, things aren't always obvious. While anyone can notice a player limping after pulling a hamstring, the effects of a concussion are nonlinear and often invisible.
Given that caveat, the chain of events around Richardson's concussion seems rather well established. The quarterback probably got hurt in the first quarter of Sunday's contest, as he absorbed a hit from Houston Texans safety M.J. Stewart en route to the end zone, according to ESPN's Stephen Holder. Richardson's head hit the turf, and, while he celebrated with his teammates and even stepped back under center, things weren't right.
He informed the trainers about his problem and left the game. Gardner Minshew stepped in and led the Colts to victory.
And while it's lost in the context of his injury and what that means from a sporting perspective, Richardson does deserve credit for realizing something was wrong and removing himself from the game. That choice goes against an athlete's competitive instincts, but it could have been a life-altering decision.
"I feel like that's the most mature thing you can do as a professional athlete, is to acknowledge, 'Hey, I'm not right right now,'" tight end Kylen Granson said. "'I'm not going to help my team win, so let's put someone in there who can help us win and I'll come back.'
"So I think that was a very mature, professional thing because the last thing you want is someone to play through something like that and then it gets worse and then you're talking about who knows what," Granson said.
How Does NFL Concussion Protocol Work?
After the game, Richardson entered concussion protocol. But what does that actually entail?
According to the league, a player has to progress through five separate stages before being cleared to return to the gridiron.
The first, Symptom Limited Activity, involves largely avoiding physical activity or other things that could aggravate symptoms. Some light work, like stretching and attending team meetings, is allowed, assuming the player is able to handle those without difficulty.
If the player's symptoms don't increase or develop into new signs of a concussion, he can advance to step two, Aerobic Exercise. This involves either a stationary bike or a treadmill. The player should return to his neurological baselines during this step and, again, go through the process without an increase in symptoms.
Step three brings Football Specific Exercise, like conditioning drills and strength training, into the mix. Assuming there aren't any complications, the next stage incorporates Club-Based Non-Contract Training Drills into the mix. The league specifically mentions throwing, catching and running as things that are allowed.
Once again, if the player doesn't have any symptoms and has returned to his neurological baseline, he can move forward to step five: Full Football Activity/Clearance. This includes clearance from both the team and the league's independent neurological consultants. If both parties agree that the player is good to go, he'll exit the concussion protocol and be available for the next game.
How Long to Clear Concussion Protocol?
While Colts fans will be hoping to see Richardson back in the lineup, concussions don't heal in a predetermined amount of time. Even the NFL's own documents note that "each player and each concussion is unique. Therefore, there is no set timeframe for return to participation or for the progression through the steps of the graduated exertion program.... Recovery time will vary from player to player."
That said, though, there's usually a general window for a player's return to play. The Indianapolis Star's Scott Horner cited some recent historical data.
"In 2022, 62 players in the AFC were listed on the injury report with a concussion according to pro-football-reference.com," he wrote. "Only 8 played that week, 35 missed one game, 14 two games and 5 three games."
Colts Have Every Reason to Play It Safe
So while it might be tempting to get Richardson back on the field, the Colts will probably want to be cautious. This is the franchise quarterback, after all, and he's only a few games into his career.
That slow and steady approach could also be aided by Indy's situation. With all due respect to the Colts, they're not supposed to win the Super Bowl this season. Richardson is a rookie under center, and Jonathan Taylor isn't physically ready to play. And while no one wants to say that some NFL games don't matter, Indianapolis' contests don't have the highest of stakes.
Given that there isn't really a difference between winning five games or six games, there's no reason not to let the young QB take his time. Head injuries could be both career- and life-changing. There's simply no need to gamble in a developmental season.
The Colts will also hope that Richardson can get better at protecting himself.
"You're always concerned," owner Jim Irsay said after Week 2's contest. "The first game, he banged up the knee, but it was OK, just a contusion. This game, banging the head. I think it's just something where he's got to protect himself. He's a big physical guy. Obviously, he can run the football, and guys do a lot of running now at that position. And so I think self-protection is an issue."
Put all of that together, and it's easy to focus on the bigger picture. Richardson needs his reps, but there's simply no point in forcing the issue. It's better to delay his growth for a couple of weeks than compromise the future by rushing things.
Uncommon Knowledge
Newsweek is committed to challenging conventional wisdom and finding connections in the search for common ground.
Newsweek is committed to challenging conventional wisdom and finding connections in the search for common ground.
About the writer
Joe Kozlowski is a Newsweek reporter based in New York City. His focus is reporting on trending sports stories. Joe joined Newsweek in 2023. He is a graduate of NYU's Gallatin School of Individualized Study. You can get in touch with Joe by emailing j.kozlowski@newsweek.com.
Languages: English.