Anthony Scaramucci's Plan for White House is Not So Crazy, Obama and Clinton Press Officials Say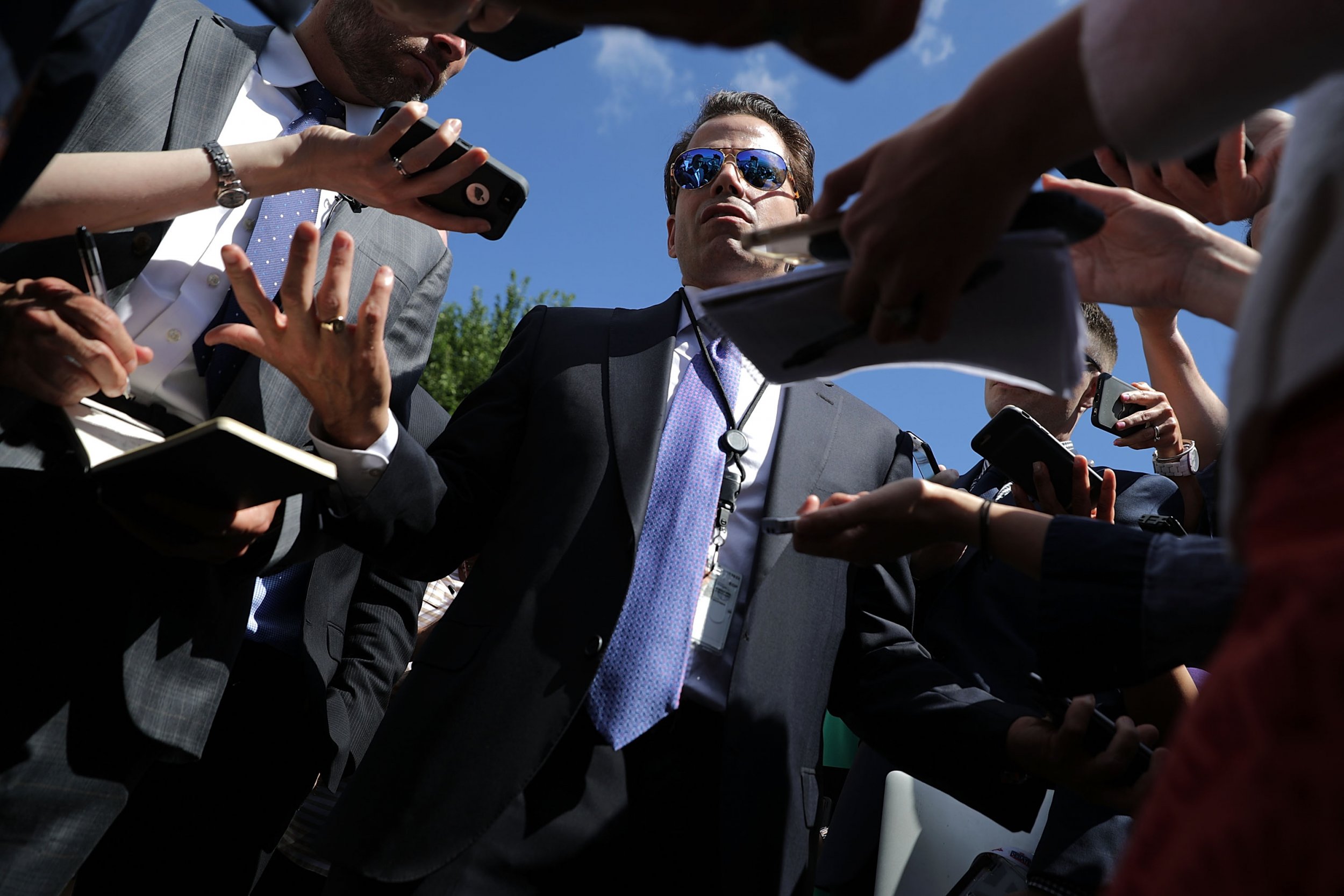 Updated | A draft of a strategy memo that surfaced on Wednesday by Anthony Scaramucci, President Donald Trump's former communications director, gives insight into how his communications shop might have run. And people who held the communications role under other politicians say the strategy isn't so crazy.
"The memo is less insane that one would have guessed," Dan Pfeiffer, a White House director of communications under President Barack Obama, says in a Twitter message. The memo references a quote by Pfeiffer. But whether Scaramucci was suggesting using a particular communications strategy or one he crafted himself, Pfeiffer adds, is "hard to say."
Related: Who is John Kelly, Trump's new chief of staff?
The Trump administration named Scaramucci communications director on July 21. On Monday, July 31, the White House said he was no longer in the position. In between, Scaramucci accused Reince Priebus, then chief of staff, of leaking information, Priebus and White House press secretary Sean Spicer resigned, Scaramucci's wife gave birth to their child (he was not present), reports surfaced that his wife had filed for divorce weeks earlier, and Scaramucci gave a bombshell interview to The New Yorker's Ryan Lizza. His ouster coincided with John Kelley's first day as Priebus's replacement as White House chief of staff.
The strategy memo first appeared Wednesday on the blog of Mike Cernovich, a conservative media personality. CNN later published the same document, which the outlet said it had received from Scaramucci.
In the memo, Scaramucci, a financier, suggested the communications office work more closely with the media. That approach aligns with what he wrote in his 2016 book, Hopping Over the Rabbit Hole: How Entrepreneurs Turn Failure into Success: "The key to an effective public relations strategy is media.... You must develop a relationship with the press.... By making yourself a resource and opening a dialogue with journalists, they're more likely to give you the benefit of the doubt or be willing to hear your side of the story."
The memo also called for the rewarding of staffers who do good work, and says that "denigrating colleagues is unacceptable." Scaramucci made a similar point in his book: "Problems arise when people surreptitiously undermine each other," he wrote. "Talking behind someone's back breeds distrust, which kills any semblance of collaboration."
Notably, "the Mooch" suggested in the memo that the White House follow the model of a customer service operation, with Trump as the No. 1 customer. That focus seems odd to some in the political communications world. "There is a big missing focus in that plan and in the entire administration—serving the American people," Jesse Ferguson, who was the deputy national press secretary and senior spokesperson for Hillary Clinton's 2016 presidential campaign, says via email. "The job of these taxpayer-funded staffers is to get information to the public—to serve our needs. Their customers aren't the president and the press, it's the public, and their job isn't to please him and placate them, it's to inform us."
Not everything in the proposed strategy seems unusual, according to Ferguson. "There are some outreach and tactics outlined in the memo which reflect what any White House would want to do—stop infighting, tell the truth and don't attack the press," he says. But Trump seems to be doing the opposite, he adds.
A White House spokesperson was not immediately available to say whether the communications office still plans to use the strategy Scaramucci suggested. A White House email newsletter on Thursday contained the subject line "Jobs are Coming Back," which is consistent with Scaramucci's proposing that the office prioritize the jobs issue. "When the media or Democrats attack POTUS, Comms should pivot to the economy," he wrote.
Speaking with Newsweek, friends of Scaramucci say they aren't surprised how things turned out, given his behavior as communications director. William D. Cohan, a friend who has written about Scaramucci for The New York Times and Vanity Fair, says Scaramucci was the victim of "a lot of self-inflicted wounds.... He was a little bit too enthusiastic, a little bit too excited, a little bit, as I say, seemingly inebriated with the proximity to the power."
"I think there's more good than bad to his persona, but part of the bad side is that he's such a showman,"says another friend, who is an informal adviser to the White House. (The person asked for anonymity in order to discuss the situation candidly.)"He became tabloid fodder and late-night-joke fodder, and that just was so unproductive at a pretty critical time too, when we were trying to sell health care to the American people, trying to twist arms on Capitol Hill."
Some friends are sticking by Scaramucci. One wrote on Facebook late on Monday about how good a father Scaramucci is and about the charity work he has done. "These are things you wouldn't know from watching CNN," wrote the friend, whose name Newsweek is withholding because the post was not public. (The friend declined to comment.) "It's a sad ending to a situation that may have been beneficial to a country that needs all the good men it can get at the moment."
"Anthony has always been a person [who] when the general consensus says you can't do it, it motivates him more than anything to do it," says another friend, who has known Scaramucci for decades and also requested anonymity so he could speak candidly. "All he wanted to do was get into the White House. And then he did get into the White House, and he had something to prove in a major way to everybody in the [finance] industry."
Scaramucci has been mostly quiet since his departure. He did not respond to requests for comment on Monday and Tuesday. As he was leaving the Trump International Hotel in Washington, D.C. on Tuesday morning, he told TMZ, "I'm working on being the best person I can be, and I want Chief of Staff Kelly to have an unbelievable opportunity inside the White House."
On Friday, he had planned to host an online broadcast, CNN reported Thursday. Bill Shine, the former Fox News co-president who on July 26 dined with Scaramucci, Trump and others, and who is said to be under consideration for the communications director role, was reportedly helping coordinate the broadcast. But Scaramucci later said in his first tweet since his departure from the White House that no press event would take place.
One possible clue about Scaramucci's future plans is evident in his 2016 book. "After admitting a misstep, don't sulk, hide or feel sorry for yourself," he wrote. "Instead, do whatever you can do to appropriately and ethically move on from the situation, and then devise a strategic action plan to turn a potential disaster into a potential new venture and prosperous opportunity."
This article has been updated to reflect that Anthony Scaramucci said he would not host a press event on August 4, despite earlier reports.