Anthony Scaramucci Mocks Himself With Trump Firing Train Cartoon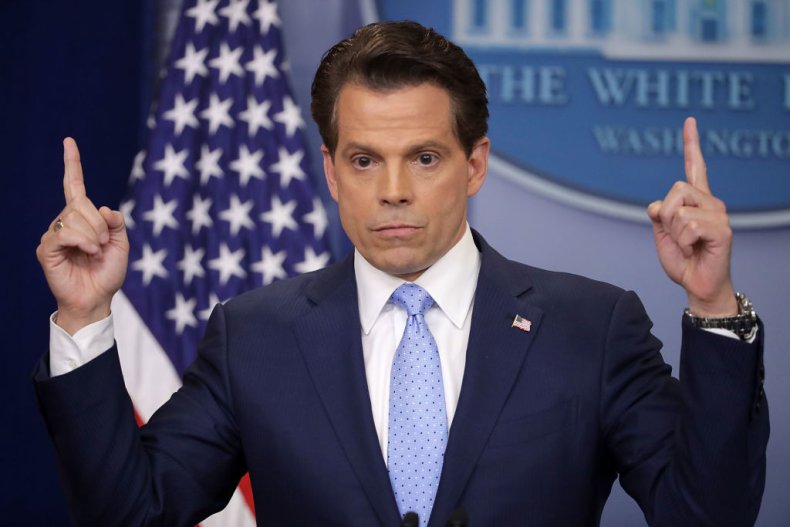 President Donald Trump has been famous for firing people ever since the first season of The Apprentice. And although getting fired is not supposed to be a good thing, some who have been on the firing end of Trump are able to look back at their departure as something of a good thing. That's what Trump's former Director of Communications Anthony Scaramucci seems to have done in a recent tweet.
Scaramucci posted a cartoon by Pulitizer Prize-winning cartoonist Steve Sack on Thursday. The cartoon depicts a parade of trucks circling the White House. A series of people can be seen in the trucks, with one saying, "Trump does love his parades..." The image of recently ousted National Security Advisor John Bolton being literally kicked out of the White House by Trump into one of the parade's trucks is seen at the center of the photo.
Scaramucci, a longtime confidant of Trump, was appointed White House Communications Director on July 21, 2017. On July 31, Trump dismissed Scaramucci from the post after a tumultuous tenure on the job, which included very public feuds with Press Secretary Sean Spicer and Chief-of-Staff Reince Priebus, in addition to a leaked phone call with a New Yorker reporter where Scaramucci called Priebus a "leaker."
Since leaving the White House, Scaramucci has turned his very short tenure with the Trump administration into a profitable position for himself. He's started a media venture called the Scaramucci Post, appeared regularly on news channels as a political commentator and appeared on Celebrity Big Brother.
Similar to Scaramucci, Bolton's firing came after a series of clashes with the president over style and policy. Trump announced Bolton's dismissal on Tuesday by tweet.
On Wednesday Trump told reporters in the Oval Office that Bolton's dismissal was because Bolton wasn't as tough as Trump on foreign policy.
"Frankly, he wanted to do things not necessarily tougher than me," Trump said, and then added later that Bolton "wasn't in line with what we were doing, and actually, in some cases, he thought it was too tough what we were doing."
On Thursday, Trump responded to a tweet from Senator Marco Rubio about Bolton's firing.
For Bolton's part, he seemed to have been surprised by the firing, tweeting on Tuesday he offered his resignation to Trump Monday night, but the president said they would talk about it in the morning.
Bolton has served every Republican president since Ronald Reagan, most famously serving as President George W. Bush's ambassador to the United Nations. He is Trump's third National Security advisor, after Michael Flynn and H.R. McMaster.