'Scaramucci Post' Yanks Twitter Poll on Holocaust Death Toll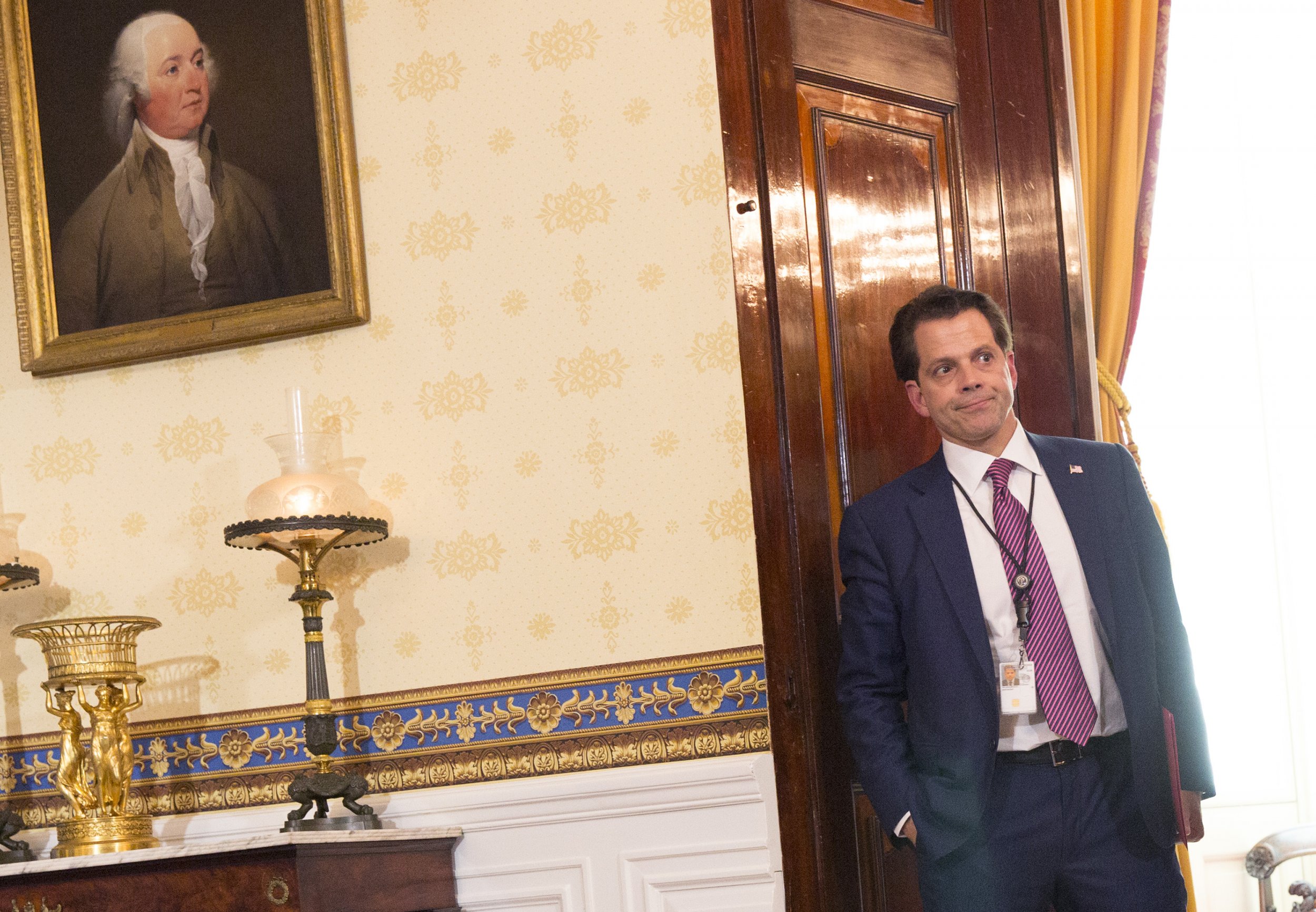 Updated | Former White House Communications Director Anthony Scaramucci used the Twitter feed of his nebulous new "media venture" to conduct a poll on how many Jews were killed in the Holocaust.
The multiple-choice question tweeted Tuesday morning by The Scaramucci Post gave four options for answers: "Less than one million," "Between 1-2 million," "Between 2-3 million" and "More than 5 million."
The quiz got many more than four scathing responses and was subsequently yanked from Twitter.
Scaramucci said Tuesday afternoon (also on Twitter) that he would not fire his partner, Lance Laifer, for posting the poll in his absence. He also promised funds to the Simon Wiesenthal Center, an organization named for a death camp survivor who pledged his life to tracking down Nazi war criminals.
"This poll was put up by @lancelaifer without consulting @Scaramucci who is traveling in London," said a follow-up tweet, which showed that more than 4,700 people had already participated in the poll.
As many as 6 million Jews perished in the Holocaust, according to estimates from the United States Holocaust Memorial Museum. Additionally, millions of Soviet prisoners of war, Polish and Serb civilians, Roma and members of the resistance died at the hands of the Nazi regime, according to the museum.
Scaramucci famously lasted just 11 days as President Donald Trump's top media strategist before flaming out after a profanity-laced phone call to a reporter.
He took to his personal Twitter feed Tuesday afternoon with a statement saying he had not been aware of the controversial poll posted by his "social media director" while he was overseas.
"I am pained imaginging that my post led anyone to believe I am giving comfort to Holocaust deniers," Scaramucci continued. "Nothing could be further from the truth."
The tough-talking former hedge funder and partner Lance Laifer recently held a kickoff for their project at a Manhattan restaurant. The event featured plenty of media representatives, but few answers were offered about what the two are actually trying to accomplish.
Laifer, whose Twitter bio describes him as "Creator/co-founder Hedge Funds vs. Malaria & Pneumonia," took the hit for the poll several times after it came down.
"The intent of the poll was to highlight ignorance of the basic facts of the Holocaust. I take full responsibility for it," said a Scaramucci Post tweet, followed by another that said, "This is @lancelaifer and I apologize if anyone was offended by the Holocaust poll."
The Anti-Defamation League (ADL) was among many demanding that The Scaramucci Post take down the poll. It did so on Twitter after soliciting "thoughts" on an Anne Frank Halloween costume.
"This question is beyond resolved @scaramuccipost. Take it down," tweeted the ADL, which calls out incidents of anti-Semitism.
ADL CEO Jonathan Greenblatt later said in a statement that removing the survey was the right move: "The Twitter poll was clearly insensitive and could play into the hands of Holocaust deniers."
Several users said they'd reported the poll to Twitter as inappropriate.
Others suggested that, thanks to the poll, The Scaramucci Post—whatever it is or was—could end up having about the same lifespan as Scaramucci's White House career.
Twitter user Jeremy Newberger responded to the morning survey by asking Scaramucci, "How did we get from "Who will be our 28th follower?" to "Holocaust math games?"
The Scaramucci Post, which apparently continues to exist only on social media platforms such as Twitter and Instagram, has to date offered a disjointed array of tweets featuring random polls, rows of emojis and links to other outlets' stories about Scaramucci.
Neither Scaramucci nor Laifer immediately responded to a Newsweek request for comment, but Scaramucci tweeted that he wasn't ending his business relationship with Laifer over the incident.
This article has been updated to include a quote from ADL CEO Jonathan Greenblatt as well as tweets from Anthony Scaramucci addressing the Holocaust-related poll.