Anthony Scaramucci on His New Media Project: 'I Think Who Reads It Is People That Find It'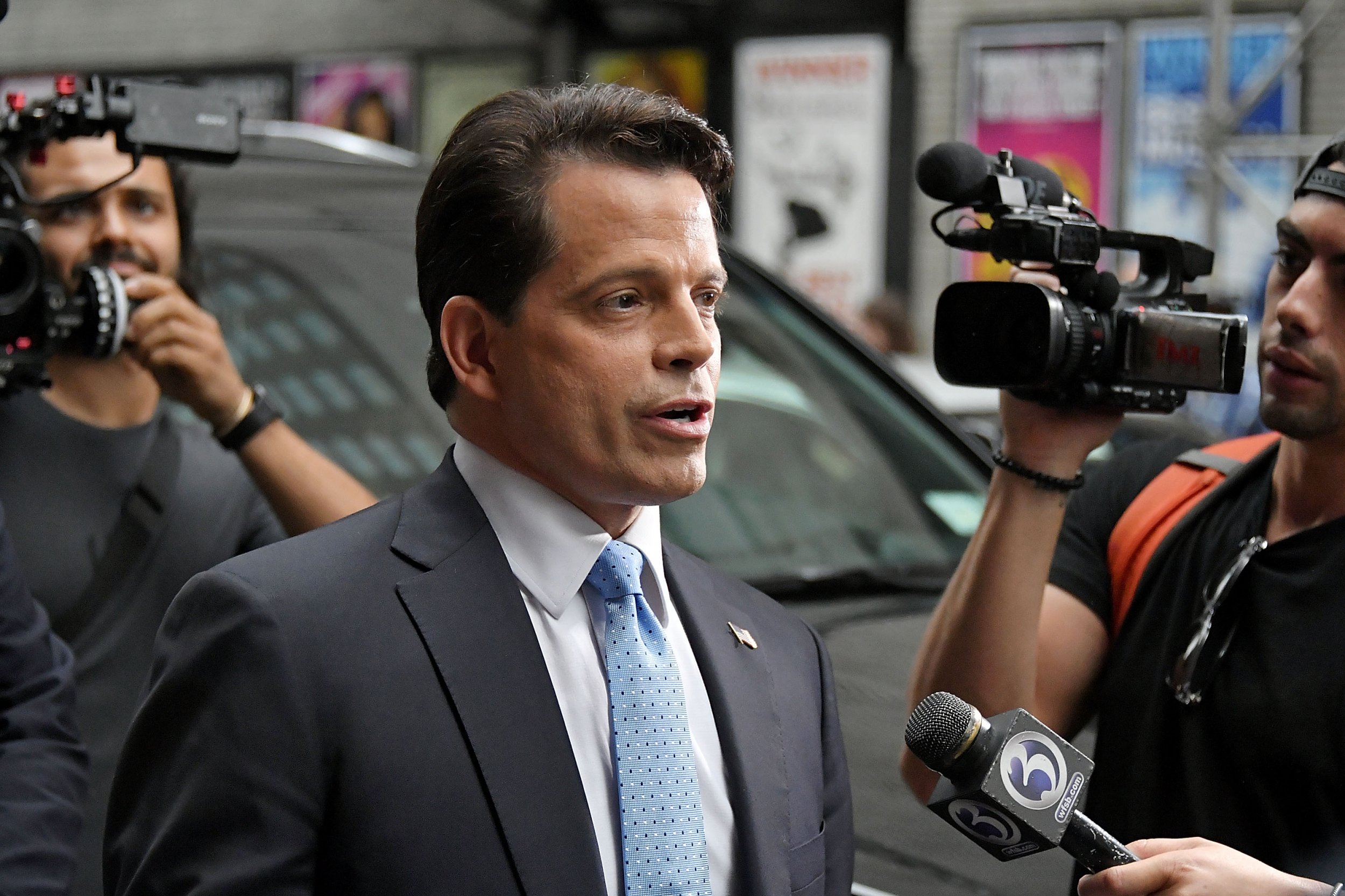 Former White House Communications Director Anthony Scaramucci, his signature power suit enhanced with an arm sling, faced the crush of reporters he'd drawn to the Hunt & Fish Club Monday night for the debut of his new media venture, the Scaramucci Post.
The question: Just what is the Scaramucci Post?
The answer: Hell if "the Mooch" knows—or at least feels like pinning it down. But he did score plenty of press coverage for a launch event at the Midtown Manhattan restaurant he co-founded.
The former hedge funder who put his firm up for sale to work for President Donald Trump—a job that lasted all of 11 days after he went on a crude phone rant to a magazine writer—said his plan is to foster the middle-of-the-road political unity he says the country craves....
So how much has he invested in it so far? Nothing.
Where does it live? Social media platforms like Twitter, Instagram and Periscope, for now.
Who's the audience? "Well, I think who reads it is people that find it," Scaramucci says. "Who reads it are people that I think are interested in...I think, I think the millennials—you have to remember I'm raising millennials, right? I think they would look at it and say, 'OK, the baby-boomer class of politicians have actually failed the country'.... They're very dissatisfied with what's going on in the system."
But wait, go back: What's that audience actually going to get? "There are components of this that are think tank in their orientation," Scaramucci explains. "There are components of this that are direct plain-vanilla news that is frankly unfiltered, you know, kind of cold-brew news, if you will, and then there will be parts of this that will be policy related."
And how will they get it, again? "It's going to start out in the video format," Scaramucci says. "It's going to start out experiential on the net. You'll find that if you don't have a website, guess what? You don't have any service charges related to your website."
So when will people actually see some content? "We're going to roll it out in a gradual way. We're testing a lot of different things," says Scaramucci. Some of the polls that we put out [on Twitter] are actually tests on what people like, what they think about, what drives their decision-making."
OK, so what did the Scaramucci Post polls conclude? "What did we find out from the polls, Lance?" the Mooch asked, turning to his partner on the project (and the evening's Periscope cameraman, Lance Laifer). "I mean, I think one of the main things that we found out is that people really care about each other," Laifer said.
If Scaramucci came across with few concrete answers, he did take a lot of questions, both from Periscope viewers ("What's with the sling?" "One of my kids playing basketball landed on me, broke my collarbone and dislocated my shoulder") and from the quizzical press: ("What about those tweets you deleted?" "I'm not in love with the tone in terms of the way you're asking the question…. You're trying to play gotcha with a guy like me, and it's not going to really 100% work.")
After perhaps an hour of back-and-forth that had him expounding on everything from the dangers of fake news to his political future (he didn't announce a run) to the finer points of the 1916 Sykes–Picot Agreement—that is, pretty much everything except what the heck the Scaramucci Post is about—the Mooch was ready to wrap it up.
"I spent a lot of money on the food," he told the press, "so I need you guys to eat."
Scaramucci, smiling, baffled his questioners. Meanwhile, guests filtered in and out. They ranged from Laurance "Laurie" Gay, a former business partner of Paul Manafort who went on to create a multimillion-dollar pro-Trump superPAC during last year's election; to Stu Loeser, the former longtime spokesman for former New York Mayor Mike Bloomberg; to Dr. Nicole Saphier, a radiologist and Fox News commentator.
Others quietly sat at scattered tables, sampling the offerings from the buffet: sliced hanger steak, "burnt lemon chicken," penne mushroom ragu, tater tots, crispy brussel sprouts with bacon (plus bacon sauce on the side) and the "HFC Signature New York" salad with chickpeas and soppressata.
Before taking off in a black SUV, Scaramucci posed for photos and told a reporter for The Hill, "We have absolutely no idea what the Scaramucci Post is, and neither do you."
That last part, certainly, isn't fake news.