Anthony Warner ID'd as Nashville Bomber, Died in the Blast, Officials Say
Authorities have identified Anthony Quinn Warner as the Nashville bomber from Christmas morning and said he died in the explosion that injured three people.
"Anthony Warner is the bomber, he was present when the bomb went off and he perished in the bombing," said U.S. Attorney Donald Cochran at a press briefing Sunday afternoon.
According to WKRN, DNA of human remains from the blast scene matched with Warner's.
The explosion happened in a downtown area of Nashville where there were several shops and restaurants, and law enforcement officials sifted through dozens of hours from local surveillance cameras.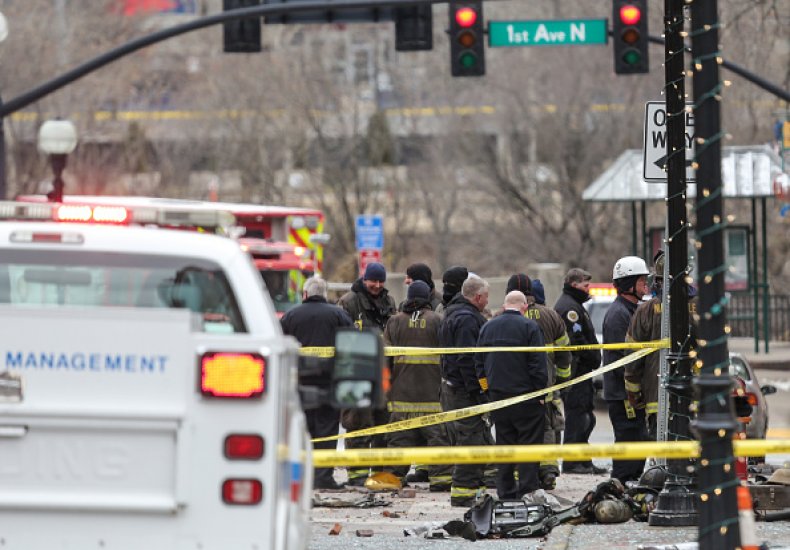 The explosion emanated from an RV, and officials stated that no "suspicious" person was ever seen leaving the vehicle that exploded.
Law enforcement officers first responded to shots being fired around 5:30 a.m. on 2nd Avenue on Christmas Day. Meanwhile, the camper van broadcast messages that warned people to leave the area.
The Metropolitan Nashville Police Department (MNPD) was en route to the scene when the RV exploded outside of an AT&T transmission building. Six MNPD officers helped evacuate the area, and they were later praised for their efforts.
The blast not only caused extensive damage to businesses in the nearby downtown area, it affected cell phone coverage and disrupted hospital and police service systems throughout Tennessee and parts of Alabama and Kentucky.
Authorities on Saturday visited the home of Warner, 63, in nearby Antioch, Tennessee.
No motive is known at the time, but authorities are looking into a possible link to Warner's father's former employment with BellSouth, which merged into AT&T in 2006.
"The fact that the father worked in the same company is definitely a lead investigators would pursue," an official, who wished to remain anonymous, told Newsweek.
"In an investigation of this magnitude it would be logical to see if there is a nexus between adverse employment action of the father, and the location of where the bombing took place."
There is speculation about Warner's possible ties to conspiracy theories concerning 5G technology, as previously reported.
"We're looking at every possible motive that could be involved," said Douglas Korneski, special agent in charge of the FBI's Memphis field office. "It's just going to take us some time. Our investigative team is turning over every stone."
This is a developing story. More details will come as they are released.