Anthony Weiner Should Go to Prison for Two Years in Teen Sexting Case, Prosecutors Say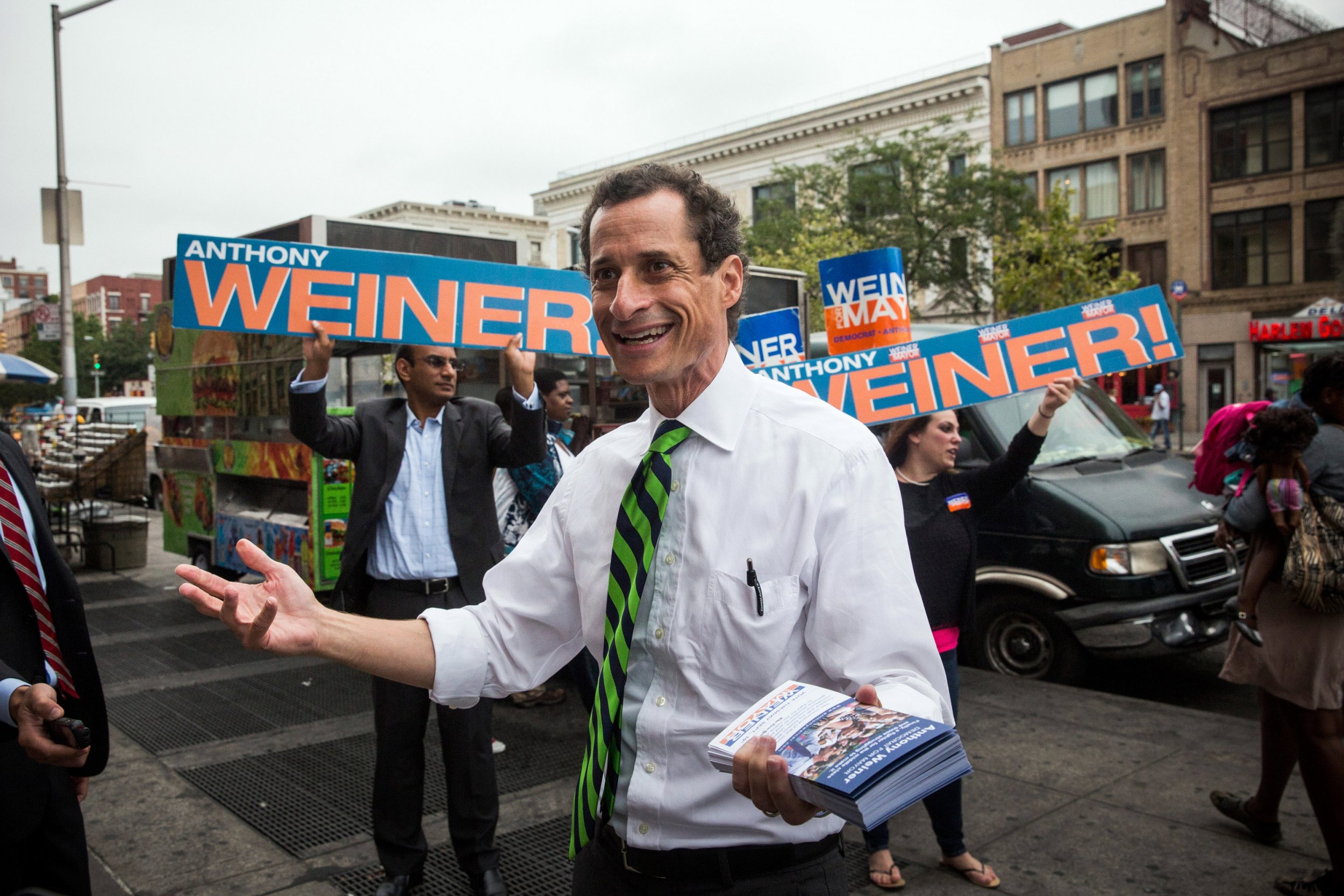 Prosecutors want to put ex-congressman and serial sexter Anthony Weiner in prison for two years for his online relationship with a 15-year-old girl.
In a court filing Wednesday, federal prosecutors recommended that the disgraced politician serve between 21 and 27 months for sending obscene material to a minor last year.
Calling Weiner's downfall from U.S. representative and New York City mayoral candidate to criminal "indisputably sad," lawyers for the government argued that Weiner needed to go to prison because of the nature and seriousness of his crime: sending lewd messages to a high school sophomore.
"This is not merely a 'sexting' case," the prosecutors said in court papers. "The defendant did far more than exchange typed words on a lifeless cellphone screen with a faceless stranger."
The filing came almost exactly a year after the Daily Mail broke the news that Weiner, 53, had been flirting online with the teen — the latest in a series of online sexual transgressions that cost Weiner his seat in Congress, damaged him during a subsequent mayoral run and even undermined his marriage to Hillary Clinton aide Huma Abedin.
In the current case, the girl came forward with shirtless photos of Weiner and messages from him bragging about how he would "bust that tight pussy so hard and so often."
Weiner apologized and ultimately admitted to the tryst in May.
Prosecutors admitted Weiner never tried to meet the girl in person—and didn't have child pornography on any of his devices—but maintained he needed jail time in order to deter himself and others.
As "a grown man, a father and a former lawmaker," he knew what he was doing and therefore deserves "a meaningful sentence."
Weiner, who is in the middle of a divorce from Abedin, is set to be sentenced Monday in the case. He's facing a maximum of 10 years.
Weiner's troubles bean in 2011, after he inadvertedly tweeted a photo of his crotch that he apparently intended as a private message to a college student. He initially said his Twitter account had been hacked but later admitted to having "inappropriate communication" with multiple women.
Two years later, amid a race for New York City mayor that he was leading, Weiner admitted to sexting under the alias "Carlos Danger" after one of his conversations with a woman leaked online.
And last year, before the Daily Mail report, the New York Post claimed Weiner shared a picture of himself in bed with his young son in another indecent exchange.
The scandals got even messier after law enforcement officials investigating Weiner seized a laptop he shared with Abedin—who would send him sensitive government messages to print. The FBI under then-director James Comey, already looking into Clinton's use of a private email server while secretary of state, reviewed the emails. It ultimately found 12 chains containing info that was later classified.
Clinton, of course, lost the election, President Donald Trump fired Comey, and Weiner went to rehab for sex addiction.