Anthony Weiner's Wife Huma Abedin is Dressed for Distres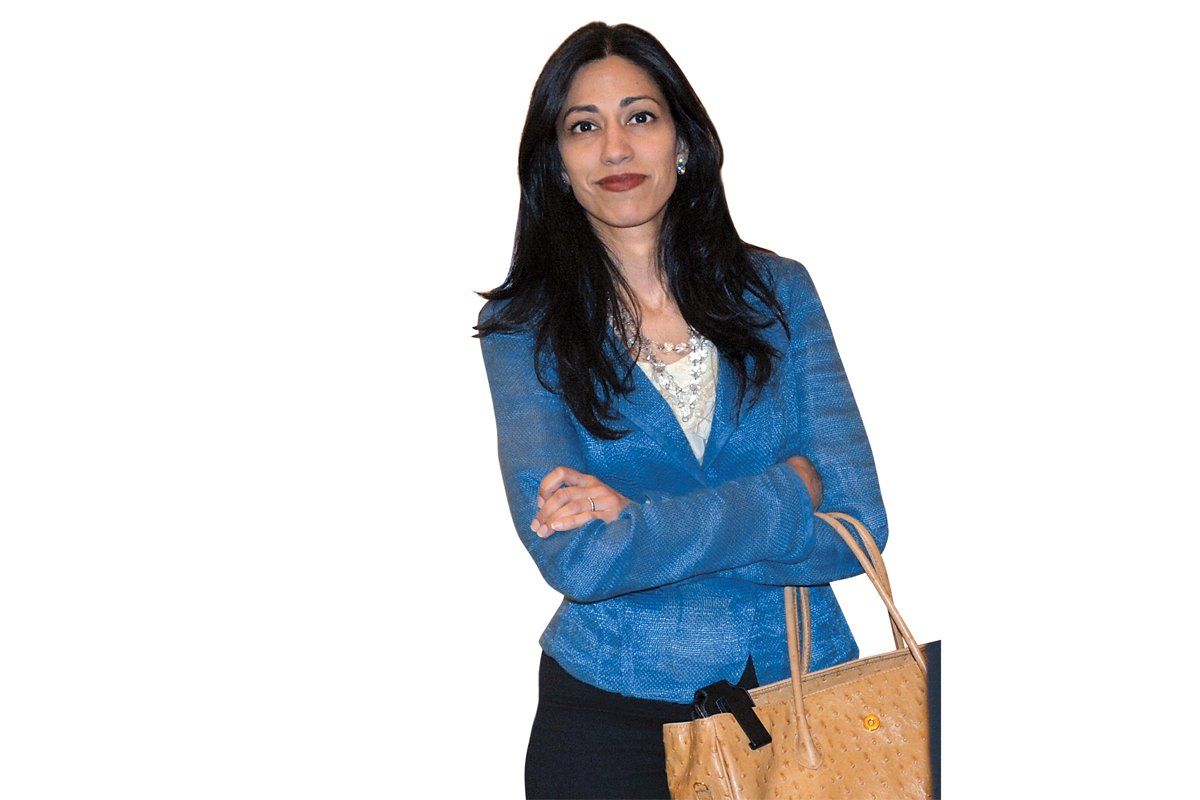 As the tawdry Twitter saga of Anthony Weiner rolls past pathology to resignation, the prying public—goaded by the media—has been desperate to see the wife. Just how angry, humiliated, and/or sad is Huma Abedin? No one really expects her to confide in a bunch of strangers—at least not now. History, however, shows that in the end, confession and catharsis always come. Following a well-edited statement, expect the lengthy profile, lucrative book contract, or hourlong televised bacchanal. But no matter when the aggrieved political spouse talks, it's not the words that people parse for meaning. It's the clothes.
The packaging puts a fine point on the rehearsed lines, the square-jawed declaration about moving on, and the useless plea for privacy. Clothes serve as armor, and in these circumstances their protective powers are put to the greatest test.
The political wife defines herself within a uniquely confining space. Her marriage is essential to campaign strategy. Even if family values aren't part of the politician's stump speech, they remain part of politics. She might be wise and accomplished, but keeping up appearances still lands on her to-do list.
Vogue is a favorite pit stop for many an injured partner. Fashion's big book offers a sympathetic ear. And the wife is certain to look glorious. Secretary of State Hillary Clinton—Abedin's boss— appeared on Vogue's cover in the wake of the Monica Lewinsky scandal, exuding a regal demeanor in a crimson Oscar de la Renta gown. And after South Carolina's former governor Mark Sanford came clean about his soul-mate-of-a-mistress, his spouse, Jenny, was photographed looking effortlessly elegant in a white tunic and sandals.
These women showed no hint of a postscandal crisis of confidence: no excessive Botox, budget-busting jewels, or confrontational stilettos. These weren't "Screw you, buddy!" photographs. Because isn't trussed-up anger just as sad a sight as dowdy victimhood?
Still, dressing through a drip-drip-drip debacle that's done unto you is tricky business. The fashion industry has yet to invent the ideal attire for that lose-lose position: on stage with a spouse delivering a mea culpa. Remember Wendy Vitter standing next to her husband, Louisiana Sen. David Vitter, as he copped to his association with the "D.C. Madam"? Wendy wore a body-conscious, leopard-print dress that under other circumstances would have been perceived as tastefully sexy. But it was no match for her expression of wide-eyed desperation and her plaintive disregard for her own public standing.
Silda Spitzer, married to former New York attorney general–turned–Client No. 9 Eliot Spitzer, wore a vaguely patriotic neckerchief when he resigned—as if she were holding her emotions together for the sake of the Union. Dina McGreevey, wife of former New Jersey governor James "I'm a gay American" McGreevey, looked very much the neutered political sidekick in a boxy blue suit with pearls.
No cloaks of confidence. No power suits. Instead, clothes rendered these women irrelevant. That's worse than being betrayed.
Fashion, used wisely, is a declaration of relevance. When Abedin posed for Vogue in 2007, she established herself as a Washington power personality. Last year, she made a return appearance in her wedding gown: a succinct pronouncement that her social currency had only risen in value.
Abedin's actions suggest she understands the power of appearance, how it tells a story and leaves an impression that lasts longer than a press statement. And so there she was in Abu Dhabi this month, wearing a jacket in a flattering corn-silk blue, slim black trousers, and a fuchsia sliver of a belt. (Neons are big for spring, you know.) Later, in Tanzania she wore a simple puce tunic and lustrous jade-colored beads. She's not hiding in plain sight. She's not using fashion as a sledgehammer to pummel a louse. Instead, back home now, she looks like herself. She exudes control and calm. And most important, she looks relevant.