Anti-Abortion Democrats in Congress Should Face 'Strong Primary Challenges,' Progressive Leader Says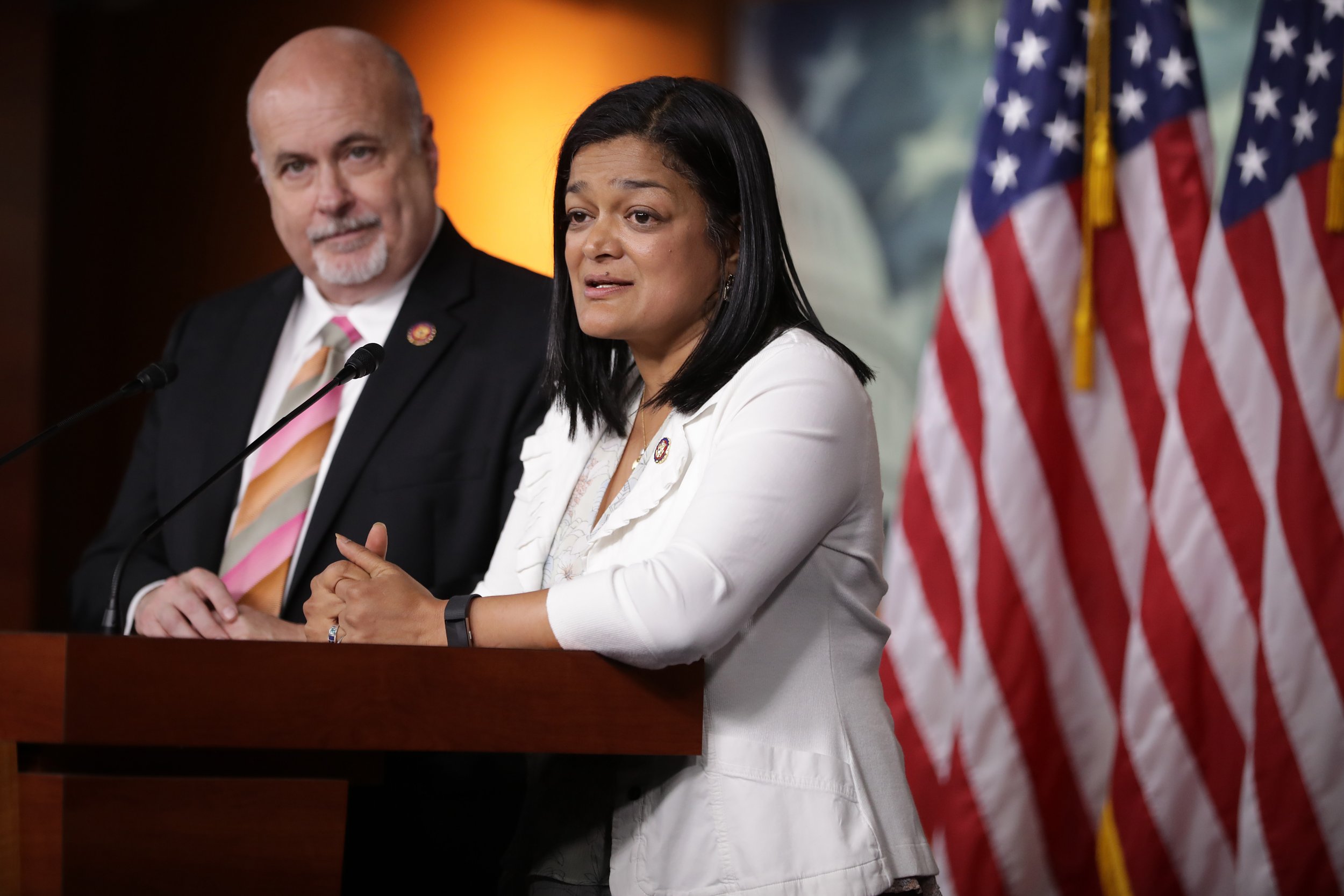 Amid the national outcry that erupted this week from Alabama passing a near-total ban on abortions that prohibits the medical procedure unless the woman's life is at risk—even in the case of rape and incest—a top progressive in Congress said her anti-abortion colleagues should know their seats could be on the chopping block.
Representative Pramila Jayapal, a Democrat from the state of Washington who co-chairs the House Congressional Progressive Caucus, described Alabama's new law as "horrendous" and an "unconstitutional ban." The new abortion law, the most restrictive in the country, includes a potential penalty of 99 years in prison for any doctor who performs one—a longer sentence than a convicted rapist would receive.
Jayapal issued a warning Friday to any Democratic colleagues who were not pro-abortion rights, saying they could see money and support disappear and instead pour into the campaigns of their primary challengers in the 2020 election cycle.
"I think we should allow for strong primary challenges, so that people can really put their Democratic chops on the line, if you will, and let the Democratic voters decide who they want," she told a small group of reporters.
A member of leadership who holds a position of influence within the progressive wing of the Democratic Party, Jayapal could prove to be more than just a thorn in the side of those who do not agree with her and most Democrats' stance on abortions. She could pose a significant threat to certain members' re-election bids.
Although a dying breed in a party that has shifted further to the ideological left in recent elections, anti-abortion Democrats do still exist in Congress. They include Representatives Dan Lipinski of Illinois, Collin Peterson of Minnesota and Henry Cuellar of Texas. In the Senate, Democrats Joe Manchin of West Virginia and Bob Casey of Pennsylvania are included in their ranks.
None of the five lawmakers' press offices immediately responded to Newsweek's request for comment.
Jayapal went a step further than to say anti-abortion members of the party should face a challenger with pro-abortion rights views. She also suggested that the Democratic Congressional Campaign Committee (DCCC), an entity with the sole purpose of helping House Democrats win elections and stay in office, should no longer financially support these anti-abortion Democrats.
"I understand that the DCCC is funded by—we are a membership organization—it's funded by our members. And I understand that the DCCC is often going to try to protect the incumbent," Jayapal said. "But I do think we have to look at all of these issues and think about what it means to be a Democrat."
The DCCC could not be reached by Newsweek for immediate comment.
Jayapal is a fierce opponent of new policies recently enacted by the DCCC aimed at protecting incumbents over primary challengers. The political committee will no longer work with polling or consulting firms that associate with Democratic primary challengers, a policy that Jayapal has blasted as not being "inclusive of all its members' perspectives" and said made her "extremely disappointed."
The progressive party leader called into question whether someone could be a Democrat in today's party if they are anti-abortion, a position typically held by Republicans.
"Personally, I do think that there should be a set of core Democratic ideals that we all agree to," she elaborated. "You can't say you're a Democrat if you're against immigrants, if you're against abortion, if you're against gay marriage and LGBTQ rights. I'm not sure what it means to be a Democrat if all of those things are true."