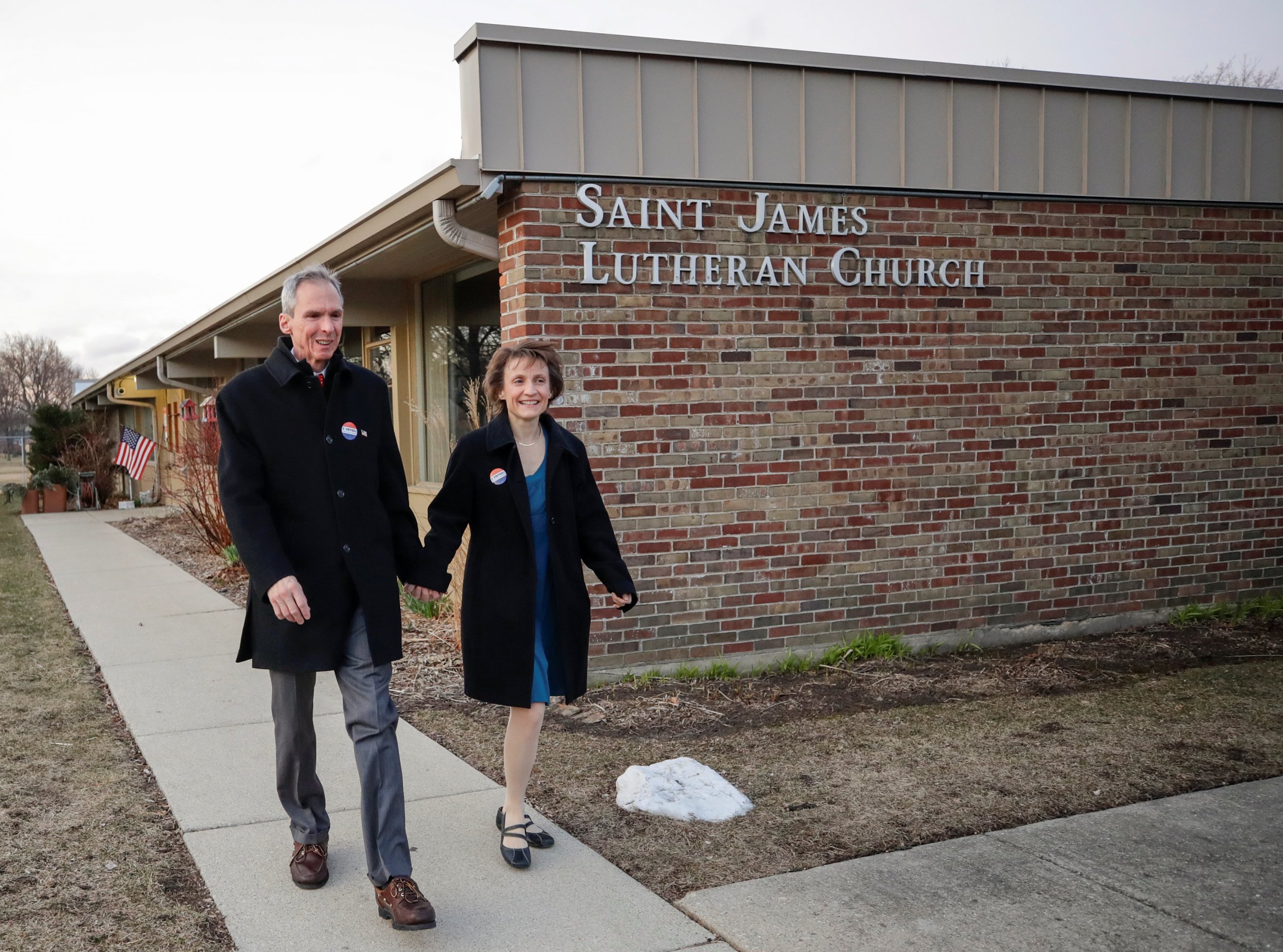 Activists from the anti-abortion group Susan B. Anthony List helped push endangered pro-life Democratic incumbent Dan Lipinski over the finish line on Tuesday night, giving him a slim victory over his challenger, newcomer Marie Newman. Now, the group is focusing on its next big task: Taking down pro-life Democrats with similar records to Lipinski's own.
One of the group's prime targets for the midterms is Indiana Democrat Joe Donnelly, a senator with a conflicted but largely pro-life record on abortion compared to other members of his party. Most recently, Donnelly was one of just three Democrats to vote with Republicans in favor of a federal 20-week abortion ban. SBA List even once tried to recruit Donnelly to lead bipartisan efforts to pass anti-abortion legislation, but his about-face on certain issues has changed pro-life activists' mind about how useful he could be to them.
In their eyes, he's no Lipinski, who serves as the co-chair of the Congressional Pro-Life Caucus and boasts a 75 percent National Right to Life Committee rating to Donnelly's 40 percent.
"We want pro-life leaders who are going to vote pro-life 100 percent of the time," Mallory Quigley, SBA List's communications director, told Newsweek Wednesday. "It doesn't take huge political courage to vote for a ban on late-term abortion when you're from one of the most pro-life states in the nation."
"Senator Donnelly is pro-life and has consistently supported legislation to prohibit taxpayer dollars from being used to fund abortions," Donnelly's office told a local paper in response to SBA protests in his home state.
The group will also go after some other more conservative Democratic senators on abortion, like Missouri Senator Claire McCaskill and North Dakota Senator Heidi Heitkamp. Both are Democrats in red states who have spoken out in favor of some abortion restrictions or voted for anti-choice legislation during their time in office. Heitkamp came out against late-term abortions during her 2012 Senate campaign, but later voted to filibuster a bill that would have made them illegal. McCaskill, meanwhile, has said she'd support a ban on "partial-birth abortion," a common second trimester procedure known as dilation and evacuation, but has drawn ire from SBA List for voting against a 20-week ban.
Like Donnelly, McCaskill and Heitkamp are in uniquely vulnerable positions. Their seats are among those most likely to flip this year, and the states they represent all overwhelmingly went to President Donald Trump in 2016. But Quigley said SBA List's activists aren't going after these Democrats just because they're easy targets—they're going after them because of their resumes, and it could cost them a seat they're already well-poised to lose.
"We're being consistent and holding everyone—regardless of party—to the same standard," she said.
Their waffling isn't going to cut it with pro-life purists, and it's not going to pass muster with most Democats either, who have been increasingly looking for their party to agree on its abortion rights platform. Despite having perfect ratings from Planned Parenthood, both McCaskill and Heitkamp have been excluded from the organization's $20 million spending push for the 2018 elections.
"Although there aren't many members of Congress with Lipinski's record left to challenge, it's unclear how liberal one needs to be to avoid a challenge," Harry Enten, senior writer and analyst for CNN, wrote Wednesday. "That's especially the case with abortion, where being against abortion rights seems like a nonstarter in the Democratic Party."
Lipinski may have eked out a victory Tuesday night, but staunch pro-lifers are becoming a dying breed in his party. The Illinois congressman is just one of three Democrats in the House who identify as pro-life, a number that has fallen substantially in just over a decade; in 2007, there were 32 pro-life Democrats in the House, according to NBC national political correspondent Steve Kornacki. Now it's down to Texas Representative Henry Cuellar, Minnesota Representative Collin Peterson and Lipinski. (Peterson, Quigley said, has a "good record" on pro-life issues, while Cueller's is "much more mixed." SBA List, however, has no current plans to target either.)
With no significant backing from pro-choice groups and an SBA List target on his back, Donnelly could be the next pro-life Democrat to go.
"Donnelly comes from Indiana, one of the most pro life states in the nation. I was just there on Monday talking to voters," Quigley said. "They want someone representing them in Washington who is going to be as strong in their pro-life stance as they are in their state."