Anti-Abortion Groups Take On IVF, Fertility Clinics Over Unused Embryos: 'They Are Still Alive'
Local anti-abortion groups in Illinois are taking on fertility clinics and other medical facilities over discarded or donated embryos left over from the process of in vitro fertilization (IVF).
According to a report from The Chicago Tribune, abortion opponents gathered outside a fertility clinic in Naperville in late September to fight for the future of the frozen embryos that are not used in IVF. The protest was part of the city's annual "Bike for Life" fundraiser.
One of the organizers of the event, John Zabinski, told the newspaper: "When you do IVF, you create a life, but how many lives does it take? When you get this life, what happens to the other babies?"
In the wake of a flurry of conservative state laws aimed at restricting access to abortion, Illinois lawmakers signed the Reproductive Health Act in June. The act specifically states that a "fertilized egg, embryo or fetus does not have independent rights."
IVF is one of the most common and effective kinds of assisted reproductive technology. The procedure entails removing eggs from a woman's body and mixing them with sperm to create embryos. One or more embryos are then put back into the woman's body in an attempt to cause a pregnancy.
Many of the embryos used in the IVF process are frozen, as couples trying to conceive choose to transfer only the most viable ones at a time to avoid multiple births. The excess fertilized embryos that are unused can be stored indefinitely, destroyed or donated for scientific research.
While many anti-abortion groups choose not to protest IVF and other assisted reproductive technologies, some organizations are increasingly tacking the matter as part of reproductive rights debate.
Students for Life of America, a nonprofit whose goal is to mobilize younger generations to abolish abortion, recently issued a statement on the issue of IVF. In July, the group claimed that the medical procedure, while "life-changing for many families," wasn't "perfect."
"A consistent, intellectually-honest stance holds that human life begins at conception/fertilization, which means that destroying embryos is killing human beings at our very earliest phase," the group asserted.
The Personhood Alliance, a group of Christian pro-life organizations who will soon be launching an affiliate branch in Illinois, is also a defender of embryo rights under "equal protection of all human beings."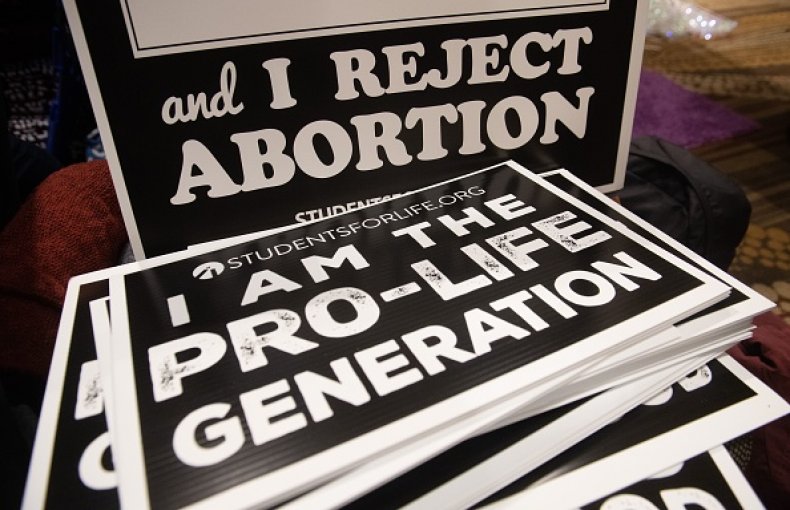 2019 has been a year of sweeping reproductive rights change as several states passed legislation taking aim at Roe v. Wade and legal access to abortion.
Nearly a dozen states approved laws restricting abortion access this year, including Alabama, Arkansas, Georgia, Indiana, Kentucky, Louisiana, Mississippi, Missouri, North Dakota, Ohio and Utah. Many of these laws are currently being challenged in court.
But even some of the most restrictive laws have made exceptions for IVF treatments. Alabama's law, which all but bans abortion in the state and makes it a felony for doctors to terminate pregnancies even in cases of rape or incest, made a special case for the reproductive technology.
"The egg in the lab doesn't apply. It's not in a woman. She's not pregnant," said Alabama State Senator Clyde Chambliss, a sponsor of the anti-abortion legislation.
Eric Johnston, the founder and president of Alabama's Pro-Life Coalition, also defended IVF procedures and said the state's new law would "absolutely not" affect access to the procedure.