Anti-Abortion Rights Campaign Concedes Defeat in Irish Referendum After Polls Indicate 'Yes' Landslide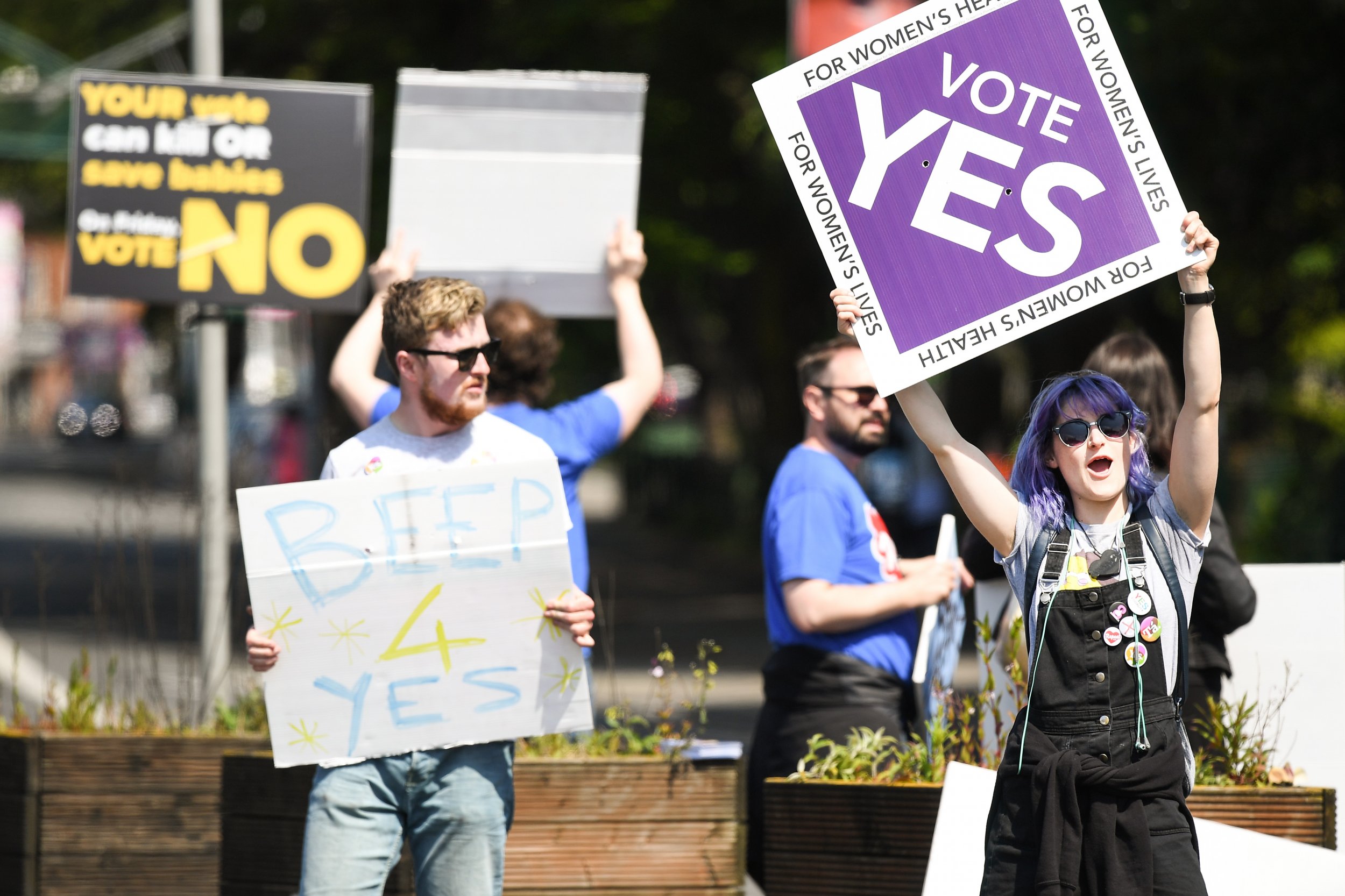 The Save the 8th campaign, which led the "no" campaign in the referendum over liberalisation of the Republic of Ireland's abortion laws, has conceded defeat.
An Irish Times/Ipsos MRBI exit poll suggested that voters in the once ultra-conservatively Catholic nation had on Friday backed change by 68 percent to 32 percent. An RTE/Behaviour & Attitudes survey put the margin at 69 percent to 31 percent.
Ireland's pro-reform health minister Simon Harris used RTÉ radio to address the tens of thousands of women forced to travel abroad for abortions. "Instead of saying take the boat, we're now saying take our hand and we will look after you," he said.
The New York-based Center for Reproductive Rights, which backed reform, said the expected yes vote "would reverberate globally for years to come". Leah Hoctor, the regional director for Europe at the CRR, said: "If the referendum passes it will mark a historic moment for the women of Ireland. Irish laws on abortion have long been among the most restrictive in the world and wholly out of step with legislation in almost every other European country … Women living in counties with highly restrictive abortion laws would have cause for hope that significant change can be achieved."
Save the Eighth, meanwhile, decried the results and vowed to obstruct legislation liberalizing abortion every inch of the way. "What Irish voters did yesterday is a tragedy of historic proportions. However, a wrong does not become right simply because a majority support it," said the group in a statement Saturday.
"The unborn child no longer has a right to life recognised by the Irish state. Shortly, legislation will be introduced that will allow babies to be killed in our country. We will oppose that legislation. If and when abortion clinics are opened in Ireland, because of the inability of the government to keep their promise about a GP-led service, we will oppose that as well. Every time an unborn child has his or her life ended in Ireland, we will oppose that, and make our voices known.
"Abortion was wrong yesterday. It remains wrong today. The constitution has changed, but the facts have not."
Voters were asked if they wish to scrap a 1983 amendment to the constitution that gives an unborn child and its mother equal rights to life, effetively meaning a total ban on abortions. The consequent prohibition on abortion was partly lifted in 2013 for cases where the mother's life was in danger.
The result will be the latest milestone on a path of change for a country which only legalized divorce by a razor-thin majority in 1995, before becoming the first in the world to adopt gay marriage by popular vote three years ago.
"It's looking like we will make history tomorrow," Prime Minister Leo Varadkar, who was in favor of change, said on Friday night on Twitter.
Vote-counting began at 0800 GMT across the country on Saturday, with the first offiicial indication of results expected mid-morning. Campaigners for change, wearing "Repeal" jumpers and "Yes" badges, gathered at the main Dublin count center, many in tears and hugging each other.
A senator with the opposition Labour Party monitoring the count told Reuters that early tallies suggested the exit polls published on Friday were accurate.
"The exit poll I would say is bang on. We've done it," said Kevin Humphries, a former junior minister who campaigned for more access to abortion.
No social issue has divided Ireland's 4.8 million people as sharply as abortion, which was pushed up the political agenda by the death in 2012 of a 31-year-old Indian immigrant from a septic miscarriage after she was refused a termination.
Campaigners left flowers and candles at a large mural of the woman, Savita Halappanavar, in central Dublin.
The Irish Times exit poll showed overwhelming majorities in all age groups under 65 voted for change, including almost nine in every 10 voters under the age of 24.
The fiercely contested vote divided political parties, saw the once-mighty church take a back seat, with the campaign defined by women on both sides publicly describing their personal experiences of terminations.
Although not on the ballot paper, the "No" camp sought to seize on government plans to allow abortions on demand, with no restriction, up to 12 weeks into a pregnancy if the referendum is carried, calling it a step too far for most voters.
The result is likely to be followed by a battle in parliament on how exactly access to abortion will be increased.
"We will hold the Taoiseach [prime minister] to his promise that repeal would only lead to abortion in very restrictive circumstances. He gave his word on this, now he must deliver on it," Dr Ruth Cullen, an anti-abortion campaigner with LoveBoth said.