Anti-Abortion Sen. Ron Johnson Opposes Funding Child Care: 'People Decide to Have Families'
Republican Wisconsin Senator Ron Johnson, who opposes greater abortion access, has said that the government shouldn't fund child care.
"People decide to have families and become parents," Johnson said in a Wednesday interview with WKBT. "That's something they need to consider when they make that choice. I've never really felt it was society's responsibility to take care of other people's children."
Commenters on Twitter criticized Johnson for refusing government-funded care to children despite past statements and policy positions attempting to restrict abortions for unwanted pregnancies.
During the interview, Johnson blamed the administration of Democratic President Joe Biden for recent inflation and worker shortages. He also said he enhanced unemployment benefits, which were initially passed by former President Donald Trump, have contributed to the shortages.
Johnson added that society should create good employment opportunities so that workers can support their families.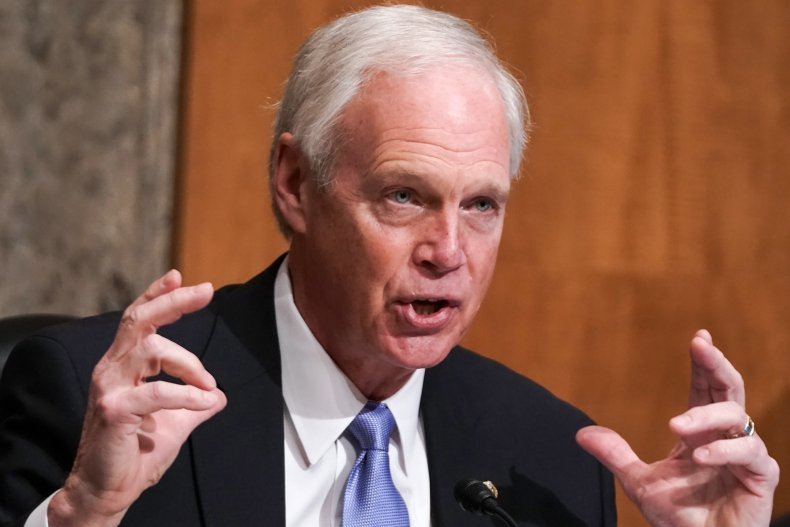 Johnson's comments likely allude to Biden's Build Back Better plan which would provide funding for low-income families to afford child care. The bill would provide a child care tax credit of between $3,000 and $3,600 per child per year to eligible individuals making under $75,000 a year or couples making under $150,000.
Child care for infants and toddlers typically costs—on average, per child—anywhere from roughly $13,000 to $16,000 a year, according to the Center for American Progress (CAP). CAP is a liberal public policy research and advocacy organization that focuses on economic and social issues.
Johnson's spokeswoman Alexa Henning told Newsweek that he was responding to a question about how the federal government can assist with child care due to the worker shortage.
"One study showed that families' child care costs would increase an average of $13,000 per child, per year, if another Democrat policy was enacted," Henning said. "That does not help families."
Last year, Johnson co-sponsored the Pain-Capable Unborn Child Act which would ban abortions happening 20 weeks after fertilization.
Abortion advocacy group NARAL Pro-Choice America criticized the bill, noting that late-term abortions typically happen only when the birth presents a significant risk to the parent's life.
Johnson has also supported policies that block the use of federal funds to support any abortion-related health care.
Commenters on Twitter criticized Johnson for wanting the government to force parents to have children, but not wanting to the government to help support parents raise their newborn children.
The Wisconsin Democratic Party wrote, "Elected leaders should be advocating to set our children up for success, not against it. This is shameful behavior from Senator Ron Johnson."
The Senate Democrats wrote, "Senator Ron Johnson is saying the quiet part out loud: Republicans don't give a damn about affordable child care."
Journalist Kate Sommers-Dawes wrote, "Very interested to know what Sen. Ron Johnson thinks _is_ society's responsibility."
Journalist Jodi Jacobson wrote, ".@SenRonJohnson 'I want to force you to have children no matter what, but I bear no responsibility for their health and wellbeing.'"
Jacobson added, "No, for one thing, it's not a 'choice,' if people who become pregnant can't choose not to be pregnant. Who would want this guy as a Senator?"
Twitter user Merrin Dungey wrote, "You can teach Sex Education or You can allow women to be Pro Choice or You can provide health and child care. Pick a f*****g lane @SenRonJohnson", adding, "You can't deny all three."