A British cancer research and awareness charity is defending its latest month-long national awareness campaign, which some critics have described as "fat shaming."
The advertisements state, in a few different ways, that obesity is a preventable cause of cancer. One image shows French fries arranged in a cigarette box.
According to one recent study, nearly one-quarter of women's cancer cases may be linked with being overweight, drinking, and having poor diet and exercise habits. That same study found that nearly half of all cancer cases in the United States might be caused by lifestyle factors, including smoking.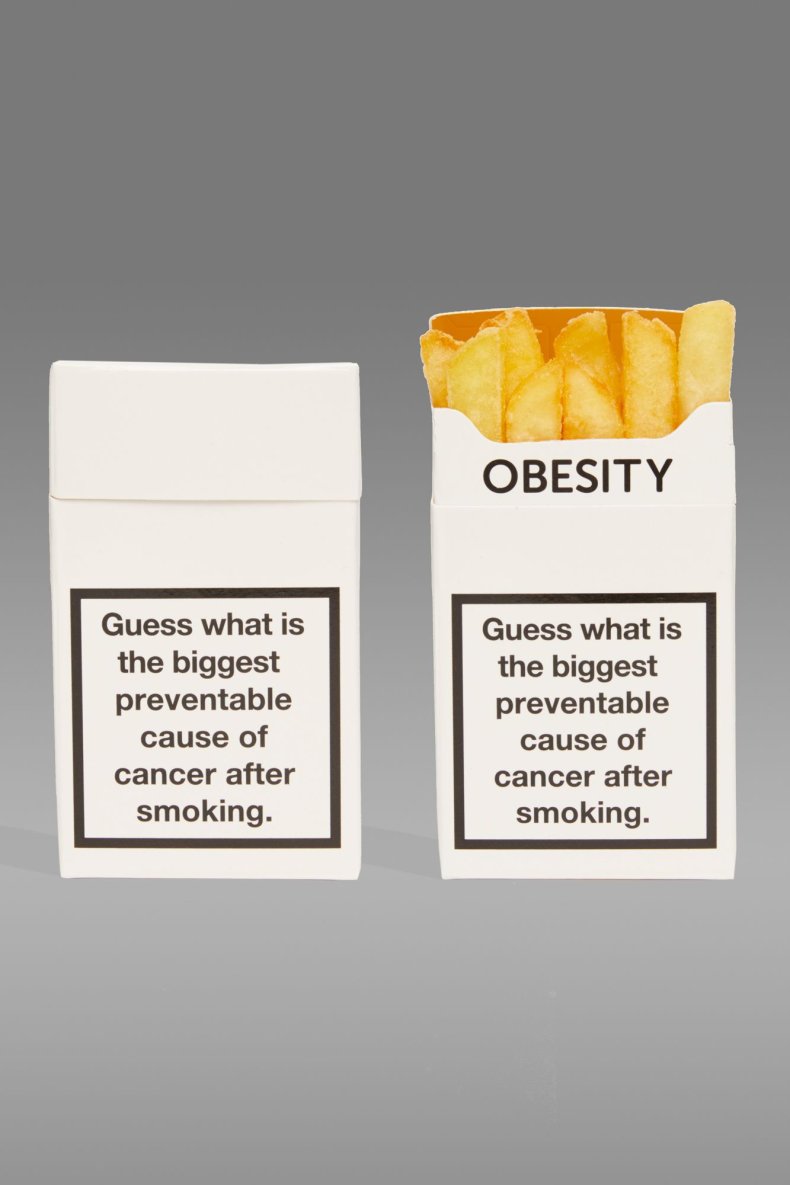 "We know that in the U.K., only 15 percent of people are aware that obesity can cause cancer," Emma Shields, senior health information officer at Cancer Research UK, told Newsweek. "It's really low, and this is despite the fact that it is the biggest cause of cancer after smoking. The aim of the campaign is to change that—to get awareness about this issue."
Not everyone is thrilled with how the charity has gone about that accomplishing that goal. On March 1, comedian Sofie Hagen tweeted "that whole 'It is unhealthy' speech is embarrassing and it's getting old now. You don't want us to be healthy, you want us to hate ourselves. Because you hate us." (Hagen recently signed a book deal to write an intelligent, funny, provocative response to body shaming," according to The Bookseller.)
The charity responded directly to some of Hagen's earlier remarks on Twitter, defending its campaign. "Hi Sofie, our campaign isn't meant to make anyone feel bad about their weight or make anyone think negatively about people who are overweight or obese. Our aim is to raise awareness of the link between cancer and obesity," the charity tweeted.
Another woman, Amanda Elliott, wrote that the campaign "greatly missed the mark and instead leads to further fat stigma" in an opinion piece for metro.co.uk.
The campaign is expected to continue for two more weeks, then Cancer Research UK will do a survey to see if the number of people who are aware of the connection between obesity and cancer has increased. The charity is also lobbying to expand a ban on junk food ads to include "family TV" rather than only programming aimed at children.
"It's definitely fair to say that we've ignited a conversation in the U.K., we've got people talking," Shields said.
Shields emphasized that cancer risk can be complex, and it's difficult to say what might have caused an individual cancer. "No one should feel blamed for their cancer," she said. "But we know on the population level, things like smoking and obesity cause more people to get cancer."