Anti-Donald Trump Protesters Erupt in Violence in New Mexico, Officers Injured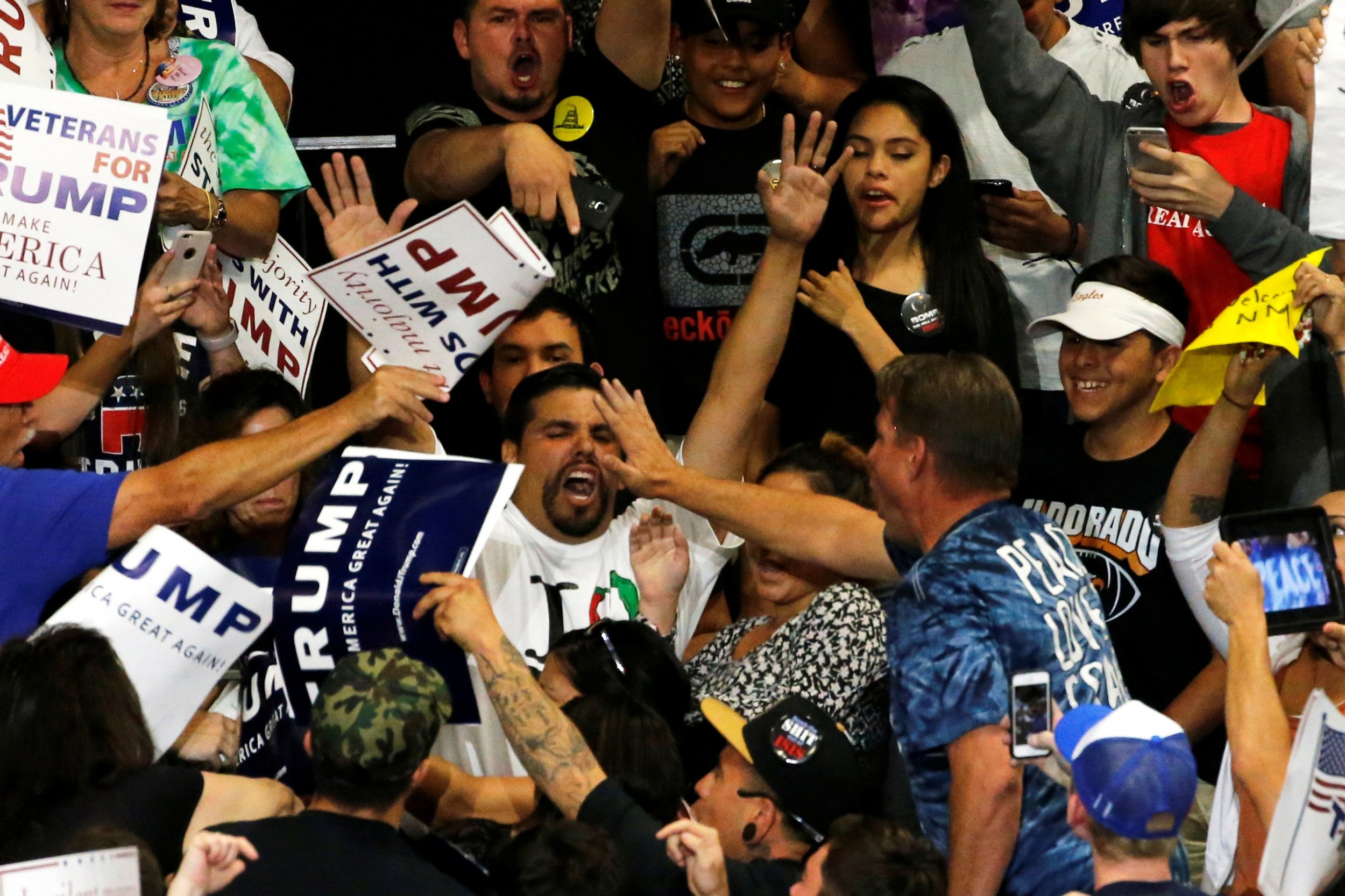 Updated | A peaceful gathering in New Mexico of about 1,000 protesters on Tuesday night quickly turned violent as Donald Trump took the stage at the Albuquerque Convention Center.
Officers arrested four individuals both inside and outside of the building and detained about a dozen others, who were then escorted out of the area, according to the Albuquerque Police Department. Six officers were treated on scene for injuries "after being pummeled with fist-sized rocks," in what the department called a "riot." A sergeant and sheriff's deputy also were tended to by medical personnel. Police said they expect additional arrests to occur after they review video footage of protesters fighting, throwing rocks or causing damage to the area.
The event turned violent when Trump, the presumptive Republican nominee who was campaigning in New Mexico two weeks before the state's June 7 primary election, took the stage inside the building, local news reported. The protests escalated as demonstrators broke through barricades and headed toward the front door of the rally when Trump began to speak.
News footage showed some police on horseback and others holding wooden sticks and asking protesters to leave. Some demonstrators complied with the requests, while others disobeyed, throwing bottles and rocks at horses, lighting items on fire, jumping on top of police cruisers and holding signs that read, "We are not afraid!" and "No human being is illegal!" Most demonstrators had left by about 10 p.m. local time, but some remained.
Albuquerque police said officers used smoke against the protesters, but they didn't deploy tear gas. Authorities also said eight windows and a glass door at the convention center were damaged.
Trump, who has been criticized for encouraging acts of violence at his rallies, has declined to condemn the chaos. He often blames protesters for clashing with his supporters. He tweeted his thoughts about the incident on Wednesday morning:
Footage from outside of the stadium did show a few protesters carrying Mexican flags. Trump has faced widespread criticism for accusing Mexico of sending rapists and drug runners to the United States, when he declared his presidency last June. Almost a year into his campaign, he continues to tout his plan to build a wall at the southern border of the U.S.
Previous Trump rallies in California and Illinois also have turned violent. Tuesday night's protest came less than a month since the last violent incident on April 28, when images of a Trump supporter with blood and bandages covering his face were widely circulated on social media. The Trump campaign in March was forced to cancel an event in Chicago after protesters and the billionaire's supporters clashed.
As demonstrators gathered outside of the Albuquerque Convention Center hours before the start of the event, Dan Scavino Jr., a Trump aide, tweeted about "thugs and punks" who "don't even know what they are 'protesting!!'"
Inside, where about 8,000 Trump supporters gathered, the presidential hopeful criticized New Mexico Governor Susana Martinez—a Republican and the country's first Latina governor—over the economic situation in the state.
"You've got to get your governor to do a better job. She's not doing her job," Trump said. At one point, he joked about running for her position in New Mexico.
Martinez, a rising star in the GOP, hasn't endorsed Trump and didn't attend the rally Tuesday night.
Trump also used his time onstage to maintain his recent attacks against Hillary Clinton, the likely Democratic nominee. As he gained another win in the Washington state primary Tuesday night, the real estate tycoon called Clinton a "low life" and mocked her new campaign advertisement that highlighted comments he made in 2006, when he appeared to root for a housing bubble collapse.
Trump now is fewer than 30 delegates short of securing the spot as the Republican 2016 presidential candidate, and likely will reach the magic number during the slew of primaries on June 7.
On Wednesday, the mogul was headed to Orange County, California, where Anaheim police are cautioning residents considering to protest later to remain peaceful. Clinton and Bernie Sanders also are campaigning in the Golden State this week, ahead of its crucial upcoming primary next month.
This story has been updated to included estimated numbers from the Albuquerque Police Department.