Alabama Cop Who Mocked Gay Teen's Suicide Gets Rehired Three Months Later
A deputy who resigned after making homophobic comments in response to the suicide of an Alabama teen has been hired in the next town over.
Jeff Graves stepped down as a sheriff's deputy in Madison County in May, after posting comments in an article about 15-year-old Nigel Shelby, who died by suicide after being bullied about his sexual orientation.
"Liberty, Guns, Bible, Trump, BBQ—That's my kind of LGBTQ movement," Graves wrote in the comments section. "I'm seriously offended there is such a thing such as the movement. Society cannot and should not accept this behavior,"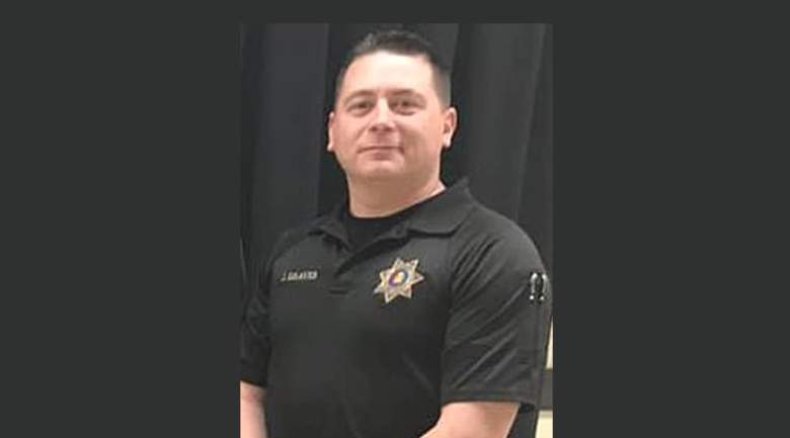 After his comments were brought to the department's attention, Graves was cited for multiple violations of sheriff's office policies and put on administrative leave pending an investigation.
"The Madison County Sheriff's Office mission is to serve ALL citizens of Madison County, regardless of their gender, race, religion or sexual orientation," said Sheriff Kevin Turner in a statement. "We must be able to serve and protect everyone without hesitation, and if we don't have the community's trust we can't succeed in our mission."
Several days later, on May 3, 2019, Graves resigned his position with the force in Madison County. This week, though, it was announced he had been hired as an officer with the nearby Owens Cross Roads police. Graves will start work on Monday.
"Everybody deserves a second chance," Owens Cross Roads Police Chief Jason Dobbins told WHNT, adding that, "Justice is blind."
He also said he believed Graves was remorseful for his three-month-old statements and didn't think he would exhibit bias against anyone, including members of the local LGBT community.
"He's an officer here," he told WAAY." We feel he will be a good addition to the department."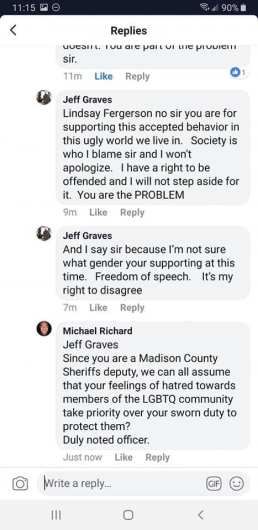 Part of the comment thread Officer Graves contributed to.
Facebook
Dobbins told the station he's spoken with all Owens Cross Roads officers about proper conduct on social media. He added that any interactions Graves has with the community will be recorded on police body cameras.
In the original comment thread Graves insisted his opinions were protected by the First Amendment. "Freedom of speech," he wrote. "It's my right to disagree."
But while free speech is protected by law, there are limits—especially in the workplace.
"You may have a right to freedom of speech but if you have a policy, if you work for a corporation and you go out and you say something that reflects badly on that corporation, you're probably going to get fired or suspended," attorney Mark McDaniel told WHNT News 19.
And, as a law enforcement officer Graves is always considered to be on duty, McDaniel added.
"They might say. 'well I didn't make it on the job' Well no, you're on duty 24/7. You can make an arrest at any time."