Anti-Gay Preacher Stuns Congregation, Confesses to Molesting Underage Boys
An anti-gay preacher has been arrested after confessing to his congregation that he had a sexual relationship with a young boy.
John Thomas Martin, lead pastor at Lighthouse Baptist Church in Florence, Alabama, broke down in the pulpit while telling stunned churchgoers about his "affair" with an underage male. He admitted to abusing the boy on multiple occasions, both at his home and on trips.
Martin also reportedly said he sent explicit text messages.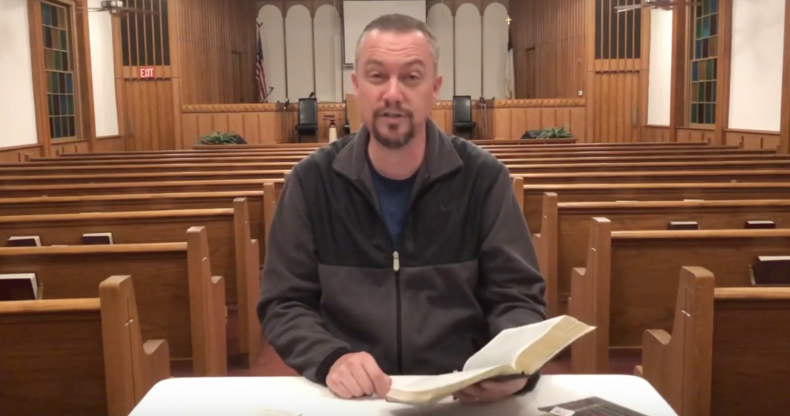 According to court documents, the victim claimed that on a camping trip to celebrate Martin's son's birthday, the pastor got into the victim's tent and touched him. Another time, Martin assaulted him in a van while on an overnight trip out of state. Martin was also a school bus driver for Florence City Schools and while on the bus allegedly showed the boy nude photos of himself with a towel draped over his body.
After confessing to his congregation, Martin checked himself into a psychiatric unit at North Alabama Medical Center and turned over two guns. According to the sheriff's office, Martin had asked his wife to take his pistol earlier, "because he had been holding it to his head and contemplating suicide."
The victim's name is being kept private but, according to the Lauderdale County sheriff, he was "in either 6th or 7th grade" the first time Martin sexually assaulted him.
On Monday, Martin was charged with four counts of sexual abuse involving a child younger than 16, according to AL.com. He was arrested after church members notified authorities about his confession. A church representative contacted the Department of Human Resources and said that on June 23 Martin told the congregation he had "disgraced his family name because he had sex with two boys."
Martin is currently being held in the Lauderdale County jail with $60,000 bail. If convicted, he faces up to 10 years in prison for each count.
Prosecutors believe this may not be the only minor Williams abused: "We have identified several potential victims," said Lauderdale County assistant district attorney Angie Hamilton. "We believe other charges are forthcoming."
Lighthouse Baptist Church started in Florence in 1986. On its website, it claims to be "a group of imperfect people striving to share God's love with others until His return." Martin, a married father of five, joined the congregation in 2010 and reportedly has been vocal in his opposition to LGBTQ rights.
"We believe that any form of homosexuality, lesbianism, bisexuality, bestiality, incest, fornication, adultery, and pornography are sinful perversions of God's gift of sex," reads a statement on the Lighthouse Baptist website. "We believe that God disapproves of and forbids any attempt to alter one's gender by surgery or appearance."
The church also teaches that "the only legitimate marriage is the joining of one man and one woman."
Facebook, Instagram and other social media for both Martin and Lighthouse Baptist Church have been taken down in the wake of his arrest.