Anti-Islam Organization PEGIDA Is Exporting Hate Across Europe
It's not often you see the words "Trump is right" on protest banners in Britain, whose Parliament recently debated banning the Republican front-runner from entering the country. But as the freezing rain drives down on an industrial estate on the outskirts of Birmingham, what stands out above a huddled mass of silent marchers are dozens of iterations of Donald Trump's lurid visage, born aloft and plastered with the slogan. Another popular banner reads, "Protect our children." A third: "Nazism=Islamism."
The 200 or so demonstrators trudging down the road are supporters of PEGIDA, a far-right German group whose name is an acronym for Patriotic Europeans Against the Islamization of the West. Founded in October 2014 in Dresden, the group hosts weekly rallies—which it refers to as "evening strolls"—for locals opposed to Muslim immigration to Germany, sometimes attracting as many as 25,000 supporters. But on February 6, the group went international for the first time: Besides holding a rally in Dresden, affiliate groups staged protests across Europe, in the Netherlands, France, the Czech Republic, the Republic of Ireland and the U.K., among other countries.
Europe's refugee crisis has boosted PEGIDA's popularity. More than a million migrants and refugees entered European Union countries in 2015, many of them Muslims from Syria, Iraq and Afghanistan. Governments have struggled to stem the flow and to cope with the large number of new arrivals. Far-right and anti-immigration parties argue that the influx is a danger for a host of reasons, from pressure on public services to migrants' sexual mores. Anti-immigrant populist groups like the Dutch Freedom Party and the Sweden Democrats have surged in support. The former is leading the polls, while the latter enjoyed a spell in the fall as the largest party and now hovers around third place. (Although growing in popularity, neither has ever commanded majority support in its country.)
Now PEGIDA and its affiliates want to build a street movement that extends beyond the national boundaries that tend to constrain European far-right groups. At a conference in the Czech Republic in January, delegates from anti-Islam movements across Europe, including several PEGIDA groups and the Czech group Bloc Against Islam, signed a memorandum swearing "to protect Europe, the freedom of speech and other civic freedoms as well as our way of life together."
Leading the charge in Britain is Tommy Robinson, founder and former leader of notorious far-right street group the English Defence League (EDL). Robinson, whose real name is Stephen Yaxley-Lennon , is now heading up PEGIDA's fledgling U.K. group. Sitting in a pub on the outskirts of Luton, a town northwest of London, he tells Newsweek he has been misunderstood. "I'm not far-right. I'm just opposed to Islam. I believe it's backward and it's fascist," Robinson, 33, says. "The current refugee crisis is nothing to do with refugees. It's a Muslim invasion of Europe."
Robinson has a lot of work to do to repair his reputation. From the group's founding in 2009 to 2013, Robinson and the EDL staged semiregular demonstrations in several British towns and cities. The EDL leadership always said it was running a peaceful, democratic protest movement opposed only to Islamic ideology. But whatever its stated intentions, angry crowds, often drunk, would turn up at the group's marches and cause havoc. Videos posted by the Guardian in 2010 showed young men attacking police at an EDL rally in the town of Stoke-on-Trent. One video showed supporters elsewhere shouting racist abuse about people of South Asian origin. EDL protests, which sometimes drew as many as 2,000 supporters, were often marked by violent clashes with anti-fascist groups.
Robinson left the EDL in October 2013, saying that its chaotic demonstrations were "no longer productive" and that he had concerns about the dangers of far-right extremism. "While I want to lead the revolution against Islamist ideology, I don't want to lead the revolution against Muslims," he told the BBC in 2013. But when he saw PEGIDA's more disciplined demonstrations in Dresden —the group bans alcohol at its marches and walks in silence—he was impressed. He condemns the use of violence during protests and says he wants to "show the British public this is an organization for you."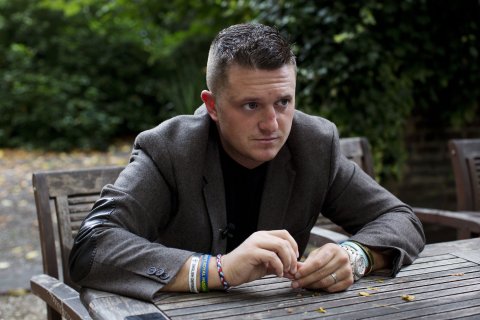 Another of PEGIDA's leaders in Britain, Anne Marie Waters, is also keen to present its arguments as almost moderate. "It is what we share as Europeans, as Westerners. Democratic civilization, that is what we're there to defend," she says.
Analysts say this approach could pay off. "They immediately make themselves look more legitimate," says Daphne Halikiopoulou, an associate professor of politics at Reading University who specializes in the far right. But, she says, the movement will become successful only when it attracts members of the middle class, ordinary people who feel insecure but also want to know that "it's not going to be hooligans getting drunk and breaking things up."
If those are the parameters for success, the U.K.'s PEGIDA chapter has had a promising start. The march in Birmingham on February 6 was peaceful. Former EDL members were present but appeared to like the new strategy. Frank Day, who says he was arrested three times at EDL rallies, tells Newsweek, "There's nothing more impressive than silence in the face of hysteria." Most attendees largely marched in silence, then politely applauded speeches from Robinson, Waters and the party's third leader, Paul Weston. They also appeared to be following the alcohol ban.
Coming over as respectable is important to PEGIDA groups throughout Europe. An organizer for PEGIDA Netherlands, who calls himself Edwin Utrecht to protect his identity after receiving threats, says police crackdowns on demonstrations could put off people who aren't hard-liners. "We want to have the normal people on the streets," he says.
Knowing the EDL's history of violence, the police are taking no chances. At the February 6 rally in Birmingham, there was a large police presence that included officers armed with truncheons and helmets. They ensured that a left-wing counterdemonstration remained several hundred meters away from the PEGIDA march route.
During Robinson's speech, one attendee was overheard complaining about the remote location and the quiet nature of the demonstration. Scuffles broke out at some of the other protests in Europe that day. More than a dozen people were arrested in Calais, France; in Prague, around 20 masked assailants attacked a center that collects donations for refugees.
So what exactly do these PEGIDA affiliate groups want? At this point, there's little in the way of a formal Pan-European policy. The groups share a pessimistic view of the scale and long-term impact of immigration to Europe from Muslim countries. Robinson, whose hometown of Luton has an unusually large Muslim population for the U.K., styles himself as a kind of prophet. "I've seen what's coming," he says, referring to Luton's reputation as a hotbed for racial tensions and Islamist extremism. (A Luton-based cell was allegedly linked to the 2005 London Underground bombings.)
The British PEGIDA leadership endorses a Trump-style ban on Muslim immigration to Britain. "Deliberately importing people without checking what their backgrounds are, [people] who are in their own religious and political terms sworn enemies of the West," says Weston. "What on earth is the West doing inviting any of them in at all?" He also says he'd like to see a ban on all Muslims holding public office in Britain.
Robinson, meanwhile, is keen on segregating Britain's male prisons into Muslim and non-Muslim inmates; he has alleged that during his own prison stay, Muslim inmates threatened and physically assaulted him. He also wants to close down any Islamic courts operating in Britain. (No legally binding Sharia courts exist in Britain, but an estimate in 2009 by British think tank Civitas said there were at least 85 Sharia bodies offering religious guidance, family mediation and other services.) Rather than try to prevent British jihadis from leaving for Syria and Iraq, Robinson would cheerily wave them off: "Send them all, mate. I'd be chartering jets for 'em."
Shot through PEGIDA'S ideology is a deep distrust of elites, whose "rules," according to the declaration signed in the Czech Republic, "have brought only poverty, unemployment, corruption, chaos and moral collapse." In his new autobiography, Enemy of the State, Robinson recounted his own experiences of perceived injustice at the hands of the authorities. "My overarching crime, at least in the eyes of the British establishment, has been to be a patriot," he wrote at the beginning of an account that chronicles his convictions for traveling to the U.S. on someone else's passport and for mortgage fraud. Robinson argues that the legal system has treated him more harshly than other people because of his political beliefs. He is facing another charge, of assault, which he denies. His trial is set to begin April 14.
One quiet protest does not make a revolution, or even a Trump-sized political movement. But PEGIDA hopes that a new wave of anti-Islam dissent will swing the political conversation its way and attract the moderate supporters that a traditional far-right group could never hope to gain. It plans to return to the Birmingham location on a monthly basis, starting in April.
Robinson says that in 10 years mainstream politicians will be implementing the ideas he and others like him are calling for. Already in 2016, Denmark's parliament has approved proposals to confiscate refugees' valuables to pay for their stay, and German Chancellor Angela Merkel is trying to make it easier to deport asylum-seekers who commit crimes. The likes of Robinson and PEGIDA are still on the fringes, but their voices will likely get only louder.