Ex-Gay 'Freedom March' Is Coming to Orlando, and Two Pulse Shooting Survivors Are Involved
A rally organized by a group urging LGBT people to reject their identities and accept Jesus is coming to Orlando, Florida, the site of a 2016 mass shooting at a gay nightclub that left 49 people dead and dozens more wounded.
Two survivors of the Pulse nightclub massacre are reportedly involved with the "Freedom March," slated for September 14.
The event is one of many such rallies put on across America by the Freedom March organization, which celebrates "freedom from homosexual/transgender lifestyles by the grace and power of Jesus Christ," according to its website. The last Freedom March was held in June 2019 in St. Paul, Minnesota.
The Orlando rally will take place at Lake Eloa Park, about 10 minutes away from the Pulse nightclub, which has become something of a memorial to anti-gay violence and America's mass shooting epidemic.
Organizers are promoting the involvement of two survivors of the Pulse shooting, Luis Javier Ruiz and Angel Colon, both of whom no longer identify as gay.
Ruiz was also at a Freedom March in Washington, D.C., in May.
"I don't want to tell everyone it's a 'gay-to-straight' thing because God is not calling me to that," he told NBC News at the time. "I feel that I want to live in a life of purity. I feel that through loving Christ, he will walk me out of any situation. I love the LGBTQ community, I love my family. There's no hate here—there's love."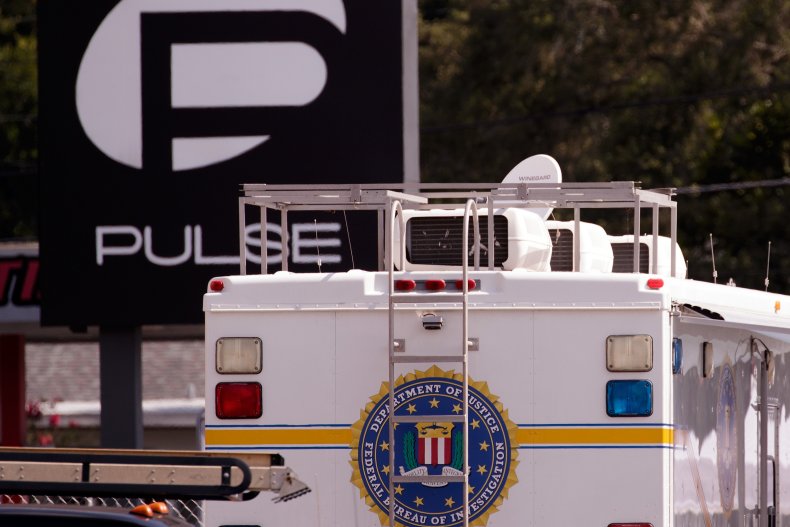 Colon, a dancer, was shot six times in the attack and was trampled by people trying to flee the club. He was unable to walk for two months and, during his recovery, spoke out against gun violence. In 2016, he appeared on the cover of LGBT newsmagazine The Advocatefor its People of the Year issue.
Speaking to Christian blogger Julie Roys last week on her podcast The Roys Report, Colon said the Pulse shooting was a catalyst for his decision to no longer identify as gay.
"A couple months before June, I started praying to God and I told him, 'Lord, You know my situation, You know my heart, You know I want to worship you. But I cannot do it on my own will," he said. "Please help me come back to you.' And at that moment, I call it the dangerous prayer. And I said, 'Lord, do whatever you have to do to me for me to come back to you. And I don't care what it is.' And I kept on praying like that. And June 12th came. I made it out. Went to a housewarming party first. We made it to Pulse nightclub and [at] 2:02[am] everything just changed in an instant."
Ruiz and Colon have also founded Fearless Identity, an organization that encourages people to reject their LGBT identities. Ruiz says they founded the ministry after receiving backlash for identifying as ex-homosexuals.
"Fearless Identity was actually birthed through persecution," he told Roys. "That when I shared my testimony, and [Colon] shared his, we're getting backlash like crazy. What we were seeing with the backlash is people were coming to Jesus! Like it was so crazy! It's like, people were so scared to share their story. But in all this... behind the scenes, God was working because I had ex-lovers that were coming to Jesus because they saw a Facebook Live that they were making about me and laughing about me. ... This brought people to email me and say, 'Hey, I want to know about this Jesus that you're so in love with. How do I do this?'"
"Pulse was the vehicle that God is just using to let people know that, that was grace," Ruiz added. "I should have been number 50 [killed.] We should have been number 50, 51. But because of his grace, we are standing here today. And we are alive, and we are breathing to share the message of Jesus. Perfect love casts out fear."
This article has been updated to remove the reference to gay conversion therapy. Fearless Identity and Freedom March do not believe in gay conversion therapy. We regret the error.