In June, a legislative landmark in the struggle for LGBT equality in America stalled, just hours before it was due to be implemented, when Defense Secretary James Mattis halted an Obama-era bill allowing transgender people to serve in the military.
On Wednesday, President Donald Trump tweeted that not only would transgender people be barred from enlisting, but they would be barred from serving "in any capacity."
Trump cited the "tremendous medical costs and disruption" he claimed transgender service personnel would entail as grounds for the move.
But civil rights campaigners argue the move shows the growing influence in Trump's America of organizations that have been labeled anti-LGBT hate groups, and which fiercely lobbied against the transgender bill.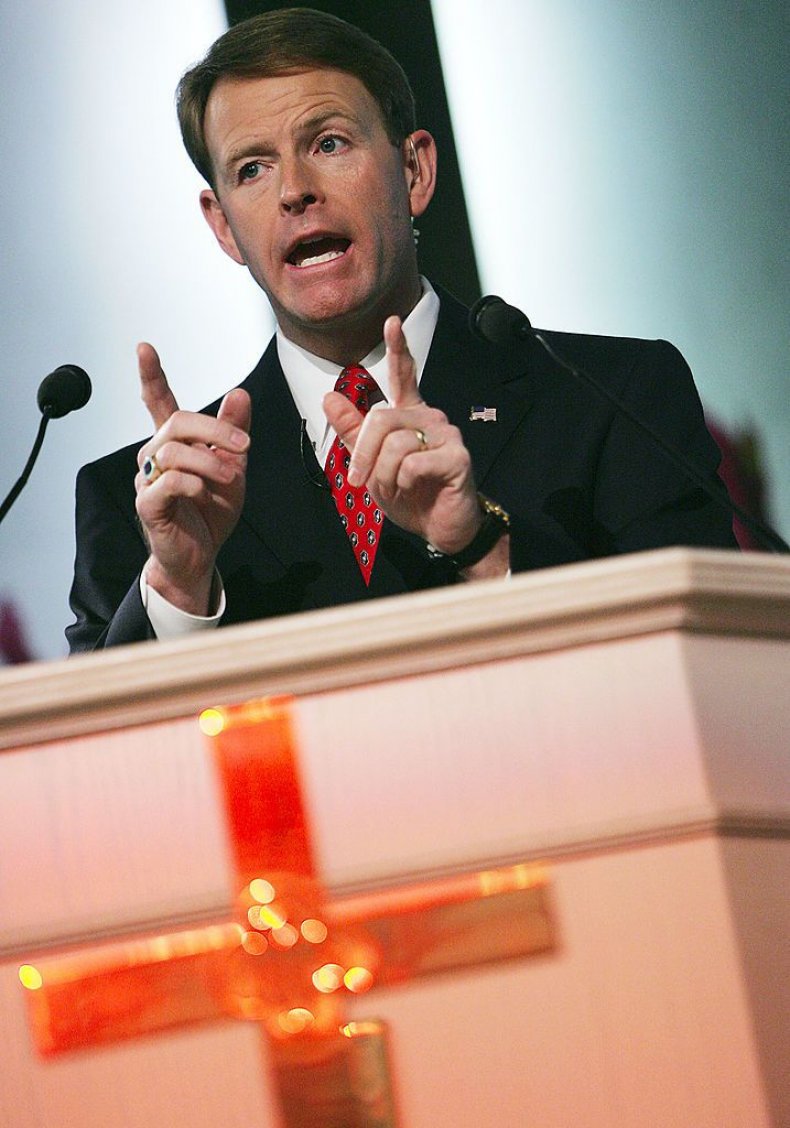 America's anti-LGBT hate groups
With their roots in the Christian right and contacts deep inside Trump's White House, myriad groups claiming to stand for American family values have for decades fought to roll back LGBT rights in America.
"These are all having a pretty successful run right now with the Trump administration," Heidi Beirich, a researcher at the Southern Poverty Law Center (SPLC) told Newsweek. "I think the military suspending transgender [people] from the military shows the influence of the religious right."
Even before the transgender ban, moves by the Trump administration sparked concern among civil rights campaigners.
Earlier in July, Attorney General Jeff Sessions held a meeting behind closed doors with the Alliance Defending Freedom (ADF), which has characterized homosexuality as a "degradation of our human dignity" and falsely linked it to pedophilia. Sessions has refused to discuss the content of the talks.
"ADF is the most extreme anti-gay legal organization—so extreme that it does not concede even that gay or transgender people should be permitted to exist as such," Shannon Minter of the National Center for Lesbian Rights told CNN.
The previous month, Vice President Mike Pence pledged his unwavering support for Focus on the Family, another anti-LGBT group, whose founder, James Dobson, has blamed the 2012 Sandy Hook shooting on the growing acceptance of LGBT rights in America.
And, departing from a precedent set by Obama, the White House did not acknowledge June as LGBT pride month.
The SPLC has identified 45 organizations it classifies as anti-LGBT hate groups spread across the country, dedicated to waging what Focus on the Family founder Dobson described as a "second civil war" to put control of the U.S. government in the right hands—the hands of those who reject LGBT rights.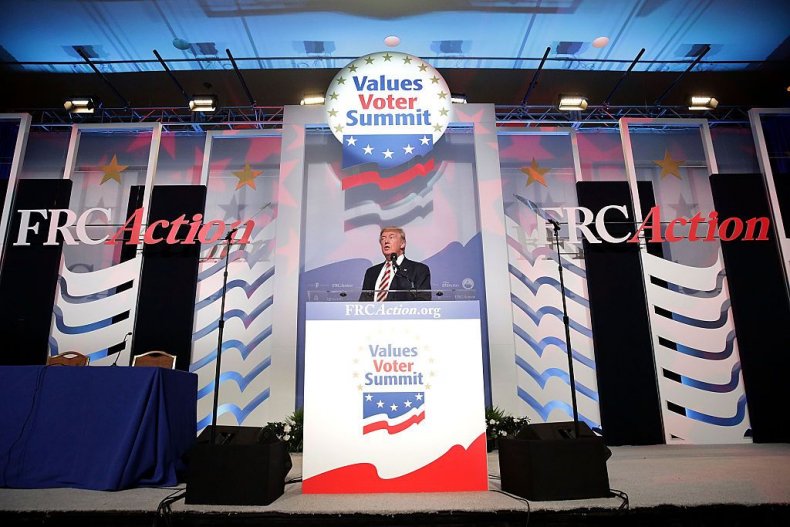 Family Research Council
Central to the lobbying campaign to ban transgender people in the military has been the Family Research Council (FRC), one of the largest and most influential anti-LGBT groups in the U.S., and which describes itself as "the leading voice for the family in our nation's halls of power." For decades, the group has smeared homosexuals in its publications, insinuating that gay people are more likely to sexually abuse children.
The group boasts Vice President Pence as a supporter, as well as Ken Blackwell, who led Trump's domestic transition team as a current staff member.
In September, Trump addressed the Values Voter Summit, which was hosted by the FRC, in Washington, D.C.
Peter Sprigg, senior fellow for policy studies at the FRC, boasted of the group's connections to the Trump administration in an interview with Newsweek just weeks before Trump's transgender ban.
"We have relationships with a number of people within the Trump administration, in various departments, and Tony Perkins, the FRC President, has met and knows Donald Trump as well," he said.
"I can't go into any more detail than that, other than we have big communications channels with the Trump administration," he said.
The FRC emerged from a 1980 Washington, D.C., prayer meeting between leaders of the religious right, and in the 1990s went on to extend its influence across the United States, building a national network of "concerned citizens" and taking its lobbying operations into the heart of Washington, D.C.
Its researchers frequently appear in the media in a bid to shape public debate, and in its publications the group cites a variety of sources, including scientific studies, to justify its anti-LGBT views.
Lawyer and civil rights campaigner John Aravosis has analyzed FRC research papers, and believes the group cherry-picks and distorts evidence as part of a deliberate campaign to smear the LGBT community.
In a blog posting he wrote: "I went through the original research of the various studies they cited and found that the study reached no such conclusion like the FRC claimed it did."
"These are not honest people simply expressing a contrarian view of politics, like Democrats and Republicans do every day in Washington."
Leading scientific organizations have also denounced attempts to link homosexuality with pedophilia. The American Psychological Association in 2009 concluded that that "homosexual men are not more likely to sexually abuse children than heterosexual men are."
When confronted with the allegations, Sprigg denied distorting evidence.
"We are an advocacy organization," he said. "What I see myself as doing is not creating scholarly research but reading the scholarly research and translating it in a language that can be understood by a lay audience. We certainly have a point of view, but I try to deal as I can, and I never write or say anything I don't believe is true."
He denied that linking homosexuality to child abuse incited hatred.
"We have never said we hate homosexuals, we have never encouraged people to hate homosexuals, we have never encouraged violence against them, so to call us an anti-LGBT hate group is something without foundation," he said.
Sprigg says that the FRC is itself the target of violence, citing a 2012 attack on the organization's Washington, D.C., headquarters in which a security guard was injured. The attacker, Floyd Lee Corkins, later told a federal court judge he planned the attack because he was so enraged by the FRC's anti-gay-marriage position.
Growing influence
Beirich believes that the religious right's White House ties and the administration's reliance on support from the religious right is likely to see the influence of groups like the FRC increase in the months to come. So where is that influence likely to be felt?
"Additional rights for the LGBT community is something they are opposed to. They are big supporters of so-called religious freedom bills in the U.S., which are really there to help people who don't like gays and don't want to do business with them," says Beirich.
"I expect them to be much more powerful," she adds.