Anti-Lockdown Christian Activist Holds 2,500-Person NYE Event in COVID Hotspot
Christian musician and activist Sean Feucht held a 2,500-person New Year's Eve concert and worship service in the parking lot of the Higher Vision Church in Valencia, California.
Valencia, a neighborhood in Los Angeles County, is located in the state county with the highest overall numbers of COVID-19 cases and deaths.
A video of the event posted to Feucht's Instagram account showed hundreds of predominantly maskless attendees packed shoulder to shoulder and singing along during the concert. L.A. County requires religious services to use physical distancing and ensure that masks are worn at all times.
"I refuse to allow a virus with a 99% survival rate keep me from plundering hell to populate heaven!!!" Feucht wrote on a video post showing the event crowd.
Officials from the Santa Clarita Valley Sheriff's station said they were aware of and monitoring the event. No related incidents or arrests were reported, according to The Los Angeles Times.
As of January 1, 2021, Los Angeles County has reportedly over 771,000 confirmed COVID-19 cases and 10,345 related deaths.
Los Angeles Mayor Eric Garcetti had called for Feucht and fellow organizers to cancel the event, stating, "There are constitutionally protected rights, both religion and protest, which clearly he has used and exercised, but just because we do have the right to do things, doesn't mean it's the right thing to do."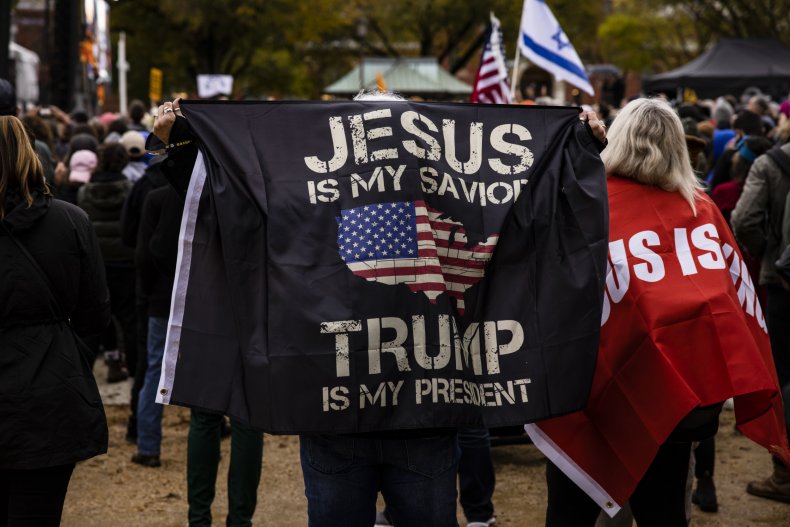 "We do not want to see this [virus] spread, and the more spread there is, the more hospitalizations, the more deaths, so if you care about human lives, and what God has given each of us, which is the power of life, please don't do this," Garcetti continued. "I would encourage him first and foremost to come back, have a good concert after this pandemic is done.
Feucht is the leading force behind "Let Us Worship," a group that opposes church-related lockdown measures as a violation of religious liberty. He has held similar events in California, Maine, Oregon, Colorado, Florida and Nashville, Tennessee, the last of which was held without his first acquiring a permit for the event.
Videos of Feucht's past "Let Us Worship" events posted on his personal YouTube account have shown audience members without face masks and not practicing social distancing measures.
Feucht has called his events "protests" to circumvent municipal coronavirus requirements under the banner of free speech. Republican President Donald Trump has done the same thing in order to hold his large rallies without face masks or social distancing either, according to the Associated Press.
Newsweek contacted the Higher Vision Church for comment.