Anti-Lockdown Protesters Burn Masks in Manhattan as New York Daily COVID Cases Highest Since April
Following new statewide coronavirus restrictions issued in New York, anti-lockdown protesters were seen cheering as face masks were burned on a New York City street on Sunday.
The protesters took to the streets as the state's seven-day average number of cases reached 5,511 on Saturday, the highest level recorded since April 27 when the average count stood at 5,844, according to data compiled by Johns Hopkins University (JHU).
One protester was seen pouring fuel over a pile of masks at Washington Square Park, in Manhattan, as onlookers shouted "no more masks, burn the masks," according to video footage captured by local news site Freedomnews.tv.
More than 100 demonstrators were reported to have met in nearby Union Square, where a coronavirus-themed play was staged before some joined proceedings in Washington Square Park.
One actor in the play noted "the [COVID-19] statistics are all out of whack, the cases are based on false positives...we still haven't even isolated the virus."
The demonstration saw several shouting "free your face," "no new normal" and "end fascism."
The protest led to a heated confrontation between anti-lockdown protesters and masked residents, according to another video taken by Freedomnews.tv.
When a masked local noted "people are dying from Covid," one anti-lockdown protester replied: "People die and get sick everyday, that does not prove Covid...there's no scientific experiment that proves Covid exits."
Another protester shouted "people die from the flu...doctors are lying to you."
Masks are currently required by law across the state for "everyone over age 2 who can medically tolerate a face covering to wear one when in public if unable to maintain at least 6 feet of distance from others," advice from the city health department notes.
The total number of confirmed cases in New York State, the former epicenter of the outbreak in the U.S., have surpassed 596,000, as of Monday. The seven-day average number of cases has been rising sharply since late September, after declining sharply from early April, when it peaked at 9,909 on April 7. The figure flattened out for months from early June to late September, according to JHU.
On Sunday, New York City Mayor Bill de Blasio tweeted: "The second wave is real. We can't let up the fight now," as he noted "the infection rate 7-day average is 3.09 percent."
New York's restrictions
The latest demonstration follows new restrictions on bars, restaurants, gyms and residential gatherings announced earlier this month by New York Gov. Andrew Cuomo.
Under the new measures, "all bars, restaurants and gyms or fitness centers, as well as any State Liquor Authority-licensed establishment," are required to be shut daily from 10 p.m. to 5 a.m. local time.
Restaurants are limited to curbside, food-only pick-up or delivery services after 10 p.m. local time and not allowed to serve alcohol for any of these services.
Indoor and outdoor gatherings at private residences are limited to 10 people. The capacity limit was issued "due to the recent prevalence of COVID spread resulting from small indoor gatherings including Halloween parties. These gatherings have become a major cause of cluster activity across the state," the governor's office said in a statement at the time.
Cuomo said in the statement: "If you look at where the cases are coming from, if you do the contact tracing, you'll see they're coming from three main areas: establishments where alcohol is served, gyms, and indoor gatherings at private homes."
On Sunday, the number of confirmed cases in the tri-state area of New York, New Jersey and Connecticut reached a collective total of one million infections, a grim milestone currently only reached by two individual states (Texas and California).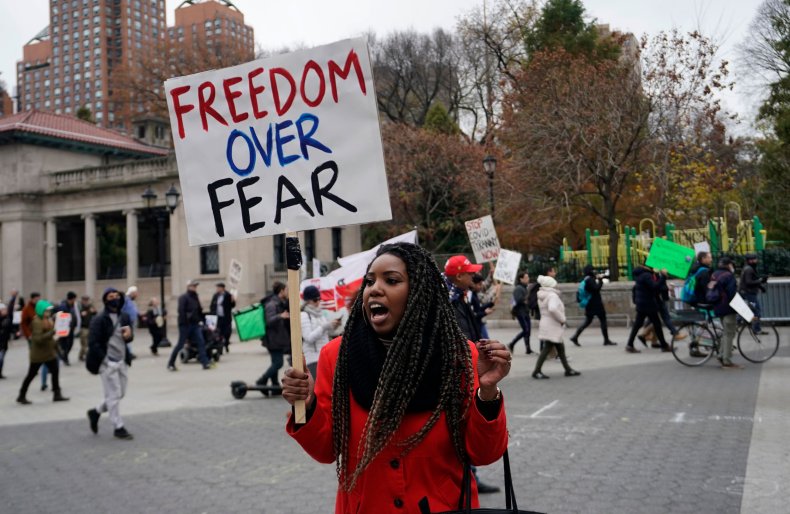 The wider picture
The novel coronavirus has infected more than 58.7 million people since it was first reported in Wuhan, China.
More than 1.3 million people have died worldwide and more than 37.5 million have recovered as of Monday, according to Johns Hopkins.
The graphic below, produced by Statista, shows the spread of COVID-19 cases across the U.S.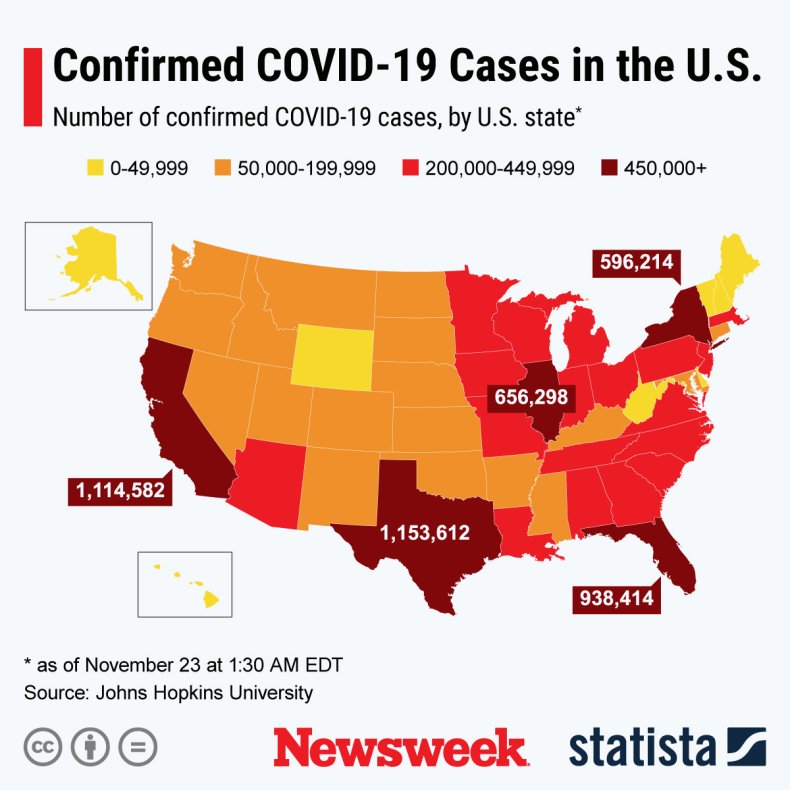 The graphic below, produced by Statista, shows countries with the most COVID-19 cases.