Anti-Lockdown Protesters Shine Strobe Lights Onto Home of LA Mayor
Anti-lockdown protesters on Monday night gathered outside the home of Los Angeles Mayor Eric Garcetti and shined strobe lights, as the county's numbers of coronavirus cases and deaths continue spiking.
A video of the incident was posted on social media by Twitter user Fifty Shades of Whey with a caption that read, "COVID-deniers in Los Angeles shine strobe lights onto the home of LA County's Health Director Dr. Barbara Ferrer."
While the caption suggests the protesters were outside the home of Los Angeles County Health Director Dr. Barbara Ferrer's home, the Los Angeles Department of Health told Newsweek that it was Mayor Garcetti's home.
As the video begins, the person filming can be heard saying "I like the light show that's going on. This is something new with the patriots and these flashlights.
"They're definitely adopting the Antifa model. The difference is they're not shining the lights in the police officer's eyes," the person filming added, as a number of protesters can be seen standing outside Garcetti's home.
The protests outside the health director's home came as coronavirus cases and deaths have continued to increase in Los Angeles County and California as a whole.
On Tuesday, county health officials reported 86 new COVID-19 deaths, the highest single-day record since the summer's surge. The county also reported at least 11,194 new coronavirus cases, which was more than several other states saw on Tuesday.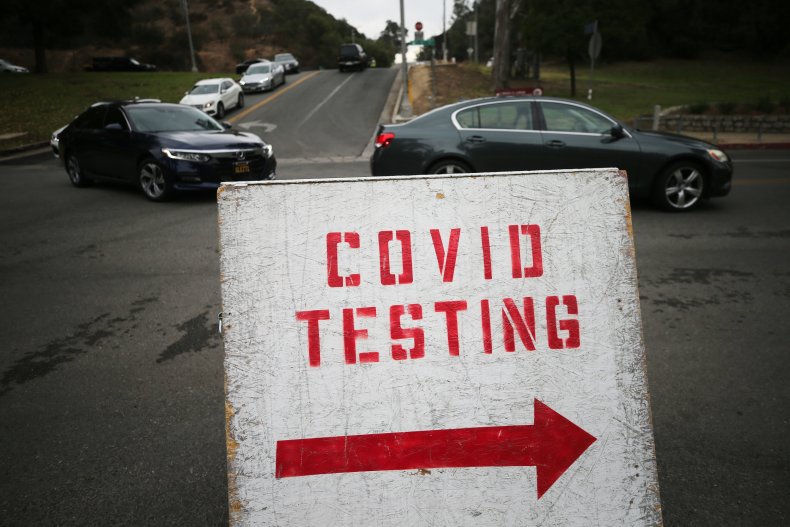 Additionally, data from the county's health department shows at least 4,403 COVID-19 hospitalizations, with 21 percent of these patients in intensive care units (ICU).
Across Southern California, data from the state health department shows the region's ICU capacity at 1.7 percent. State health officials earlier placed the region under the state's regional stay-at-home order after it fell below the 15 percent ICU capacity threshold.
Under that order for Southern California, a number of businesses and recreational facilities in Los Angeles County were forced to close down in an effort to mitigate the virus's spread.
Similarly, in November and early December, protesters gathered outside Ferrer's home calling for an end to the COVID-19 lockdowns.
Roughly 50 protesters were outside her home on November 30 to protest the tightened restrictions on capacity limits for businesses and limits on social gatherings, according to KCBS-TV. On December 4, about 20 people did the same.
"I think, again, people everywhere have the right to protest and have the right to express themselves when they're unhappy," Ferrer said after the first protest, according to KCBS. "I think, unfortunately, that can be upsetting, but that is their right, and I'm assuming that people will continue to exercise their rights. That's just where we are right now."
Newsweek reached out to Garcetti's office for comment but did not receive a response in time for publication.
Correction (12/17/20, 4:46 p.m. ET): This story and it's headline have been updated to correct an error. The story previously said protestors were outside LA County Health Director Barbara Ferrer's home, but protestors were located outside of Los Angeles Mayor Eric Garcetti's home.