Anti-Lockdown Protesters Shut Down California Vaccine Site at Dodgers Stadium
Officials from the Los Angeles Fire Department closed the main entrance of Dodger Stadium's vaccination site for nearly an hour as a result of a protest on Saturday.
About 40 to 60 demonstrators gathered at the stadium holding signs promoting their anti-vaccine and anti-mask beliefs and shouting at drivers who were in line for their vaccination appointments.
Los Angeles Fire Department Assistant Chief Ellsworth Fortman, who oversees the department's COVID-19 response, told the Los Angeles Times that the decision to close the stadium's entrance came amid public safety concerns. Despite those concerns, Fortman said the demonstrators did little to inhibit vaccine distribution.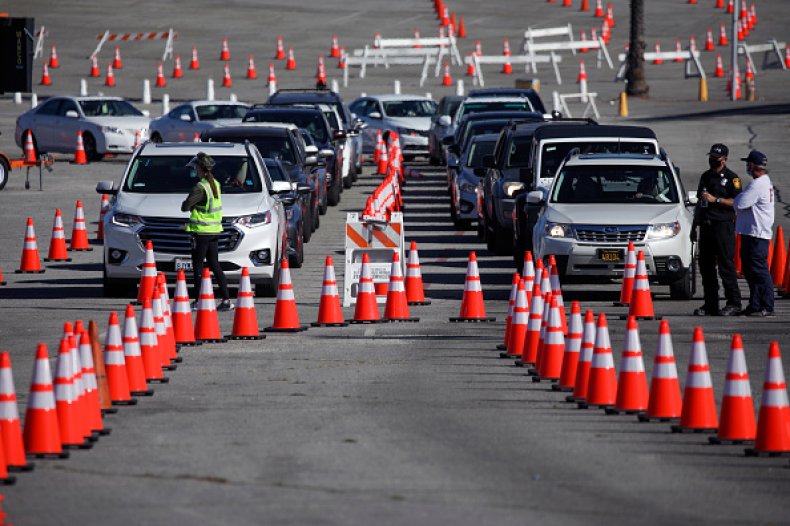 Fortman noted that the demonstrators were nonviolent and that the decision to close the stadium entrance was a precaution. "At the end of the day, it didn't really impact much," he said. "I feel bad for those folks [who] ended up waiting an additional 50 minutes."
The demonstrators dispersed around 3 p.m., with no arrests or injuries reported, according to Fortman. Workers continued to vaccinate people inside the stadium while the main entrance was closed.
Approximately 5,740 doses of the COVID-19 vaccine were distributed on Saturday, despite the protest. Fortman said that the stadium vaccination site typically issues 5,700 to 7,700 doses each day.
Los Angeles Police Chief Michel Moore tweeted Saturday afternoon that "the protest did not shut down the vaccination site" and that "all appointments were being met."
The protest, however, angered some city officials.
"Look, the world sees this. What it does is it undermines our public safety community," Gil Cedillo, a Los Angeles city councilman, told the Los Angeles Times. "It's not good for our public safety community for people to believe that there's inequitable treatment."
Cedillo said that the "mob feels they have a right to try to stop people like seniors, janitors, housekeepers, restaurant workers and supermarket workers from getting the vaccine that they covet."
"It's just very offensive, Very arrogant," Cedillo said. "It's an incredible sense of entitlement."
California Governor Gavin Newsom tweeted Saturday night that the state is "working around the clock to provide life-saving vaccines to those on the front lines of this pandemic."
"We will not be deterred or threatened," he said. "Dodger Stadium is back up and running."
The stadium, which opened as a vaccination site earlier this month, is one of the largest vaccination sites in the country.
In an emailed statement to Newsweek on Monday, Los Angeles Mayor Eric Garcetti's Press Secretary Andrea Garcia, said: "The city is reviewing vaccine site safety protocol and will be setting up a protest zone in the event of any future protests."
The protest came as Los Angeles reported over 1.1 million coronavirus cases and 16,700 deaths over the course of the pandemic, according to John Hopkins University.
The Los Angeles Fire Department told Newsweek on Monday it had no additional comments at this time.
Updated at 1:30 p.m. EST with comment from the mayor's office.