A group opposing the legalization of marijuana across the U.S., fearing it will become "the next Big Tobacco," unveiled an online tool to track industry donations to federal politicians.
Smart Approaches to Marijuana, or SAM, published the online tracker this week in a move which reveals the anti-legalization group's fears that cannabis, marijuana and other products are moving closer to decriminalization at the federal level. The interactive "SAM Tracker" shows Democratic Reps. Earl Blumenauer of Oregon, Dina Titus of Nevada and Barbara Lee of California—all states where recreational marijuana has been legalized—as the top recipients of "major marijuana money."
Earlier this month, Blumenauer, founder of the Congressional Cannabis Caucus, proposed H.R. 420 to regulate marijuana much in the same way as alcohol products are currently regulated by the government.
A spokesperson for Blumenauer's congressional office told Newsweek Wednesday the SAM group's tactic is a classic case of anti-legalization groups attacking the messengers and lawmakers who are making progress on the pot legalization front because they're losing the messaging battle -- a sentiment echoed by Blumenauer himself on Twitter Wednesday.
"It's not a surprise that I'm #1 on this [donation] list. I've been working on this issue since 1973 when Oregon was the first state to decriminalize possession. It's also not a surprise that this group opposes reform & keeps their quiet. Legalization is coming. Deal with it," Blumenauer tweeted, linking to a Roll Call report on the SAM tool showing he received about $33,000 in donations since 2014. The second largest recipient of donations from "known industry players" was Titus, who received about $20,000 since 2014.
However, those donation totals are paltry in comparison to pharmaceutical and health care industry donations to members of Congress, which the Center for Responsive Politics shows well above a half-million dollars for current individual politicians.
National Organization for the Reform of Marijuana Laws (NORML) Political Director Justin Strekal told Newsweek Wednesday SAM and other anti-legalization groups are attempting to hijack campaign finance reform initiatives and are insulting police, community relations and criminal justice reform data showing minorities are overwhelmingly targeted for arrest and prosecution for marijuana-related crimes.
"[SAM's] rhetoric has shifted dramatically over the years as they struggle to maintain relevance. No matter what rhetoric they use, it's defending a policy that subjects hundreds of thousands of people to being arrested or incarcerated over a substance that is objectively less harmful than legal alcohol or tobacco," Strekal told Newsweek Wednesday.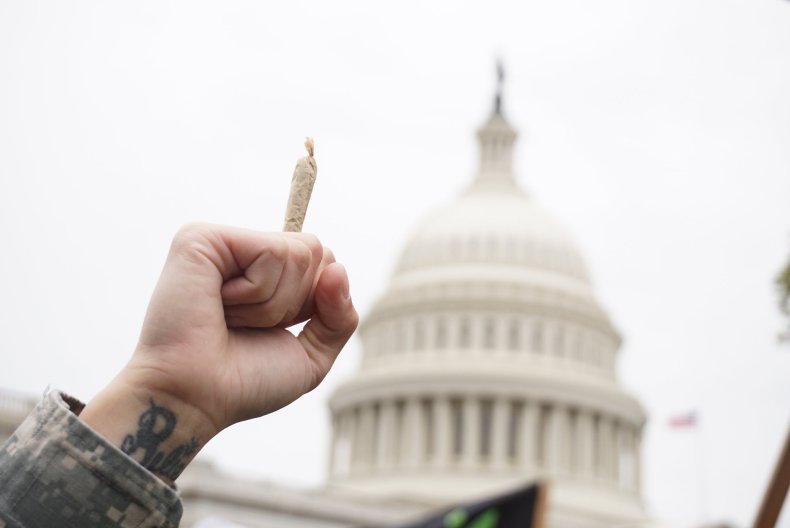 The SAM marijuana industry donation tracking tool does not yet present data for thirteen states and the website notes the system is a "work in progress."
The non-profit Smart Approaches to Marijuana was started by former Democratic Rhode Island Rep. Patrick J. Kennedy, son of the late Democratic Party stalwart Ted Kennedy. But the SAM organization is stacked with a conservative cast of Washington lobbyists and spokespeople who have supported Pro-Life causes and Republican candidates. Garth Van Meter, SAM's Vice President of Government Affairs, describes himself on LinkedIn as working to "prevent the creation of the next Big Tobacco by opposing the legalization and commercialization of marijuana."
In regards to Kennedy spearheading the anti-pot group, Strekal said "addiction issues in [Kennedy's] family" have created a misplaced concern in which if he or SAM truly sought to keep marijuana out of the hands of children they too would be calling for regulation.
SAM spokesman Colton Grace told Roll Call Wednesday the website tool shows donations from "known industry players," that are "companies who grow/sell marijuana products, and the ancillary companies who service them … law firms who focus on the marijuana space, and venture firms who focus on investment in the marijuana industry."
NORML Strekal told Newsweek Wednesday he'd already found several data errors with the SAM tool and Americans are witnessing how the "laboratories of democracy" are trying to push a consumer base away from an underground marketplace.