Anti-Maskers Ordered to Dig Graves for COVID-19 Victims in Indonesia
Eight men who refused to wear face masks in public have been ordered to dig graves for COVID-19 victims as a punishment in Indonesia.
The province of East Java is cracking down on the wearing of face masks in a bid to stem the rise in coronavirus cases.
Local media reports that the punishment was meted out in the Cerme district where its head, Suyono, hoped that digging graves would act as a deterrent to anyone else considering flouting the face mask rule.
The Jakarta Post reported that Suyono was determined to force people to wear the masks and said: "There are only three available gravediggers at the moment so I thought I might as well put these people to work with them."
Suyono is reported to have said that in order to best assist the gravediggers, he had instructed two people to work at each grave, with one digging while the other laid boards inside to support the corpse.
He added: "Hopefully this can create a deterrent effect against violations."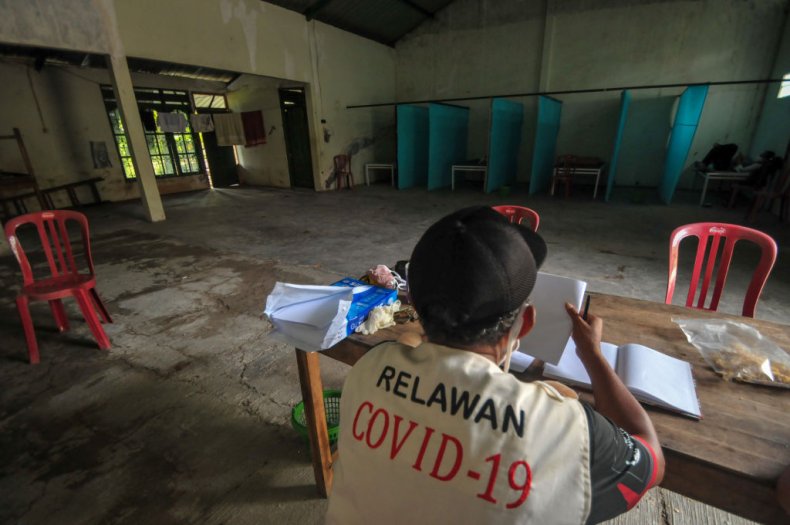 The Jakarta Post also said that Cerme police chief, Moh Nur Amin, had declared his officers would be working with the military to enforce protocols such as breaking up public gatherings.
He said: "We urge the public to wear face masks in accordance with the COVID-19 health protocols."
It is not the first time Indonesia has chosen to get tough on people who ignore COVID-19 rules.
In April, a politician found a unique way to punish quarantine violators. According to Agence France Presse, Kusdinar Untung Yuni Sukowati, head of Sragen Regency, began locking those disregarding the quarantine inside abandoned houses that were believed to be haunted.
Sukowati noticed that many people traveling to Indonesia's densely populated Java Island were disregarding orders to isolate themselves for at least two weeks after arriving, prompting the regency head to rely on local superstitions and fear to punish violators.
Villagers were ordered to convert abandoned homes into temporary detainment centers. Locals have a widespread belief that the buildings are haunted, a superstition connected to Indonesian folklore.
Sukowati told AFP that he had given people clear instructions.
He said: "If there's an empty and haunted house in the village, put people in there and lock them up."
Heri Susanto, who came to Java from neighboring Sumatra, was locked up after disobeying the quarantine rules. He told AFP that he'd learned a valuable lesson, although he hadn't yet encountered any ghosts.