Health commissioners in Idaho were forced to adjourn a board meeting on Tuesday night due to safety concerns after protesters gathered outside of the Central District Health facility, reports the Idaho Statesman.
The health board was scheduled to discuss a revised public health order for four counties—Ada, Valley, Boise and Elmore—that would impose a mask mandate in public and private places where social distancing by at least 6 feet isn't an option and prohibited gatherings of 10 or more people.
Hundreds of protesters, the majority not wearing masks, gathered outside of the CDH building to oppose the measures put forth by the health order. Protesters also gathered outside of at least three board members' homes, according to Boise police.
"Boise Police had a large number of officers at tonight's Central District Health board meeting," the police department said in a news release. "Due to the large crowd size, concurrent reports of protestors causing disturbances at or near the homes of board members, a disturbance inside of the meeting, and other significant calls for service, BPD requested the CDH meeting adjourn in the interest of public safety."
The news release also indicated that BPD placed one individual, later identified as 53-year-old Yvonne St Cyr of Boise, under citizen's arrest for allegedly trespassing at the CDH headquarters and refusing to leave.
Ada County Commissioner Diana Lachiondo reportedly left the meeting after learning that anti-mask and anti-lockdown protesters were gathered outside of her house where her 12-year-old son was home alone. Another board member, Dr. Ted Epperly, told the Statesman that about 15 protesters gathered outside of his home as well, "beating garbage cans and flashing strobe lights through my windows." He said that two people knocked on his door during the meeting.
Less than fifteen minutes into the meeting, CDH Director Russ Duke interrupted Dr. David Peterman's statements to announce that Boise Mayor Lauren McLean and Boise Police Chief Ryan Lee had requested that the meeting should be adjourned early over safety concerns.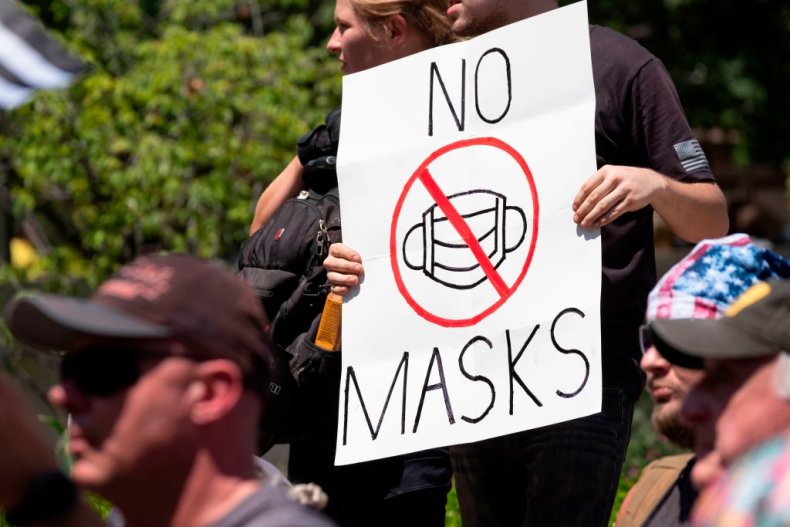 In a Tuesday night news release following the incident, CDH Public Information Officer Christine Myron wrote, "Boise Police were on scene at CDH with an increased presence in anticipation of a large-scale protest. However, growing safety concerns required the meeting to adjourn before any discussion of the draft public health order began."
"We appreciate the public's interest and investment in this process, but the safety of CDH staff, our Board members and our law enforcement partners is of the utmost importance," Duke said in a statement. "Our community is being severely impacted by this virus and our team members and board are working tirelessly to protect our community's health."
"We simply ask that those who may disagree with these difficult discussion points and decisions do so in a way that is respectful and does not endanger our staff, board of health members, and our law enforcement, all who are critical in this response," he added.
Myron told Newsweek in an email that the team is scheduled to meet on Wednesday morning and more details will follow.
Health officials reported 2,012 new COVID-19 cases on Tuesday, second-most reported for a single day and bringing its total number of confirmed and probable cases to 113,905. At least 1,074 Idaho residents have died from COVID-19 so far and 360 are currently hospitalized.
Idaho's seven-day moving average is 1,521.1 cases per day as of Tuesday, surpassing the previous record set on Monday. The state's seven-day moving average is now up nearly 85 percent since November 1, according to the Statesman.
Gov. Brad Little, who has urged residents to wear masks despite resisting calls to implement a statewide mask mandate and other strict measures to combat the spread of the virus, responded to the incident at CDH on Tuesday.
"The actions of protestors at the private residences of public officials is reprehensible," Little tweeted. "It is nothing more than a bullying tactic that seeks to silence. Our right to free speech should not be used to intimidate and scare others."
"There is no place for this behavior in Idaho," he added. "I urge calm among Idahoans so we can get through the pandemic together, stronger."
Uncommon Knowledge
Newsweek is committed to challenging conventional wisdom and finding connections in the search for common ground.
Newsweek is committed to challenging conventional wisdom and finding connections in the search for common ground.