Anti-Mask Protesters Return to Washington School Despite Order, Say Judge 'Made a Mistake'
Anti-mask demonstrators returned to a high school in Washington state on Friday, gathering again just a week after protests near the school district's grounds led to lockdowns of three campuses.
The demonstration occurred nearby the Skyview High School, despite an order from a judge banning demonstrations close to the Vancouver school district, Oregon Public Broadcasting (OPB) reported.
The order, issued on Tuesday, bans "rallies, protests or gatherings" within a mile of the grounds as long as masks are mandated in Washington's schools, according to OPB.
The order came after Skyview High School, Alki Middle School, and Chinook Elementary School went into lockdown on September 3, when a group of anti-mask demonstrators attempted to enter one of the campuses.
The high school told Newsweek that the September 3 protest took place after a parent had a confrontation with the school because her child, a Skyview student, refused to wear a mask.
During the demonstration on Friday, several people criticized the order banning protests issued by Clark County Superior Court Judge Suzan Clark.
"Suzan Clark is trying to suppress everybody's first amendment rights. So I don't think that's right," James Kirkendall, a 65-year-old retired firefighter, told OPB.
"I would like the judge to realize she made a mistake. And for everybody to realize that the judge has no power to infringe upon the constitution or the First Amendment," he added.
Another demonstrator, Barry Mannie, a 57-year-old mechanical engineer, said it was a "mock order" and stressed that the protests weren't dangerous.
"How many lives were at risk today? Ask one of the cops how many lives were at risk with a group of I-don't-know-how-many people expressing themselves," Mannie said.
"And yeah, people flipped us off. And yeah maybe you might say something back, but we're all human," he added.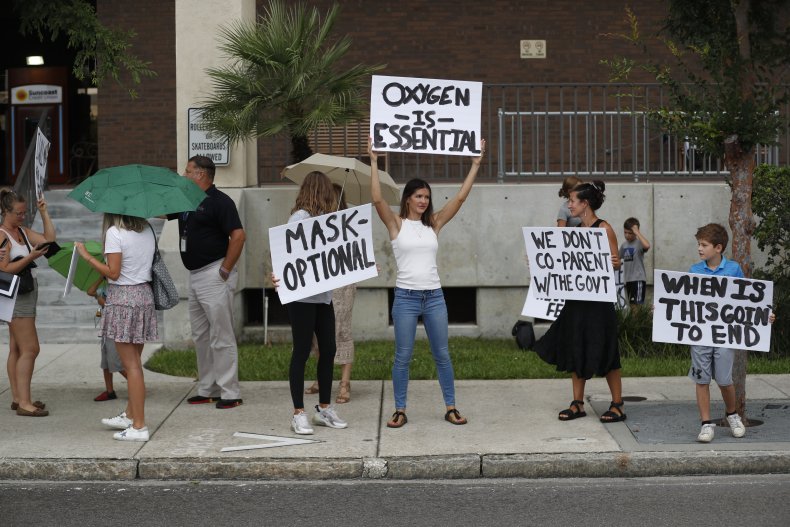 OPB reported that the school district sent a letter to families and stated that one protester "briefly came onto Skyview's property and was asked to leave."
"We coordinated with the Clark County Sheriff's Office in advance of the protest, and law enforcement officers were across the street during the protest," the letter read.
"We will continue to be vigilant and proactive to maintain the safety of our students and staff."
Newsweek has reached out to Skyview High School for comment.
OPB noted that the September 3 protests included members of the far-right Proud Boys, and that Friday's demonstration included "far-right figures" including Joey Gibson, the founder of the group Patriot Prayer that has organized rallies in the Pacific Northwest, Reuters reported.