Anti-Mask School Board Candidate Who Threatened Officials Blames His Election Loss on Fraud
A man who threatened to send "20 strong men" to forcibly remove school board members in Pennsylvania who supported mask mandates has blamed the loss of his recent election race on fraud.
Steve Lynch was a Republican candidate who unsuccessfully ran to become the executive of Northampton County. In the November 2 election, he lost by more than 7,700 votes to the incumbent, Democrat Lamont McClure.
Since the election, Lynch and his supporters have been "haunting" the Northampton County Courthouse in an attempt to monitor the official processing of the ballots, according to The Morning Call. At the courthouse, a bipartisan team tallies each vote and corrects errors for the tally's final certification. The public is allowed to watch.
However, in a nearly 13-minute public Facebook video, Lynch declared, "Election integrity is nonexistent." He said that "sycophants" processing the ballots under the direction of McClure and Democratic election officials had left ballots unsecured, manipulated the counts and tallied ballots that were incorrectly filled out.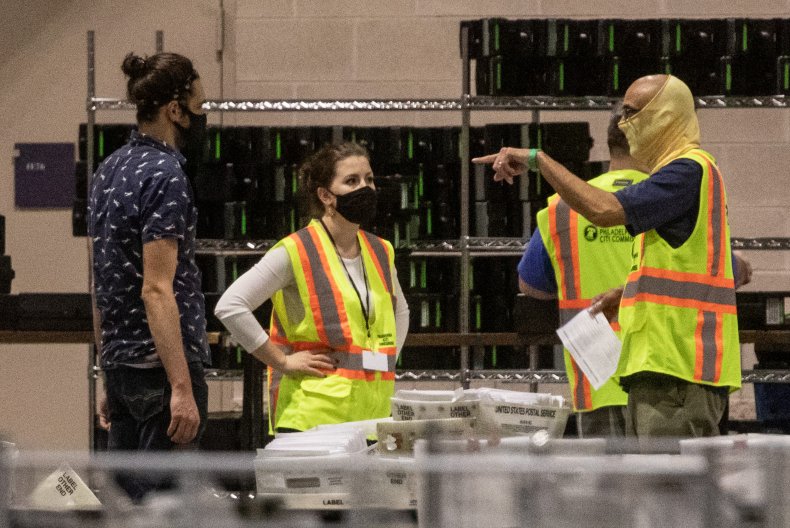 He also said that "barely anybody showed up" to the courthouse to aid his inquiry into potential fraud. He told his viewers to get their "rear ends to the courthouse" by 9 a.m. the following day.
"What's happening in this election office, it's a sham. It's a total sham. They have zero ethics in this office. This administration is corrupt to the core," Lynch said in the video. "We do not comply to your tyranny, whether it be medical tyranny, election integrity, just total tyranny in general."
People who have never witnessed vote processing may suspect wrongdoing where none exists, Matt Munsey, chair of the Northampton County Democratic Committee, told The Morning Call. First-time observers may misunderstand procedures or question methods that are, in fact, overseen and approved of by bipartisan teams of supervisors.
Lynch previously made headlines when, in an August 29 rally, he threatened to forcibly remove state school board officials who support school mask mandates.
"I'm going in with 20 strong men," Lynch told the crowd. "I'm going to speak to the school board and I'm going to give them an option. They can leave or they can be removed. And then after that, we're going to replace them with nine parents and we're going to vote down the mask mandates that evening."
He later said that his comments weren't meant to threaten anyone "with physical violence," The Daily Beast reported.
Lynch's campaign sought to roll back numerous pandemic-related restrictions. He also opposed COVID-19 vaccination mandates. His previous Facebook posts have compared the mainstream media to deceptive brainwashers and propagandists.
His inflammatory rhetorical style and accusations of voter fraud earned him comparisons with Republican former President Donald Trump, who also claimed to have lost his election due to voter fraud, a stance that has not been substantiated with any actual proof.