A British man who refused to wear a mask on a train in Singapore has been detained, lost his job, and faces six months in prison.
Benjamin Glynn, a 39-year-old father of two, did not wear a mask on his train commuting home from work in Singapore in May. A fellow passenger secretly filmed him and then posted the video on social media, leading to his arrest hours later.
"I had no idea anyone had even been filming, but it turned out a video of me unmasked on the late train home from work surfaced online," Glynn, of Yorkshire, northern England, told The Yorkshire Post.
"The police obviously saw it and the next day they were at the door," he added.
Glynn said police knocked on his door on the evening of May 8 and arrested him while his family were sleeping. He said he was charged with being a "public nuisance."
The Briton spent 28 hours in a cell before being released on bail on May 10, but he says he could face up to six months in prison for not wearing the mask. Adding to his woes, Glynn also said that police warned him it could take a year before the case comes to trial.
Glynn said his passport was also confiscated, meaning that he is unable to return to the U.K. as planned with his partner and two children, aged five and two. The seizure of Glynn's passport meant that he lost his job at the recruitment company he works for—he was due to transfer back to the U.K. with them from Singapore.
The British Foreign, Commonwealth and Development Office, is assisting him.
"I don't believe there is any evidence that masks protect you from COVID-19," Glynn said.
"Normally I would just tell people I'm exempt and it had never posed any issues before.
"But now I'm stuck here without my family and I don't even know when I will appear in court, never mind what my sentence will be.
"All for something I don't even believe in."
He said he never saw the video of him not wearing the mask, because "it was removed before he had the chance" to look at it.
Singapore has strict laws for those who don't wear masks in public places, though on June 21, it will begin easing its restrictions, allowing people to take off masks for indoor exercise like gyms or in fitness studios.
Glynn, whose family returned to Leeds, England, on May 31, spent 28 hours in a cell before being released on bail on May 10.
He branded the situation "ridiculous."
"I want to leave the country anyway—just let me go!
"I think it's insane that I am facing a trial at all, just for not wearing a mask.
"It's a horrible situation to be in when I don't know when I can next see my family," he said.
"Especially when I don't even believe masks stop the spread of the virus in the first place.
"I honestly believe it's a hoax—I don't feel there is any evidence to show mask-wearing is effective in any way.
"From a scientific basis, I think it's nonsense.
"But now all I can do is wait."
A spokesperson for the Singapore Police was unable to comment, due to the "confidential nature" of the case.
A spokesperson for the Foreign, Commonwealth and Development Office told the local newspaper it had been in touch with the local police about Glynn's case.
Newsweek has contacted Singapore's Ministry of Foreign Affairs for comment.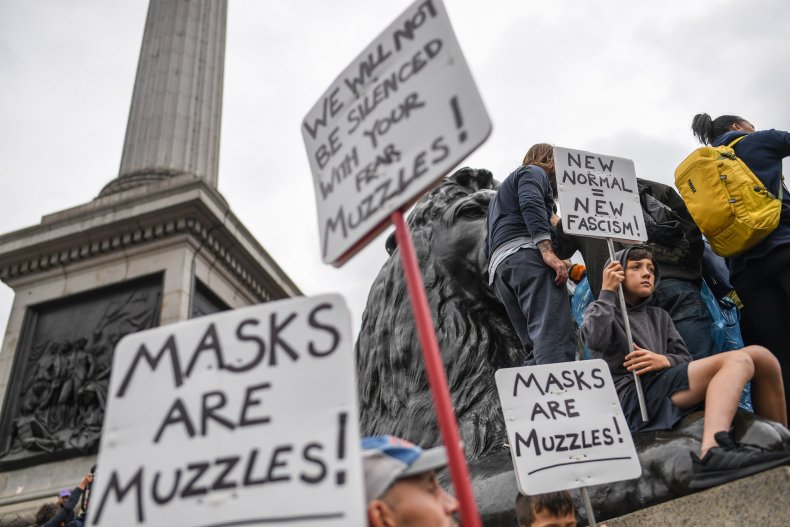 Newsweek, in partnership with NewsGuard, is dedicated to providing accurate and verifiable vaccine and health information. With NewsGuard's HealthGuard browser extension, users can verify if a website is a trustworthy source of health information. Visit the Newsweek VaxFacts website to learn more and to download the HealthGuard browser extension.