A viral video shows a man harassing and threatening workers at a Mesa, Arizona wig store over their face mask policy while falsely claiming that masks "don't work."
The video quickly amassed views after being shared on Twitter by a third party on Monday. It is one of several posted to the Instagram account "basedethanschmidt" that appear to show the harassment of people at businesses and other locations in Arizona that still have COVID-19 mask policies in place.
The video shows a maskless man, who called himself Ethan Schmidt of the "anti-maskers club" in a different video, claiming to be a victim of "discrimination" after workers at Sunnys Hair and Wigs tell him that he should wear a mask or leave the store.
"We have the right to refuse service, if you don't want to wear [a mask] you should go outside," one of several women working at the store tells Schmidt during the video.
"Ok, well that's called discrimination," Schmidt says. "So, do you guys really want to be blasted on the internet? Because I'll put your phone number and everything and you'll get blasted. Otherwise, you can do the right thing and let me walk around or no? So do you guys want to get blasted all over the internet?"
Schmidt then approaches the women, before being asked to stay back if he is unwilling to put on a mask. He warns the workers about "getting blasted all over the internet" again before claiming that the store's policy is a violation of his "human rights."
"Do you really not care about cancer patients so much, sir?" one woman says, explaining that many of the store's clients are cancer patients who are particularly vulnerable to COVID-19.
"I care about health so much that I go around and tell people that masks don't work," Schmidt responds.
The video ends right after a worker tells Schmidt that he needs to leave the store. Schmidt's post included the address and phone number of the store. Other videos on the Instagram page depict similar confrontations, while Schmidt and his "Antimaskersclub" also post mask harassment videos to a Facebook page. Both accounts include links asking for app-based donations.
Newsweek reached out to Instagram and Facebook for comment.
Arizona Governor Doug Ducey issued an executive order lifting the state's mask mandate on March 25. However, Ducey's order made it clear that private businesses still have the right "to instigate and enforce policies to mitigate against COVID-19 spread including the use of face coverings and physical distancing, and retain the right to refuse service to those who do not comply with the policies."
Sunnys Hair and Wigs owner Lisa Memberr told The Arizona Republic that she kept the mask policy in place because many of her customers are breast cancer survivors that lost their hair during chemotherapy treatments. A sign on the door explains the policy. She said that store began to receive abusive phone calls after Schmidt posted the video online.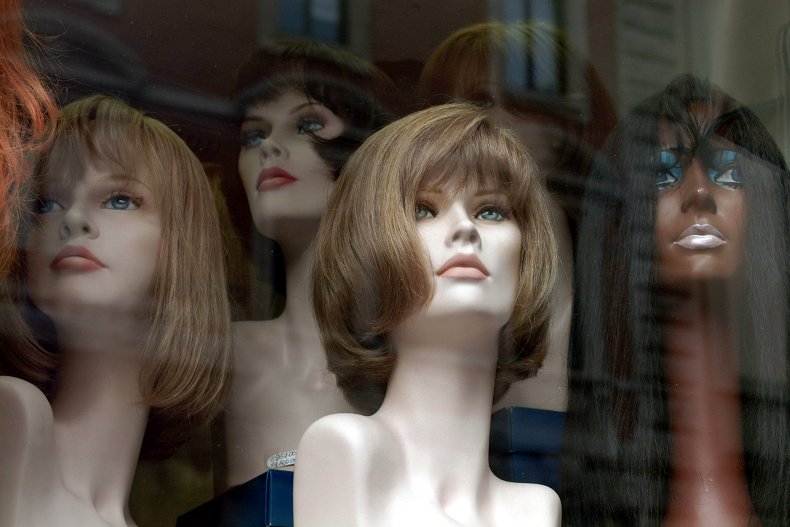 "We began receiving phone calls from his followers, threatening to shut down the store, using very abusive and offensive language," Memberr told the paper. "They kept insisting that they were going to shut down my business and not in such nice terms."
"Emotionally, and even psychologically, it has really placed a heavy load and a burden on us unnecessarily," she added. "There needs to be a stop to this and it is unfortunate that it has been allowed to reach this level."