Video Shows Unmasked Woman in Violent Altercation With Masked Shopper at Grocery Store
A group of anti-masker's protests turned violent after the group stormed a grocery store in Los Angeles.
Unmasked protesters entered a Ralphs grocery store in the Century City neighborhood on Sunday. The group was captured on video shouting and yelling at customers before confrontations with masked-shoppers arose. One woman was caught on camera trying to ram a shopping cart into man, who was wearing a mask; she claimed that the man had assaulted her.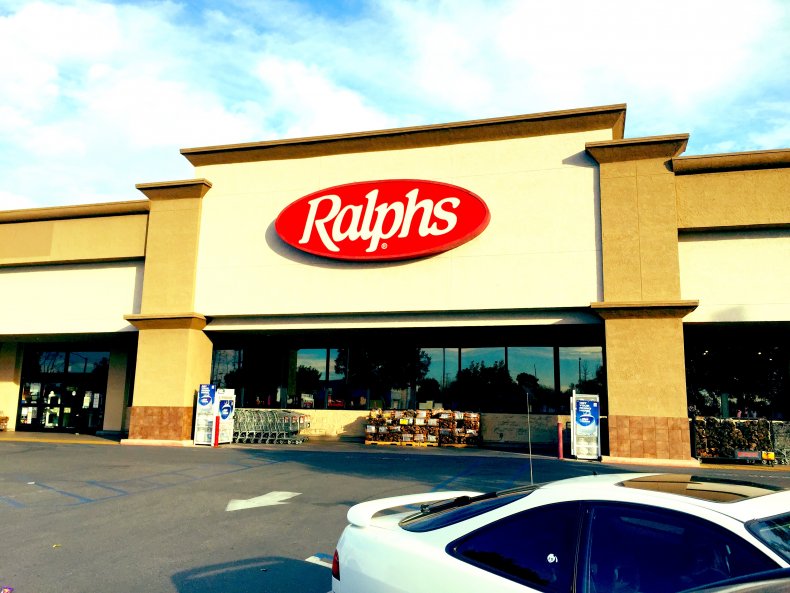 "He just hit me. He just assaulted me. Get him on camera. Get him on camera," the woman shouted while other anti-maskers in the background holler for someone to call the police.
The woman followed the man into the checkout line and was captured trying to hit and kick him as he stood at the register. "Some guy take care of him out there, come on patriots," she continued.
Police did respond to calls made regarding the incident, according to the Beverly Hills Courier.
At the same time elsewhere in the grocery store more masked shoppers were met with screams when they asked other anti-maskers. Some anti-maskers shouted remarks about America not being "Communist China" while others were recorded saying things like, "This is America, you cannot tell us what do you."
In one video, an anti-masker berates one shopper for not wearing any gloves. "Where is your f**king gloves if you believe there is a virus.
In another video, one protester calls a customer a "mask Nazi."
Ralphs, along with all every other grocery store owned by its parent company Kroger, requires all customers to wear facial coverings while inside. In November, California's Governor Gavin Newsom issued updated coronavirus mandates requiring residents above the age of 2 across the state to wear masks outside of their homes.
Ralphs was unable to provide comment to Newsweek regarding the incident. Newsweek has reached out to Kroger and the Los Angeles Police Department for further comment.
Anti-mask protesters didn't just unleash their fury inside of a grocery store on Sunday. Many of the people in the footage at the Ralphs protest were captured marching through the nearby Westfield Shopping Mall. Anti-maskers invaded all three floors of a Bloomingdale's within the mall shouting, "No more masks."
Meanwhile, coronavirus cases continue to surge across California. The state confirmed an additional 45,352 people tested positive for COVID-19 as of Sunday.
Hospitalizations have also continued to increase day-by-day across California since November. Currently, nearly 20,700 people have been hospitalized with confirmed coronavirus cases while more than 4,500 of those patients are in intensive care, according to Los Angeles Times.