Anti-Masker Threatens to Sue Chipotle for Not Serving Him in Viral Video
A viral video shows a man in a Chipotle restaurant, threatening to sue over the staff's refusal to serve him because he is not wearing a mask.
The video was first posted to TikTok on Thursday by Justine Kitts. The video shows the man standing in line at a Chipotle, arguing with the restaurant staff over the mask issue. After the staffer asks the man to wear a mask several times, the man yells "not interested" repeatedly. He also claims to have a medical condition, though he does not elaborate.
"We can serve you outside, if you like," the staffer offers.
"You don't even know what I want!" the man replies.
"We can take your order outside," the staffer clarifies.
"I want to be served like a normal human being," the customer says. "I'm going to file a lawsuit.
"I have been here three times—call your manager, ask him about the guy who comes in, demanding to be served. He'll know exactly what you're talking about," he adds.
The staffer then says that if the man will not leave the restaurant, he'll have to call the police to have him removed.
"Call 'em," the man replies.
In a follow-up TikTok posted a day later, Kitts wrote: "Not much happened after. The employee went to the back to call the police. Karen went quiet until he stepped to the front. Asked if anyone was going to serve him. They all said no, and he left in a huff, threatining [sic] about 'a group of vets at your door tomorrow' and that was the end of it."
Kitts' original TikTok had over 16,000 likes and 325,700 views as of publication. The video has also been shared on Twitter, where it has been seen another 525,700 times.
This July, Chipotle announced it was requiring customers to wear masks while in their restaurants, according to Nation's Restaurant News. Employees had already been required to wear masks. Chipotle said signs are posted on the doors of its restaurants informing customers of the policy. Masks are not required for customers using the drive-thru.
Newsweek reached out to Chipotle for comment.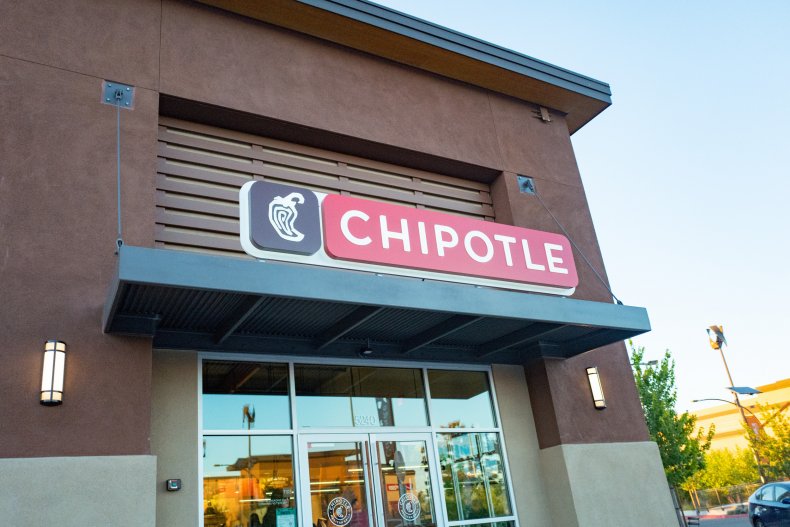 The man in the video is not the only customer to threaten to file a lawsuit against a business requiring masks. Over 30 people have filed suit against the Pittsburgh grocery store chain Giant Eagle, according to The Verge. Giant Eagle's mask policy requires all customers and staff to wear masks, with no exception for medical conditions. Those suing alleged that the policy violates the Americans With Disabilities Act. Giant Eagle, however, said the suits "have no merit," as those without masks can take advantage of the store's curbside pickup or delivery service options, or ask an employee to shop for them.
Governments have also been sued by anti-mask advocates. The Freedom Foundation filed suit in July against Washington State Secretary of Health John Wiesman, alleging that the mandate for citizens to wear masks in public violates the First Amendment.
"The face-covering directive is the definition of government overreach," Aaron Withe, national director of the Freedom Foundation, said in a statement. "If people choose to wear a mask, that's their choice. But [Democratic Governor Jay] Inslee is going after otherwise law-abiding citizens when there are rioters destroying Washington cities such as Seattle with no punishment in sight."
In August, business owners filed suit against the Tulsa, Oklahoma City Council, Tulsa Mayor G.T. Bynum and Tulsa Health Department Executive Director Bruce Dart for the city's mask mandate, according to Tulsa World. The suit alleged the masks cause oxygen deprivation. Studies have shown that these claims are inaccurate. In July, the Mayo Clinic released a statement attempting to debunk anti-mask myths.
"For many years, health care providers have worn masks for extended periods of time with no adverse health reactions. The CDC recommends wearing cloth masks while in public, and this option is very breathable. There is no risk of hypoxia, which is lower oxygen levels, in healthy adults. Carbon dioxide will freely diffuse through your mask as you breathe," Dr. Kimberly Frodl of the Mayo Clinic wrote.