Anti-Masker Throws Up Nazi Salute After Being Kicked Out of Jamba Juice
A would-be Jamba Juice customer was booted out of one of the smoothie chain's Los Angeles locations on March 30 after he repeatedly refused to wear a mask indoors. As if that wasn't bad enough, he proceeded to insult almost everyone in the vicinity in the process.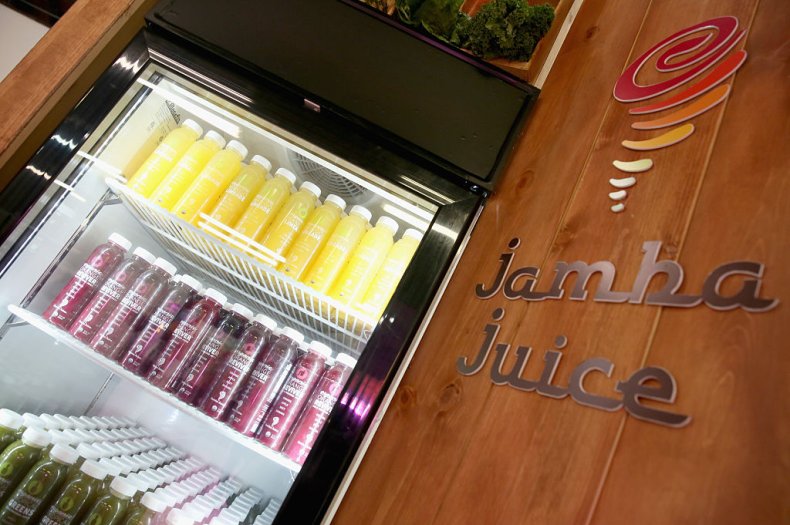 The incident, which was captured on cell phone camera by a female bystander and subsequently shared on Instagram by @bellikemike, depicts the man departing the store in disgrace, according to The Daily Dot. When an employee holds the door for him, he begins to berate her—first for her profession and then, apparently, for her race or nationality.
"That's all you do, you work at Jamba Juice," he says before snapping, "Go back to your country!"
Once the man has crossed the parking lot to his car, he continues in the same vein. This time, however, his rage is directed not at the Jamba Juice employee, but at the woman recording him.
"Yeah, record me," he says. "You go back to your country, too."
"Of course I am. Of course I am. I'm in my country, a*****e," the woman shoots back, taking no guff.
But the man insists on having the last word.
"Get out of here, all of you f*****g criminals, all you f*****g criminals, get the fuck out," he shouts before opening the passenger-side car door and doubling down on his racism with a mangled "Heil Hitler" and a Nazi salute. With a final volley of verbal abuse, he disappears into the interior. The car then backs out of the parking spot, revealing that it is reserved for a handicapped individual.
Before the clip ends, the woman can be heard saying that she recorded the car's license plate number.
The footage eventually found its way to Reddit, where commenters poked fun at everything from the man's car, a green Mini Cooper, to his pronunciation of "Heil."
"Hail Hitler", shouts guy who would be one of the first on the train to the concentration camps," wrote Reddit user Palpetinus.
"Homie is screaming 'HH' while also being a slightly darker shade than a paper bag," wrote user LieutenantHaven.
The car appears to have California license plates. Since June 18, 2020, the California Department of Public Health has imposed a statewide mask mandate, meaning all residents or visitors must wear a face covering when out in public, with a few exceptions.