The Anti-Mattress Protest: Paul Nungesser's Lawsuit Against Columbia University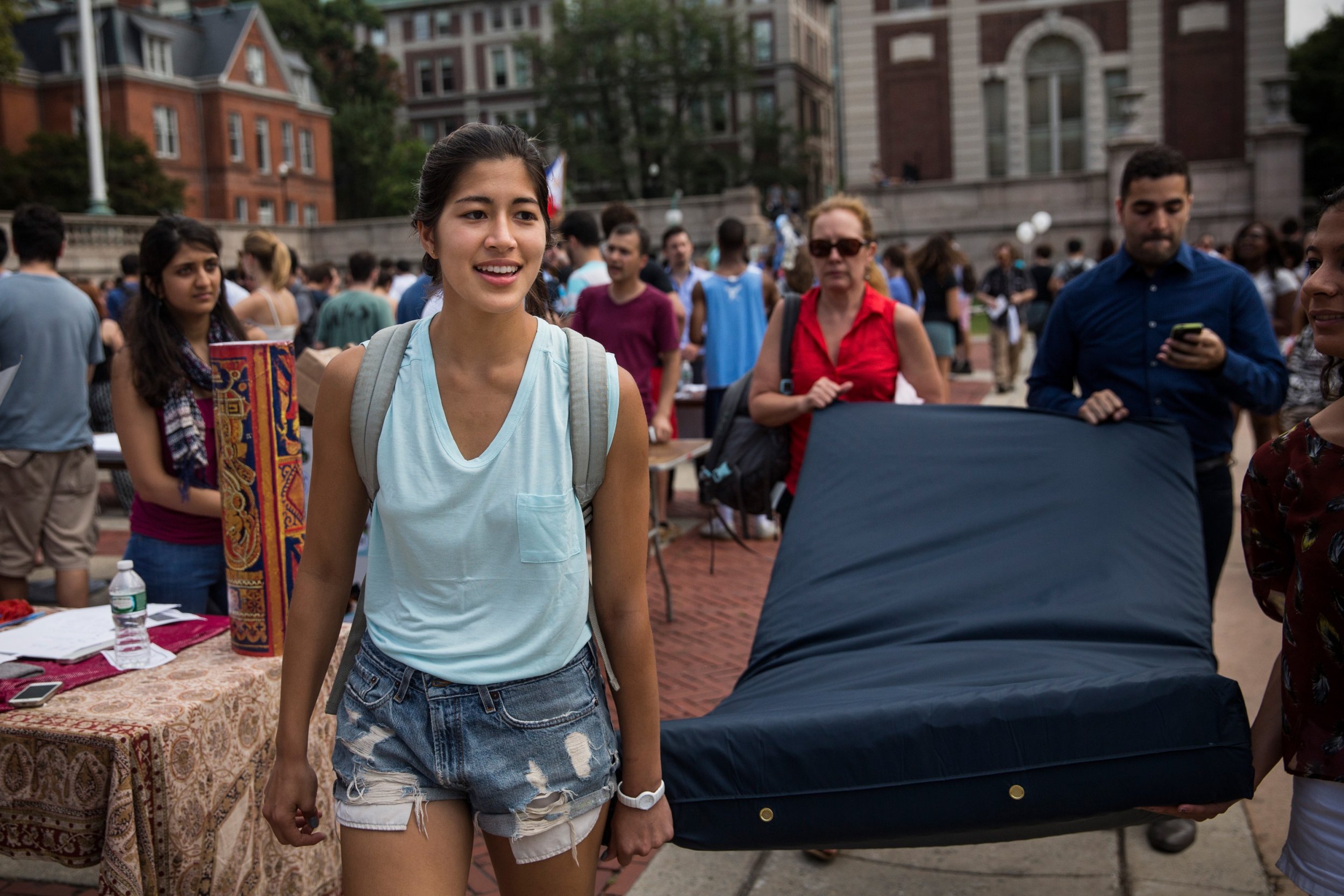 With less than a month until graduation, Paul Nungesser, the Columbia University senior accused of raping another student—who later carried around her mattress in protest—has filed a sexual discrimination lawsuit against the school.
Nungesser's attorneys say that by allowing his accuser, Emma Sulkowicz, to receive course credit for her highly publicized protest, the school violated Title IX, a 1972 law mandating that federally funded education programs cannot discriminate against people based on sex. The attorneys name Columbia University, its president Lee Bollinger, the school's board of trustees and visual arts professor Jon Kessler, who advised Sulkowicz on her mattress project, as defendants.
"The Mattress Project subjected Paul to verbal aggression, intimidation and hostility based on his gender," the lawsuit states. "Columbia University's effective sponsorship of the gender based harassment and defamation of Paul resulted in an intimidating, hostile, demeaning and offense [sic] learning and living environment."
Sulkowicz alleges that Nungesser, a German national, raped her at the beginning of the 2012 school year. The two had previously engaged in consensual sex, but on this occasion, she alleges, he became violent and the encounter stopped being consensual. She filed a report with the school seven months after the alleged incident and later went to the New York Police Department. Both cleared Nungesser of wrongdoing. The district attorney's office also investigated the claims and decided not to pursue criminal charges, citing "lack of reasonable suspicion," according to court documents. Sulkowicz appealed the school's verdict, but Columbia upheld the decision.
Two other female students filed sexual misconduct reports with the school against Nungesser. One, a former girlfriend, said she had felt like "she could only see him if she had sex with him," though she "never alleged physical coercion, violence or rape," according to last week's filing. The other said he "had grabbed her at a party at tried to kiss her." Columbia sided with Nungesser for the unwanted kissing complaint and terminated an investigation into the other report due to a lack of "sufficient information."
When neither the school nor law enforcement found Nungesser guilty, Sulkowicz started her own campaign. She began carrying around her mattress, vowing to do so until her alleged rapist left campus. It was not only a protest, but also an art project, and she received thesis credit for it. The image of her dragging around the mattress drew media attention and soon Sulkowicz became the face of the movement to combat sexual assault on college campuses. She appeared on covers of New York magazine and The New York Times, penned an op-ed for Time, attended President Obama's State of the Union address as a guest of New York Senator Kirsten Gillibrand and traveled to other schools for speaking engagements. The Columbia student newspaper published Nungesser's name, and it soon became widely known.
Sulkowicz's allegations, along with other high-profile cases such as those at Vanderbilt University and Occidental College, have drawn attention to the movement to combat sexual assault on college campuses. Other efforts have helped as well. The White House launched a campaign last September to tackle the issue. A documentary on the subject, The Hunting Ground, came out in January, and last week, the writer Jon Krakauer published Missoula, a book that delves into reported campus rapes at the University of Montana.
But Nungesser's April 23 filing represents a push to defend men who some say are unjustly accused. That push comes two months after Virginia police said the department found no evidence supporting a University of Virginia (UVA) student's allegations that she had been gang raped at a fraternity house. Rolling Stone published a story in December 2014 detailing those accusations, but officially retracted the story earlier this month.
"Someone becomes a media darling and a collective fiction seems to become truth," says Andrew Miltenberg, who represents Nungesser and has become the go-to attorney for students accused of sexual assault. (Miltenberg says his client is not speaking with the press at this time.)
Miltenberg says Nungesser retained him about eight months ago. "As her celebrity has risen and as the school has continually refused to address his concerns, we got to a point that if we were going to do this, we had to do it now," he says, referring to Sulkowicz and Nungesser. "We also were afraid of doing it too early, because we had a concern that the school would find some way to retaliate."
The complaint includes intimate messages between the accuser and accused, which Columbia did not permit the parties to use as evidence during the hearing.
The lawsuit is notable because it casts blame on the school, not the accuser. "Ms. Sulkowicz believes what she believes," Miltenberg says. "But I think the greater distress was at Columbia for legitimizing and allowing her to have on-campus rallies and allowing her to base her thesis on this.
"At this point," Miltenberg says of Sulkowicz, "she's sort of a footnote."
Sulkowicz has also filed a Title IX complaint against the school with the U.S. Department of Education. She was one of many signatories claiming that the school had violated Title IX by not effectively responding to their sexual assault complaints. Taken together, the two complaints highlight how people who side with both the accused and accusers believe schools are inadequately and unfairly handling of sexual assault cases.
"Now, hopefully between something like this and UVA, people will take a little bit of a harder or closer look at allegations," Miltenberg says. "That's not to say there aren't real sexual assaults and rape. Those are very serious problems. But so is being falsely accused."
Nungesser is suing for damages and legal fees. The defendants have a few weeks to file a response. A Columbia spokesman said in a statement: "We do not and have not commented on individual students or disciplinary cases, not only because of federal student privacy law, but also because of our ethical responsibility to ensure all current and future students have confidence that the university will never publicly discuss private matters they share when interacting with counselors and support staff, the campus disciplinary process or other resources we provide to them." Kessler did not immediately respond to a request for comment and his department says he is on sabbatical this semester and out of the country. Sulkowicz also did not respond to a request for comment.