Anti-Meghan and Harry Twitter Accounts Mistakenly Trolled Sussex NHS Trust
Anti-Meghan Markle and Prince Harry Twitter-users appear to have mistakenly trolled mental health hospitals located in the area that gives the couple their royal titles, Duke and Duchess of Sussex.
Tweets targeted Sussex Partnership NHS Foundation Trust, an organisational unit within Britain's National Health Service in the county of Sussex. It has nothing to do with the couple's titles.
Some tweets targeted a post about the organization's partnership with mental health texting service Shout, which is backed by Prince William and Kate Middleton.
The negative comments tagged Shout's official Twitter account as well as the Sussex Partnership one.
One comment on July 4 read: "Anything to do with them two lying scabs from America then it gets blocked now. Corruption attached to all Meghan Markle touches."
Another replied with a critical blog post about Meghan and Harry only to be told they were not linked to Sussex Partnership.
The account replied: "Yes, I see that now. Let's hope that they do not get taken in by the #SussexFrauds, Harry and Meghan, who exploit organizations & charities in order to prop themselves up. #greed."
Harry and Meghan were given their Sussex titles by Queen Elizabeth II when they married in May 2018. The "Sussex" is taken from a county on the south coast of England.
As a result, there are many organizations that have used the name "Sussex" for far longer than the word has been associated with Harry and Meghan.
Christopher Bouzy, who tracks hostile Twitter accounts through his data analysis company Bot Sentinel, wrote: "Anti-Meghan accounts thought the NHS was partnered with Harry and Meghan because of the name 'Sussex Partnership,' so they started attacking the NHS Twitter account.
"Spoiler alert: Harry and Meghan are not partnered with the NHS. These accounts need to be suspended permanently."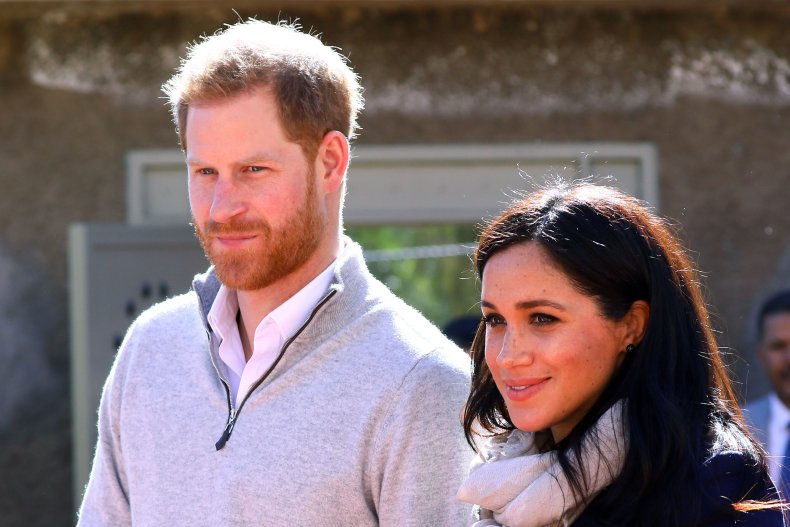 Meghan and Harry are regularly the subject of negative commentary on social media and in 2020 Meghan told the Teenager Therapy podcast she had the previous year been the most trolled person in the world.
She said: "I'm told that in 2019 I was the most trolled person in the entire world—male or female. Now eight months of that I wasn't even visible.
"I was on maternity leave or with a baby but what was able to just be manufactured and churned out, it's almost unsurvivable."
William and Kate's charity, The Royal Foundation, supported Shout with a grant in July 2020 and in March 2021 the couple spoke to the family of a 12-year-old boy whose life was saved by the text messaging service when he was suicidal.
The child, given the pseudonym Jack to protect his identity, was experiencing severe anxiety during the pandemic.
An article on Shout's website read: "Unbeknown to Jack's loving and supportive parents, things had become so difficult for him that one evening he decided to end his life.
"It was while Jack was standing on a bridge that he sent Shout a text message that would help him to find the help he needed.
"Jack's parents only knew how serious the situation was when the police contacted them to let them know that their son was safe."
During the call, Prince William said: "Shout has effectively bridged that gap between a point of crisis and despair and brought him back to give him the peace and calm for a time to just work things out and find that support."
If you have thoughts of suicide, confidential help is available for free at the U.S. National Suicide Prevention Lifeline. Call 1-800-273-8255. The line is available 24 hours, every day.
The Befrienders Worldwide website features a list of suicide support services around the world.
For more royal news and commentary check out Newsweek's The Royal Report podcast: