America's 'Largest Anti-Muslim Hate Convention' Proceeds Despite Concerns From Rights Groups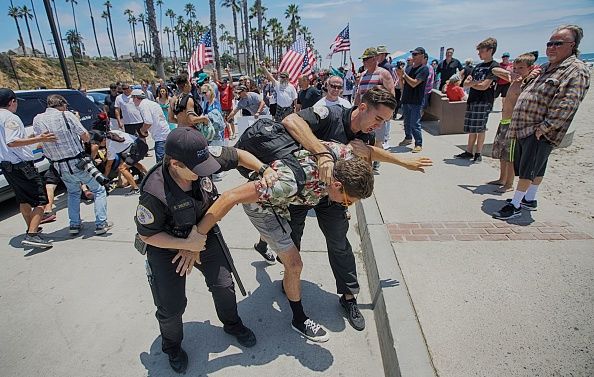 Rights groups are questioning the underlying intentions of an event billed as "the nation's largest national security-focused grassroots gathering," which the groups argue was sponsored by a "hate group."
ACTCON 2017: United Against Terror, which ends Tuesday afternoon in Arlington, Virginia—just a stone's throw from America's levers of power in Washington, D.C.—is the brainchild of conservative hardliner Brigitte Gabriel, who is known for warning about what she sees as the dangers of Islam.
Her organization, ACT for America, has been criticized by Muslim Advocates, a legal advocacy organization focused on the civil rights of Muslim citizens. It called the event America's "largest anti-Muslim hate convention," and petitioned Marriott CEO Arne Sorenson to keep the event away from his Arlington hotel.
"ACT for America is attempting to give license to people in power to hate Muslims with this event," according to Scott Simpson, the public policy adviser for Muslim Advocates. "The group serves as a gateway drug that makes hatred of Muslim people more mainstream."
Gabriel's group disagrees with the assessment, naturally, arguing in a statement that it has "never, and will never, tolerate any bias, discrimination, or violence against anyone, based on their religion, gender, race, or political persuasion." But rights groups other than Muslim Advocates share similar concerns that ACT for America's stated intentions—of warning Americans about potential risks to national security—is really just a vehicle to spread Islamophobic propaganda.
During a press call organized by the Southern Poverty Law Center (SPLC) to discuss ACTCON 2017 last week, Saeed Khan, a senior lecturer at Wayne State University, said ACT for America has "joined forces" with groups that have "used Muslims as a 'canary in a coal mine' by which to promulgate bigoted legislation and policies against other demographic groups."
The Council on American-Islamic Relations (CAIR) has argued that ACT for America " provides a glimpse into a world of racist, right-wing paranoia that is often a bit hidden from liberals, particularly those who live in deep blue urban areas."
Rights groups frequently point to a series of marches that were staged by ACT for America across the U.S. in June as an example of the way the group colludes with white supremacists, and spreads propaganda that may be dangerous to American Muslim citizens. The Arkansas rally had to be canceled after the SPLC discovered that a neo-Nazi organizer, named Billy Roper, was staging the event. Other events went on as planned, but clashes broke out between violent protesters and counterprotesters, which resulted in a series of arrests in cities like St. Paul, Minnesota, and Seattle.
Fighting against the alleged spread of Sharia is an important issue for Gabriel's organization. The SPLC describes the far-right wing conspiracy theory surrounding the threat of Sharia, or "creeping Sharia," as one promoting the idea that "American Muslims are trying to undermine the U.S. Constitution and maybe even overthrow the government someday by implementing Sharia religious law in legal proceedings across the country."
Some of ACT for America's more extreme concerns, like the one about "creeping Sharia," have recently bubbled over into America's broader public discourse. Roy Moore, the Republican candidate for the open U.S. Senate seat in Alabama, mistakenly insisted to the politics website Vox.com that "there's Sharia law, as I understand it, in Illinois, Indiana"—a statement that is false.
Gabriel has boasted of having a direct line to the president, but it's unclear whether that is true. ACTCON 2017 featured speakers who aren't exactly household names. A former Trump press person, Katrina Pierson, who was featured prominently on cable news during his campaign for the presidency, represents the most recognizable face on the bill.
Pierson focused a great deal of her speech at the convention around the issue of political correctness, which she argued was causing "swamp people" in Washington to act against America's best interests. The group in the past has also been loosely connected to administration figures like former counterterrorism adviser Sebastian Gorka, a man who has been criticized for voicing anti-Muslim sentiment, but who was not a scheduled speaker in Arlington.
Gabriel spoke at ACTCON Monday, and at one point attempted to link Sunday night's mass shooting in Las Vegas to Islamic terrorism.
"These crimes have become so distressfully common," she says of ISIS attacks. "Fifty in Las Vegas last night and over 200 wounded. Thirteen [dead] in Barcelona, four in London, four in Jerusalem, 84 in Nice and 49 in Orlando. The numbers are nothing. They are scorecards of atrocity on a treadmill of hatred that never seems to stop."
The Las Vegas shooting has claimed at least 59 lives, but a motive has yet to be determined. ISIS had claimed responsibility for the violence, but the FBI has since suggested that shooter Stephen Paddock had no connection to foreign terrorists.
Gabriel also took pointed aim at the criticism she has received from rights groups like the ones mentioned in this article, suggesting they were attempting to trample on her right to free speech.
"We have entered a new and dangerous era of speech suppression sponsored by the hardcore progressive left," she says. "SPLC, CAIR and others…ignore what we say, and they ignore what we do."