Face of Russia's Anti-Putin Movement, Yevgeny Roizman, Faces Jail 
Yevgeny Roizman, the face of Russia's anti-Putin movement, has been charged with "discrediting" the actions of the Russian army, and now faces jail time, according to reports.
Masked security forces removed the former State Duma deputy from his apartment in the city of Yekaterinburg after conducting a search in the early hours of Wednesday morning. They took him to the city's Nevyansk Icon Museum, which was opened by Roizman in 1999, where searches are also underway, local media reported.
Roizman, a former mayor of Yekaterinburg, and a vocal critic of President Vladimir Putin's war against Ukraine, is being investigated for "discrediting the Russian army," Russia's TASS news agency said, citing Yekaterinburg security services.
Speaking to journalists as he was being led away from his apartment, Roizman suggested that he was being charged for calling Putin's war against Ukraine an "invasion." The case was opened, according to him, because of one phrase: "invasion of Ukraine."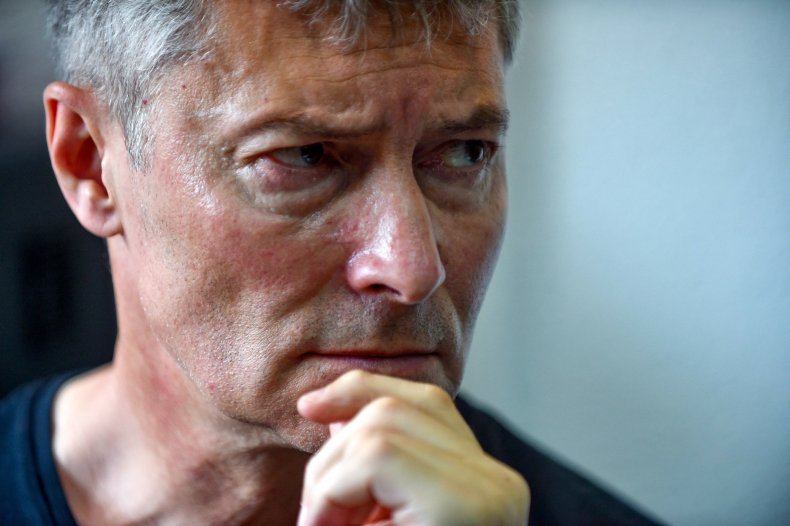 "I said it everywhere, and I will say it now," Roizman said.
Putin launched what he calls a "special military operation" in Ukraine on February 24. Referring to the ongoing conflict as a "war" or an "invasion" is punishable in Russia, after the Kremlin rolled out laws aimed at cracking down on dissent and rhetoric that sways from Putin's narrative.
A TASS source said that a criminal case was opened against Roizman because of a video on his YouTube channel.
Roizman told reporters he was charged under Part 1 of Article 280.3 of the Criminal Code, which has a maximum jail term of up to three years.
Videos circulating online show the moment masked security forces lead the opposition figure from his apartment.
One shows at least six masked security officials enter the entrance of a residential building. They go up to Roizman's apartment, and he opens the door. The recording ends shortly afterwards.
Roizman's lawyer, Vladislav Idamzhapov said that he was not able to contact his client.
The attorney was cited by Russian state-run news agency Interfax as saying that his defense will protest against the actions of law enforcement agencies for not allowing him to enter his client's apartment during the search.
Six months into Putin's war, Moscow is cracking down on opposition figures, such as Roizman's friend and Russian opposition leader Alexei Navalny.
Speaking to AFP in July, Roizman said he knew he could be arrested at any moment.
"I have no illusions," he said. "But I also have no fear."
In a statement on Wednesday morning, Kira Yarmysh, Navalny's spokesperson said: "Putin decided to celebrate six months of the war with Ukraine with the demonstrative detention of the last remaining opposition politician at large."
Newsweek has contacted Russia's foreign ministry, Roizman and Yarmysh for comment.