Fighting Hate with Punctuation: Social Media Users Battle Anti-Semites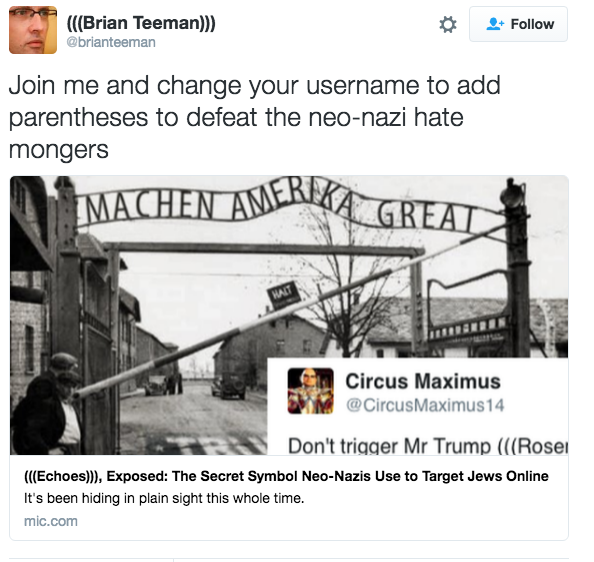 Brian Teeman endured a "typical" barrage of anti-semitic tweets after sharing an article he spotted last week on the "Coincidence Detector," a Google Chrome extension white supremacists were using to track and harass Jewish people. "Same anti-semitic crap I see all the time," he told Newsweek.
The 48-year-old Leeds, U.K. resident co-founded a software company called "Joomla!" and has seen his share of racist "trolls" in the IT world, most of them best left ignored. But this time, he decided the coordination of an effort to surround the names of supposedly "anti-white" Jews with three sets of parentheses — (((Teeman))), for example — merited a more outspoken response. He changed his Twitter handle to read (((Brian Teeman))), and issued a call for others to "join me and change your username to add parentheses to defeat the neo-nazi hate mongers," which of course resulted in another round of hateful tweets from users with names like "Kas the Gikes," a Donald Trump supporter. This effort to "take back the parentheses" is spreading, as other Twitter users change their own handles, and Teeman says it's an effective way to stand up against hate.
"Instead of you identifying me as a Jew, I'm not ashamed of being Jewish, I'll identify myself as being a Jew. And if non-Jews also identify this way, it makes it harder for them to persecute people."
Google removed the Chrome extension last week after a story published on the web site Mic, for violating the company's hate speech policy, but not before its users grew to 2,473 and linked to a database of the names of known Jews and other "anti-whites." In November, one white supremacist tweeted that it's "closed captioning for the Jew-blind." New York Times editor Jonathan Weisman wrote in an article last month that he'd faced harassment after tweeting a story about Donald Trump and fascism from the Washington Post.
Outing racists "forces them from their holes," Teeman says, identifying them. While his typical policy is to ignore trolls, that's partly because they tend to be individuals, not entire groups. "This is more targeted, more concerted and certainly more organized."