New Yorkers Poised to March in Solidarity Across Brooklyn Bridge After Wave of Anti-Semitic Attacks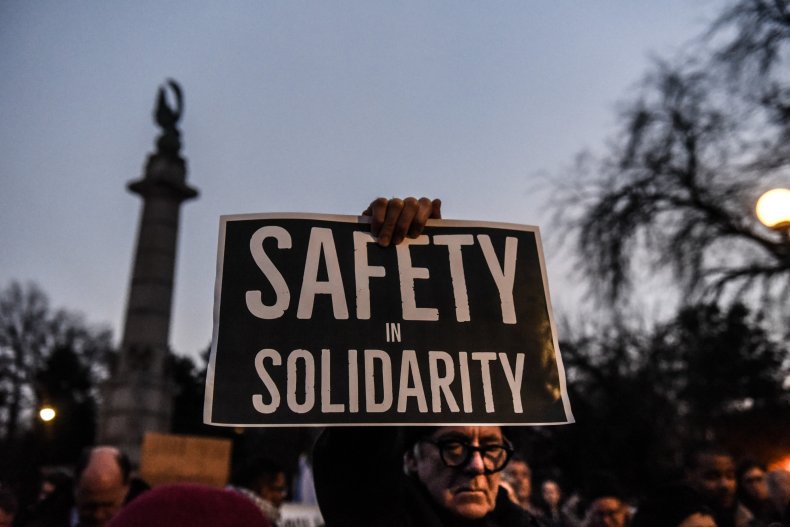 Thousands of Jews and New Yorkers are expected to turn out on Sunday for what's being dubbed a solidarity march across New York City's Brooklyn Bridge.
The event was convened in response to a raft of apparently anti-Semitic attacks across the New York metropolitan area, including a recent stabbing rampage in Monsey, New York, at the home of a Hasidic rabbi.
The event is being organized by the UJA-Federation of New York, which funds charitable causes important to the Jewish community. It is scheduled to start at 11 a.m. and will begin in Foley Square in Lower Manhattan.
The federation's CEO, Eric Goldstein, said that he hopes Sunday will be a "day people will long remember."
"Many of us have stood up for important causes before. We marched for Soviet Jewry trapped behind the Iron Curtain. We rallied for Israel in times of war and crisis." Goldstein said in a press release. "This time, we're marching for ourselves — the 1.5 million Jews of the New York region, the largest Jewish community in the diaspora, who refuse to cede to hate."
In just the last two weeks, New York and its suburbs have endured around two dozen crimes appearing to target Jews. On December 10, an armed couple killed three civilians inside a kosher deli in a notably Jewish neighborhood of Jersey City, New Jersey. Authorities said the suspects harbored anti-Semitic views and a hatred of law enforcement.
A police officer was separately killed by the suspected assailants before the attack on the store.
Anti-Semitic crimes in New York have risen dramatically. During the first three quarters of 2019, the New York City Police Department (NYPD) received 166 complaints of anti-Semitic incidents, a 54 percent increase over the same period in 2018, according to official statistics.
UJA responded to the wave of incidents by announcing the hire of Mitchell D. Silber, a former senior intelligence official at the NYPD, to coordinate security at Jewish institutions across the region.
On the final day of Hanukkah, the Jewish festival of lights, New York City Mayor Bill de Blasio appeared at a menorah lighting at Grand Army Plaza and delivered remarks about how the city would respond.
"Right now, we see people attacking this community, and we will not stand for it," he said to a receptive crowd. "In New York City we will never allow attacks on the Jewish community. This is not what we believe in."
De Blasio had previously announced the creation of Neighborhood Safety Coalitions, community groups sponsored by the city which will work to disrupt and pre-empt the commission of hate crimes.
In a show of support, the editorial board of The New York Times published a piece urging all New Yorkers to turn out to the march on Sunday.
"How beautiful would it be to see thousands of people, Jews and non-Jews alike, walking arm-in-arm through the streets of Brooklyn," it read.