'Anti-Semitic' German Rappers Are Going to Auschwitz
A controversial German rap duo have agreed to visit the infamous Auschwitz-Birkenau concentration camp after their lyrics were accused of being anti-Semitic.
Kollegah and Farid Bang—real names Felix Blume and Farid El Abdellaoui—were invited to attend the Auschwitz memorial and museum in Poland by the executive vice-chairman of the International Auschwitz Committee, Christoph Heubner, German newspaper Bild reported.
Kollegah and Farid sing the song "0815," in which they refer to the Holocaust and Auschwitz. The song says the singers's bodies are "more defined than Auschwitz prisoners," while another line says, "I'm doing another Holocaust, coming with a Molotov." The rappers were recently awarded a top music prize despite allegations of anti-Semitism.
State attorneys in Germany's western city of Dusseldorf are investigating the pair for hate speech, Deutsche Welle reported. Two allegations have been made against the duo for their lyrics.
Heubner said it is important "that every person is ready to learn and overcome anti-Semitic prejudices," and suggested that for the rappers to visit the Auschwitz-Birkenau site would be "a signal to their many fans." The singers confirmed to Bild that they had accepted the invitation, and their visit has been scheduled for June 3.
After they were given the "Echo" prize, several other musicines returned their awards in protest. The ceremony sparked intense public debate, leading to the awards being abolished. The show's organizers said they did not want to prize to be seen as a platform for anti-Semitism, contempt for women, homophobia or violence, and felt that the brand had been so badly damaged by the controversy that a new beginning was required.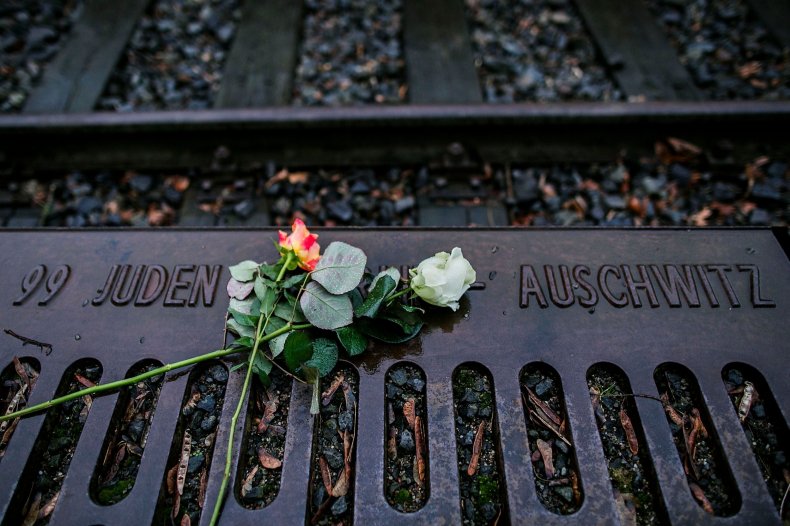 The Auschwitz complex was made up of three camps near the town of Oswiecim, some 37 miles west of the Polish capital of Krakow. The first site was established in 1940 and over the next five years around 1.1 million people were killed at Auschwitz, including around 960,000 Jews. Surviving prisoners were liberated by advancing Soviet forces on 26 and 27 January, 1945.
Chancellor Angela Merkel has warned that anti-Semitism is on the rise in Germany and said in January, "It is inconceivable and shameful that no Jewish institution can exist without police protection, whether it is a school, a kindergarten or a synagogue."
Last September, the far-right Alternative for Deutschland (AfD) party became the third largest in the German parliament, leading to protests by the party's opponents who say the group are Nazi apologists and racists. Critics fear the party's rise shows that Germans are forgetting the country's bloody 20th century history.
Before and during World War Two, Adolf Hitler's Nazi regime killed as many as 15 million to 20 million people, including approximately 6 million Jews. Other groups that were targeted included political prisoners, homosexuals, disabled people and Soviet prisoners of war.