Anti-Semitic Graffiti Carved Into Historic Washington D.C. Synagogue
Anti-Semitic graffiti, including swastikas and anti-Semitic language was discovered Friday at the historic Washington D.C. synagogue, Sixth and I. Housed in a space that dates back to 1908, Sixth and I also functions as an arts and entertainment center.
Rabbis from the synagogue wrote about the vandalism in an email today which said while the damage was not extensive and would be fixed quickly, "events like this can throw even the toughest person into a tailspin."
"Given the current climate," the email continued, "we unfortunately are not surprised by this happening. Anti-semitic attacks are on the rise, as are hate crimes against all marginalized communities."
"In these moments, it's important to remember that it is not a shame but an honor to be a Jew," added the email. "It is no small irony that it was our doors, symbols of welcoming and inclusivity, onto which someone spewed hatred and bigotry. But we are stronger than a few swastikas; stronger than some impotent graffiti etched into our door. In solidarity with non-Jewish loved ones and allies, we can and will respond to this hateful act with open doors, in resilience and spirit, living Jewish lives of joy, optimism, and pride."
"This past Friday, less than 24 hours after many of us sat around the Thanksgiving table in gratitude, anti-Semitic graffiti was carved into a door and drawn on a stairway of our historic building," said Sixth & I's CEO and Executive Director, Heather Moran in a statement to Newsweek. "While the damage to the building is minimal and will be fixed quickly, the emotional scars of such a hateful act will take longer to heal. Nothing is more important than the security and safety of our community and we are working closely with the Metropolitan Police Department and other local law enforcement."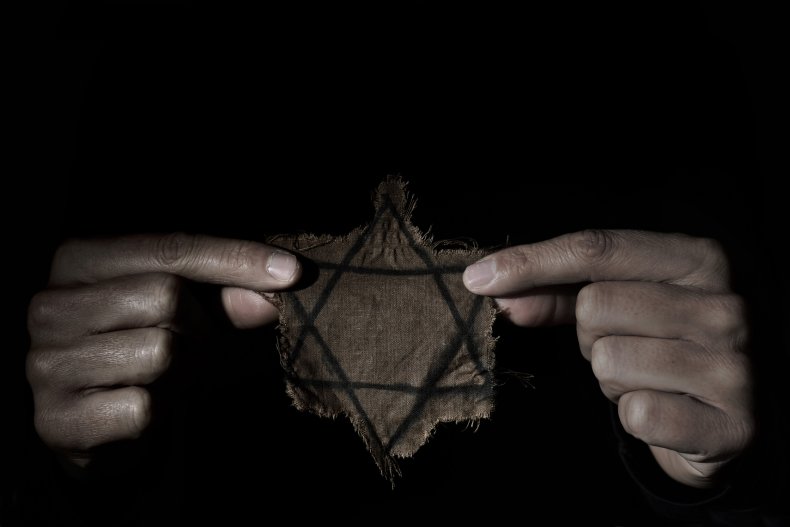 Anti-Semitic vandalism is on the rise in the U.S., with New York City police saying anti-Semitic hate crimes rose 63 percent this year from 2018. Arrests for hate crimes are also up in the city from 108 in 2018 to 108 this year.
In October, the Garden of Remembrance Holocaust memorial in White Plains, New York was defaced with anti-Semitic graffiti, posters and stickers. The vandalism occurred the night before Yom Kippur, the Jewish day of atonement.
New York Governor Andrew Cuomo said he was "disgusted" by the vandalism in a statement.
"On this day of atonement, I join with New York's Jewish community in remembrance of the lives lost and I pray for love, peace and understanding," Cuomo wrote. "Hate has no place in this state."
In 2018, 249 of the reported 1,879 acts of anti-Semitism could be connected with extremists or extremist groups, according to the Anti-Defamation League (ADL). That is the highest number of anti-Semitic crimes linked to extremist ideologies since 2004. Only four states reported no hate crimes against Jews or Jewish institutions in 2018.
"It is unacceptable that Jews and Jewish institutions continue to be at the center of religion-based hate crime attacks," said ADL CEO Jonathan Greenblatt in a news release. "By improving hate crime training, prevention, best practices, and data collection, we can stem hate crimes nationwide."