Anti-Semitic Incidents Increased Drastically in 2016, Early 2017: ADL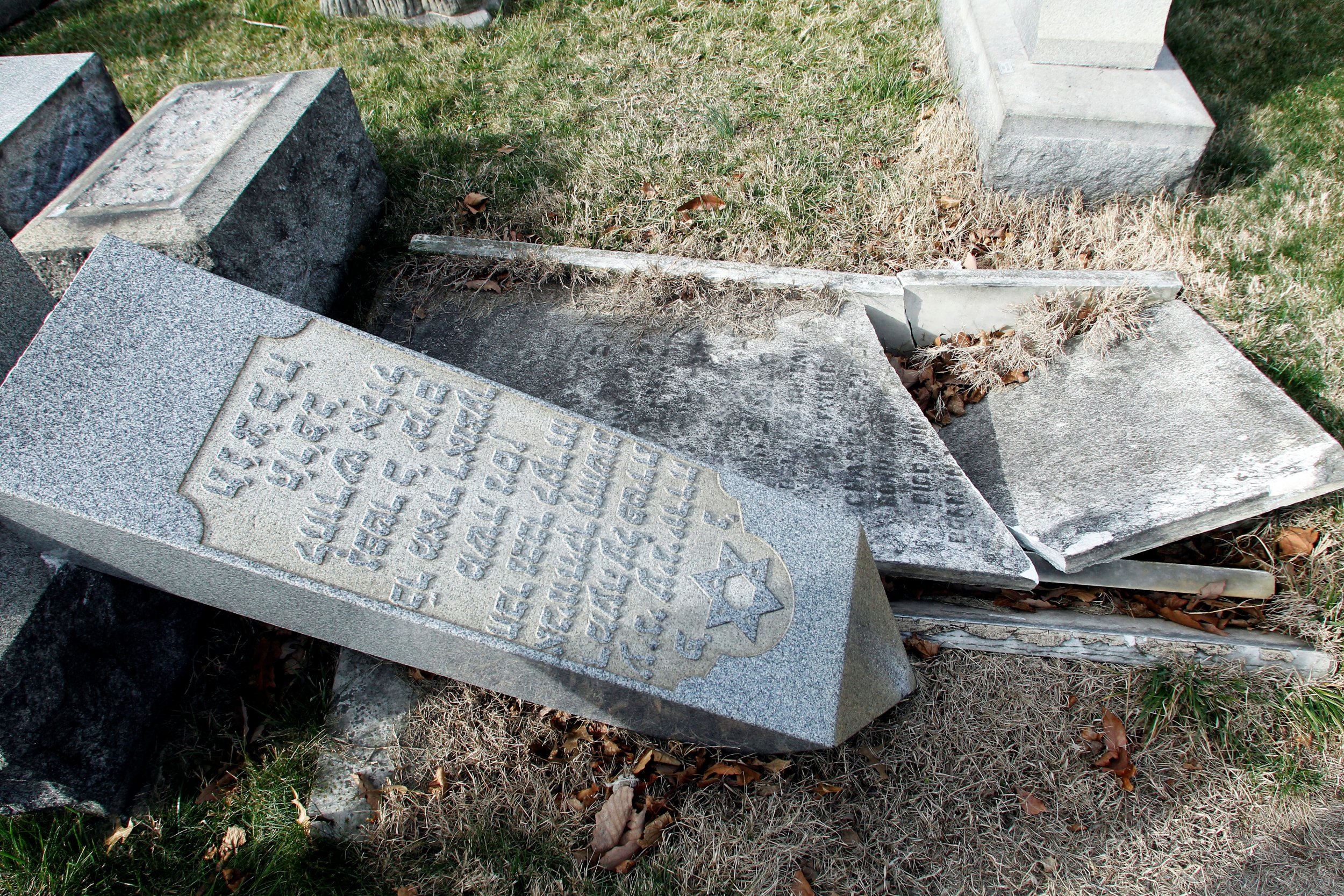 The number of anti-Semitic incidents reported in the United States rose significantly last year and increased even more drastically in the early part of this year, according to the Anti-Defamation League. The ADL's annual "Audit of Anti-Semitic Incidents," released Monday, found that the number of incidents reported in 2016 rose 34 percent year over year, while the number of incidents in the first quarter of 2017 rose 86 percent compared with the same period last year.
"To those people who wonder whether or not intolerance is on the rise, the numbers underscore what we know to be true in the Jewish community," Jonathan Greenblatt, the ADL's CEO, tells Newsweek. "Not necessarily anti-Semitism but the incidences themselves have increased, which leads us to believe that the extremists feel emboldened. And that's what's deeply concerning."
There were 1,266 incidents of vandalism (510), harassment and threats (720) and physical assaults (36) that targeted Jews or Jewish institutions last year. The incidents were not evenly distributed throughout the year; nearly 30 percent of them took place in November and December. The first quarter of 2017 saw preliminary reports of 541 incidents: 380 harassment and threat incidents, 155 vandalism incidents (including three highly-publicized incidents at cemeteries) and six physical assaults. If incidents continue to transpire at the same rate throughout the remainder of the year, the final tally would exceed 2,000 incidents.
Both in 2016 and early 2017, the number of vandalism, harassment and threat incidents increased, while physical assaults decreased.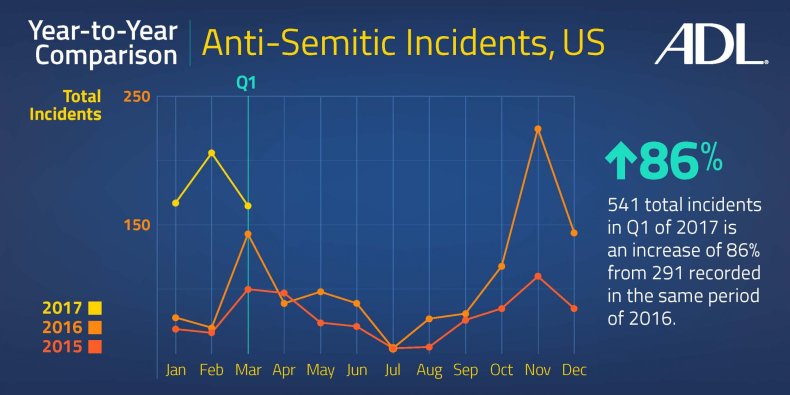 Although incidents were reported in 39 states in 2016 and 43 states so far this year, "the states with the highest number of incidents tend to be those with large Jewish populations," the ADL writes. "These include California (211 in 2016 and 87 in Q1 2017), New York (199 in 2016 and 97 in Q1 2017), New Jersey (157 in 2016 and 24 in Q1 2017), Florida (137 in 2016 and 41 in Q1 2017), and Massachusetts (125 and 38 in Q1 2017)." Campus incidents remained relatively steady last year, while those at non-Jewish K-12 schools increased 106 percent from 2015.
The annual audit is compiled using information provided by victims, law enforcement and community leaders, and reported directly to the ADL's 27 regional offices. There are surely incidents that go unreported and therefore are not counted by the audit. While some instances of harassment via email are included, Greenblatt explains, the audit does not generally count incidents on social media and other online platforms. However, the ADL released a report in October that found 2.6 million tweets sent between August 2015 and July 2016 that contained "language frequently found in anti-Semitic speech."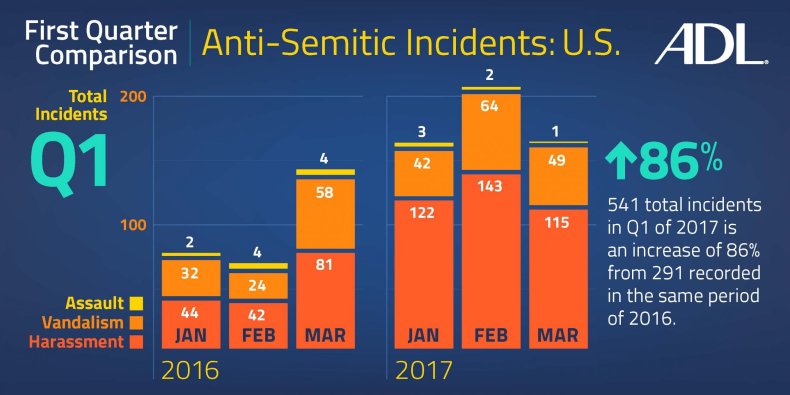 Though the audit focuses on numbers rather than the factors that influence the numbers, the ADL cites the 2016 presidential election and the ensuing political atmosphere as contributors to the increase, which has been most stark in the last five months. It counted 34 incidents unequivocally related to the election, including graffiti reading "Kill the Jews, Vote Trump" (Denver, May 2016).
"I think people raised real questions when anti-Semitic images were circulating during the political campaign, or being tweeted or retweeted," Greenblatt says. "I think there were real concerns when some of the rhetoric seemed to engage in anti-Semitic tropes. And I think there was even more anxiety provoked when things like [an International] Holocaust Remembrance Day statement that was issued by the White House didn't really remember the Holocaust in a way that at least had happened traditionally. I think all of these things set off alarm bells that created anxiety that's in the community," he adds.
The ADL began tracking anti-Semitic incidents in the U.S. in 1979. Though the numbers for 2016 are the highest the U.S. has seen since 2008, they are not the highest historically. In fact, every year between 1988 and 2008 saw more total incidents than 2016, as did 1981 and 1982, according to a spreadsheet provided to Newsweek.
Still, the sharp uptick in just the last five months is concerning to Greenblatt. If the current pace continues, 2017 could surpass 1994 as the year with the highest number of incidents (2,066) since the ADL began counting.
"I think it's really important for leaders at all levels of all parties to step up and speak out," Greenblatt says, "clearly and emphatically, firmly and forcefully, again and again, against prejudice. There's no politics involved in that. It's only about principles. I think it's just incumbent upon—whether you're the president of the United States or a university president or president of a rotary club—to make it clear that anti-Semitism and all forms of prejudice are unacceptable."