Indiana University Suspends Fraternity After Alleged Anti-Semitic Incident on Campus
A police investigation has been launched into allegations of anti-Semitic slurs and assault after a reported fight between members of two fraternities at Indiana University's Bloomington campus.
Security camera footage that was circulated over the weekend shows a group of men attacking two men outside a house on Friday night, according to the university news website Indiana Daily Student.
Members of Alpha Epsilon Pi, which is a traditionally Jewish fraternity, were involved in the fight, its fraternity spokesman Jonathan Pierce said, according to the publication which reported that Jewish students were allegedly beaten by the men as they tried to enter a party at the Pi Kappa Phi house.
The Pi Kappa Phi fraternity, one of more than 70 fraternities and sororities on campus, has been suspended pending an investigation, meaning that it cannot host or take part in activities until the case is resolved.
The university's Inter Fraternity Council (IFC) said in a statement to the Indiana Daily Student that it was working with the university's Office of Sorority and Fraternity Life as well as the national headquarters of Pi Kappa Phi.
It said, "The problem exemplified in this video insinuates a larger problem in this organization."
Indiana University said that the Indiana University Police Department is investigating the alleged assault, and officers have executed a search warrant and interviewed the victims.
In a statement on Twitter Indiana University said that it "condemns bias or violence in any form and will hold individuals and organizations accountable. Diversity and inclusion are core values that we expect to be shared by all IU students."
Newsweek has contacted the Indiana University media department, the Indiana University police department and the university's Interfraternity Council for comment.
Founded in 1820, around 43,000 students attend Indiana University's flagship Bloomington campus. Around one fifth of its students belong to a Greek organization.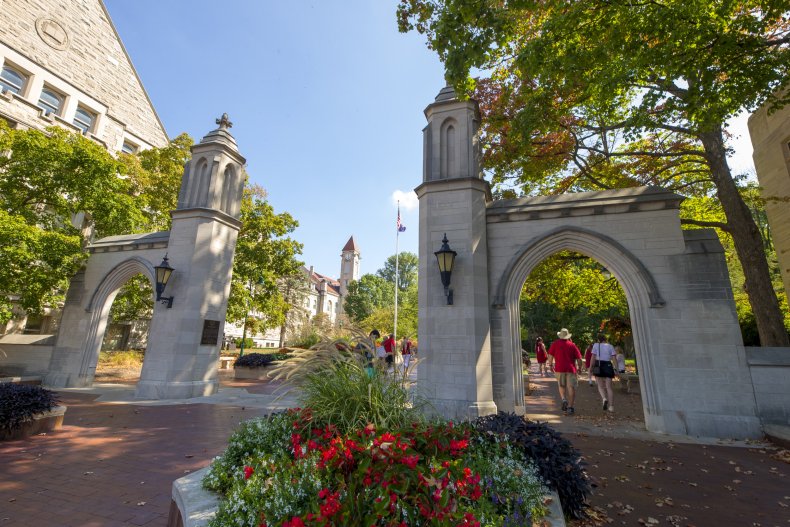 This latest incident comes amid a number of other reported racist and anti-Semitic incidents on campuses around the country.
Syracuse University said racist graffiti and heckling was reported to police at its New York state campus last month, USA Today reported. Police stepped up patrols and camera surveillance at Syracuse, whose chancellor Kent Syverud told the university senate that there had been 12 incidents of racist and anti-Semitic graffiti and that students had been "airdropped" a white supremacist document.
The University of Georgia confirmed last month that someone had drawn swastikas on placards and message boards at two campus residence halls, CNN reported.
Earlier this year, Swarthmore College, Pennsylvania, banned fraternities and sororities after a leak showed one fraternity had been sending derogatory messages about women, minorities and the LGBTQ community in internal documents, NBC News reported.
The graphic below, provided by Statista, illustrates the number of recorded anti-Semitic attacks in the U.S. in recent years.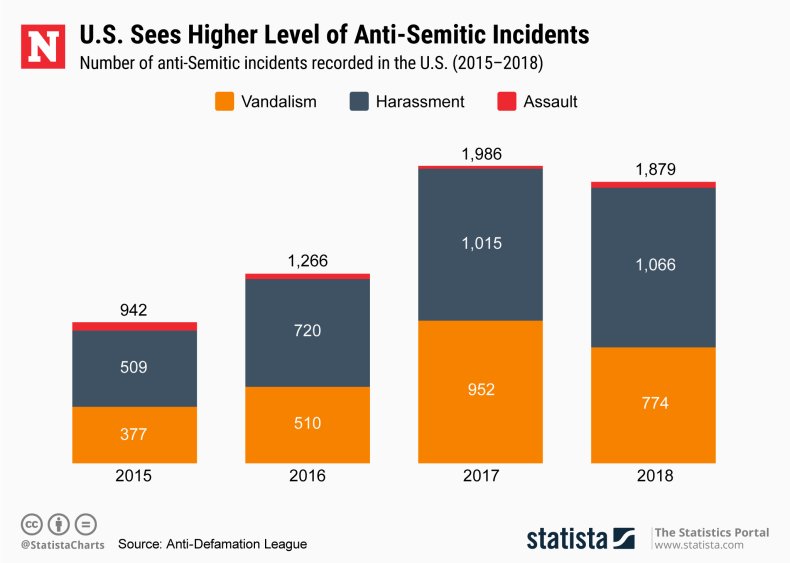 This article was updated to include an infographic.