Anti-Semitic Vandalism Found On Indiana Synagogue Property
Update | Anti-Semitic graffiti was painted on part of a synagogue in Carmel, Indiana on Saturday. Carmel police have opened an investigation into the crime, but no suspects have yet been named, the Indy Star reported Sunday.
A Nazi flag and other hate symbols were spray-painted on the back side of Congregation Shaarey Tefilla's garbage shed. It is assumed the vandalism took place early Saturday morning. The crime did not interrupt Saturday's Shabbat services.
Carmel Mayor, Jim Brainard, condemned the actions in a statement on Saturday.
"There is no place for this kind of hatred in Carmel and it does not reflect the respectful and welcoming nature of the vast majority of our residents who come from many different cultural and faith backgrounds," Brainard said. "As we are reminded each year during our city's Holocaust Remembrance Ceremony, we must never forget and never stop fighting against the hatred that led to the murder of 6 million Jews. These images that represent the ideas that led to those crimes are not reflective of what our City stands for."
Brainard's response to the crime supported a statement from Corey Freedman, president of the congregation.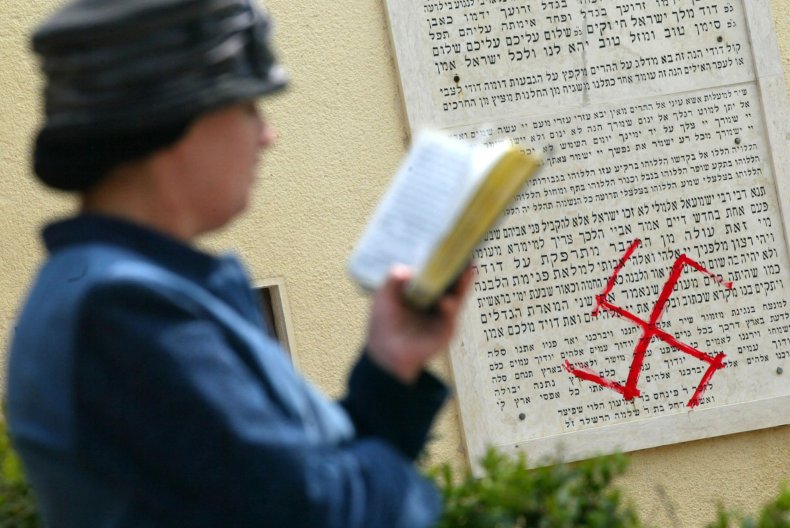 "Since learning of the vandalism, we have focused on working with the Carmel Police, communicating to our congregation, and working with the Indianapolis Jewish Community Relations Council and Jewish Federation of Greater Indianapolis to communicate to other congregations and other Jewish agencies to ensure that they are aware of the event and can take appropriate measures," Freedman stated.
The incident follows two bomb threats to the Indiana Jewish Community Center last year. The threats were called to the center two weeks apart in February 2017, according to the Indy Star.
"How could it not make me worried?" one local Jewish resident, Susan Lerner, told the Indy Star. "It worries all Jews. I think it should, and I'm sure it does hurt everybody."
Indiana is one of five states without a hate crime law. Senate Bill 418 was pulled from legislation on January 30. The bill aimed to punish crimes with "the intent to harm or intimidate an individual because of certain perceived or actual characteristics of the individual," according to the Indiana General Assembly.
Senate leader David Long stated the bill would be pitched again in 2019, the Indy Star reported in January.
"I think time will change some people's opinions in our caucus, or we'll have different members in there in the future," he said. "It's important not to misunderstand what happened today. It's not for a lack of caring or belief that you shouldn't do it. It's just how you do it and the language you use."
A community solidarity gathering will be hosted at the synagogue Monday night at 6 p.m. ET.
This article has been updated to include the synagogue solidarity gathering.