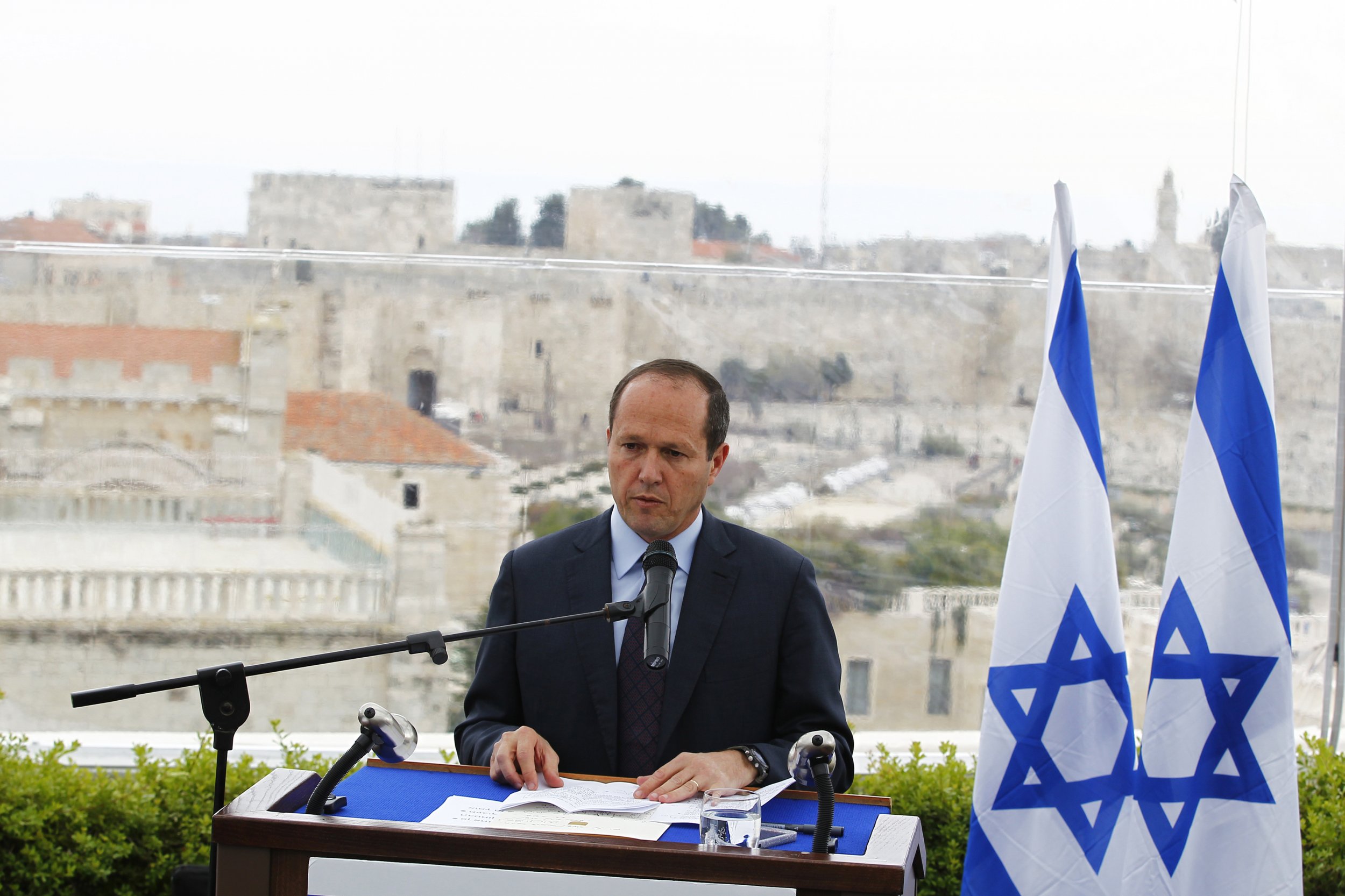 When the mayor of Jerusalem, Nir Barkat, was invited to speak at San Francisco State University (SFSU) in the spring of 2016, few could have predicted that his visit—at the request of SF Hillel, a group for Jewish college students in the city—would result in a lawsuit being filed a year later.
The mayor's trip did not go well: Members of the General Union of Palestine Students heckled Barkat with shouts of "Get the fuck off our campus" and calls for "Intifada," a reference to the violent uprisings that have periodically shaken Israel and the Palestinian Territories.
Students who invited Barkat tried to hear him speak, but "this proved to be impossible," the lawsuit states "as the incessant threats and amplified chants prevented anyone from hearing Mayor Barkat's speech or engaging in dialog with him."
With their verbal assaults, angry gestures, and hostile actions, the disrupting students physically threatened Plaintiffs and others in attendance, who feared for their safety.
The Lawfare Project, a legal group dedicated to fighting anti-Semitism, filed the lawsuit on behalf of six individuals who are also receiving representation from Winston & Strawn. Named defendants include SFSU president Leslie Wong, the trustees of the university and the larger California State University system, to which SFSU belongs.
The suit, filed in the Northern District of California earlier this week, calls SFSU "among the worst of the worst offenders and is largely recognized as being among the most anti-Semitic campuses in the country."
The heckling of Barkat is one of several incidents that the suit argues contributed to an atmosphere hostile to Jewish students, one that was created with the alleged complicity of the school's administrations. That complicity, according to the lawsuit, is longstanding, beginning with the 1968 founding of the College of Ethnic Studies. That, in turn, gave succor to pro-Palestinian groups that have fostered, the suit says, a "consistent pattern of anti-Jewish animus."
"Jewish students who are open about their Jewish identities...feel vulnerable, intimidated, and threatened on their own campus, and are not able to participate in their education, or benefit from educational and other events planned for their campus community, the way that other, non-Jewish students do,"the suit charges.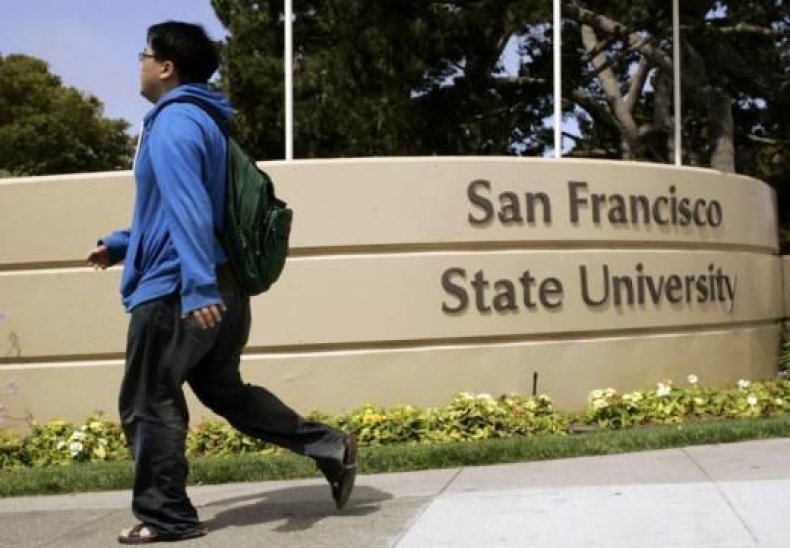 The Lawfare Project details several incidents, some of which took place decades ago, that contributed to that alleged hostility. For example, in 1973, SFSU students founded a group called the General Union of Palestine Students, which the suit alleges had ties to extremist Palestinian groups. In addition, the Lawfare Project says the student group engaged in Holocaust denial.
"In 1994," the suit continues, "a ten-foot mural was erected on SFSU's student union building that portrayed yellow Stars of David intertwined with dollar signs, skulls and crossbones, and the words 'African Blood.'" The mural was eventually sandblasted into oblivion.
Court filings describe a number of other incidents that, according to the plaintiffs, have contributed to a campus environment in which any support voiced for Israel, any show of Jewish faith, is met with swift and inordinate rebuke:
"In 1997, a banner depicting an Israeli flag with a swastika, next to an American flag with a dollar sign, was hung over the same wall where the 1994 mural had been painted."
"In April of 2002, posters appeared around campus advertising an event called 'Genocide in the 21st Century.' ...The posters featured a dead baby on the label of a soup can, surrounded on either side by Israeli flags."
"In May of 2002, Hillel held a 'Peace in the Middle East' Rally. When a group of approximately 50 students stayed behind to clean up, conduct a prayer service, sing Hebrew songs, and hear speeches, a group of GUPS members and other individuals surrounded the remaining students. The group shouted at the Jewish students that 'Hitler didn't finish the job,' 'Get out or we'll kill you,' and 'Go back to Russia.'"
Wong, the SFSU president, did not respond to a request for comment. But the school's legal counsel, Dan Ojeda, said in a statement, "We have been working closely with the Jewish community, among other interest groups, to address concerns and improve the campus environment for all students. Those efforts have been very productive and will continue notwithstanding this lawsuit."
Later, SFSU released a longer statement that said, in part:
We condemn all forms of hate and anti-Semitism, and will continue to work tirelessly to protect the rights of all campus community members. The disruption of the event featuring Jerusalem Mayor Nir Barkat in spring 2016 and bias incidents that were reported this year were ugly reminders that anti-Semitism, like all forms of discrimination, is real and our community has work to do.
The lawsuit paints a grim picture of a campus where Jews are maligned and political dissident is silence. It seeks to tie the disruption of last spring's talk by Barkat to a rise in anti-Semitism on campuses around the nation. Some say this is because the plight of the Palestinians has become something of a cause célèbre, the way Tibetan independence was during the 1990s; others charge that pro-Israel students themselves engage in needless provocation.
The Anti-Defamation League, which tracks such incidents, said that anti-Semitic incidents on campus have been rising dramatically, a rise some have attributed to the concomitant rise of Donald Trump and the alt-right. In mid-2016, the ADL found that a "total of 90 [anti-Semitic] incidents were reported on 60 college campuses in 2015, compared with 47 incidents on 43 campuses in 2014."
This spring, a Dartmouth scholar of Native American studies had to turn a deanship after it was revealed that he'd once signed a letter supporting a boycott of Israel. And in October, a Palestinian student at Berkeley faced nationwide criticism for offering his fellow students a mini-course that, critics said, called for the destruction of Israel.
The SFSU lawsuit also ties the events at Barkat's speech to what many call a growing liberal intransigence toward conservative and Republican voices on campus. "SFSU allows for mob rule at the expense of civil rights," the suit says, "where the loudest and most aggressive group rules the day."
The General Union of Palestine Students did not respond to Newsweek's request for comment.