Woman Charged With Assaulting Jewish Man in New York As City Suffers 13th Anti-Semitic Attack Since Hanukkah
A woman has been charged with assaulting a Jewish man in the latest incident in an anti-Semitic crime wave in New York, which is posing a major political problem for the city at the start of 2020.
The New York Police Department (NYPD) said that Jasmine Lucas, 24, and another woman yelled anti-Semitic slurs at a 22-year-old Jewish man in Williamsburg around 1 p.m. on New Year's Day. The second woman was quizzed by police but released, while Lucas was charged with second-degree assault and criminal mischief.
One witness, Moses Weiser said, according to CBS Local: "They took him and threw him down to the ground, and broke his phone and threw the phone at his head."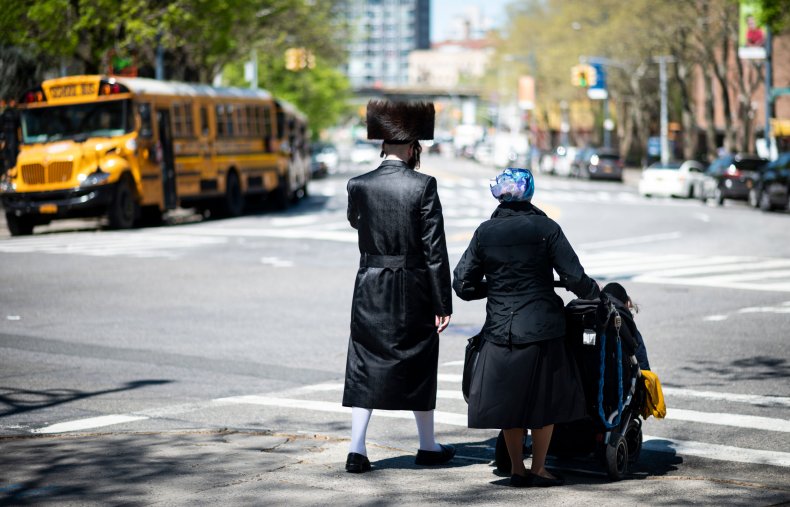 It comes only a day after a 15-year-old boy was robbed at knifepoint by two men who ripped his yarmulke off his head, according to the boy's father, Jack Hershkovich, CBS Local reported.
The NYPD says there have now been 13 reported anti-Semitic hate crimes in the city since the first full day of Hanukkah on December 23. The frequency of attacks on Jews over the last few months has led The New York Times to describe that the city was "on edge."
New York Governor Andrew Cuomo has pledged to add patrols to Jewish neighborhoods and wants to propose a new domestic terrorism law, which he hopes state lawmakers can pass this month, the New York Post reported.
"Everybody feels very upset and disturbed about what happened and everybody stands in solidarity with you," Cuomo said on a visit on Wednesday to Williamsburg, according to the governor's website.
A machete attack injured five people at a home in Monsey, Rockland County, during a Hanukkah celebration on Saturday. Josef Gluck was lauded for his bravery after he threw a wooden table at the alleged attacker, Grafton Thomas, during the frenzy at a synagogue which is also the home of Rabbi Chaim Rottenberg.
Congresswoman for New York's 17th Congressional District Nita Lowery said that "without his swift action, the even more unthinkable could have happened."
The Republican candidate taking on Lowery for New York's 17th Congressional District, Josh Eisen, who says he has prayed with Rottenberg's congregation, told Newsweek that the "broader Jewish community are concerned" that the state's new bail law which came into effect on January 1 may increase anti-Semitic attacks.
The law eliminates cash bail for most nonviolent crimes, with the aim of shrinking a jail population that mostly consists of inmates awaiting sentencing. Opponents say it could mean the release of dangerous individuals onto the streets.
Eisen said that politicians like Cuomo and Lowey, "must put an end to this dangerous new bail law," telling Newsweek in a statement, it "incentivizes hateful acts, anti-Semitism, racism, and crime generally."