Anti-Semitism: American Visiting Berlin Hit in the Face After Saying he was Jewish
A U.S. tourist to the German capital of Berlin has said he was hit in the face after telling a group that started harassing him in a park that he was Jewish.
The Jerusalem Post reported that the man, a 23-year-old U.S. citizen, suffered a black eye in the attack which he reported to German authorities on a police website. Police are treating the incident as an anti-Semitic crime.
The incident reportedly occurred at around 9 p.m. Tuesday when three individuals in a group of ten began harassing the tourist in a park in Berlin's Steglitz district. One of those three then asked the American man about his religious affiliation. When he replied he was Jewish he was struck in the face.
The attack on the U.S. tourist, who has not been identified, comes amid a worrying rise in anti-Semitic hate crimes in Europe. The Berlin-based Research and Information Center on Antisemitism released figures in April which showed there had been a 14 percent increase in anti-Jewish incidents in the German capital compared with the previous year. One year ago 951 instances of anti-Semitic incidents were reported in the German capital.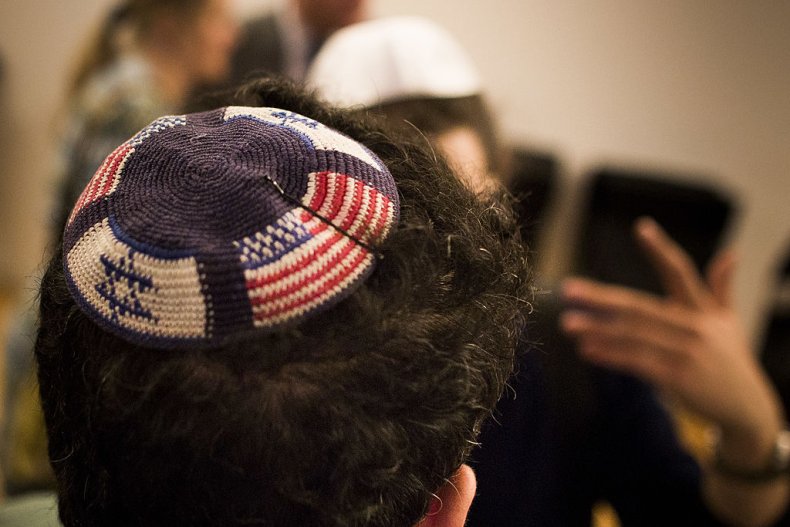 The episode in the Steglitz park comes just days after a 20-year-old man was attacked in the Prenzlauer Berg district of Berlin for his Jewish faith. The perpetrator of the attack tried to spit on the victim who was wearing a kippah, a traditional skull cap worn by Jewish men. Police are also investigating the incident.
In May, Germany's government anti-Semitism representative cautioned the country's Jews saying it might not be safe for the community to wear the kippah in public. "My opinion on the matter has changed following the ongoing brutalization in German society," Felix Klein told the Funke newspaper group. "I can no longer recommend Jews wear a kippah at every time and place in Germany," he explained.
The anti-Semitism representative sparked fierce debate over the traditional Jewish garment. Germany's U.S. Ambassador responded saying the country's Jews should not be forced to hide. "The opposite is true. Wear your kippa. Wear your friend's kippah. Borrow a kippah and wear it for our Jewish neighbors. Educate people that we are a diverse society," he wrote on Twitter.
In her own warnings about the rise of anti-Semitism in modern Germany, German Chancellor Angela Merkel has stressed the need to put such incidents in the context of the Nazi Holocaust when 6 million Jews were systematically killed in death camps orchestrated from Berlin.
"In Germany, obviously, they always have to be seen in a certain context, in the context of our past, which means we have to be that much more vigilant than others," she told CNN.
"There is to this day not a single Synagogue not a single daycare center for Jewish children, not a single school for Jewish children that does not need to be guarded by German policemen," she added.
Anti-Semitism: American Visiting Berlin Hit in the Face After Saying he was Jewish | News