I grew up as a trans child in Atlanta in the 1980s. Between being unable to truly see and express myself, cultural hostility and a disapproving family, I faced many barriers. The journey to become who I actually am has been challenging but is nothing compared to what trans youth face today.
Today, we are experiencing an organized force that is trying to erase trans youth from public life: organizations, billionaires and religious extremists have been working for decades to create laws and influence public opinion to harm and attack trans people.
Since the 1980s, there has been a proliferation of institutions on the right with innocuous sounding names but an ominous goal. Organizations such as Family Research Council, Family Policy Alliance and Alliance Defending Freedom are all seeking to enshrine religious extremism—cloaked as religious liberty—into American law. They base attacking trans rights on Biblical interpretation but this isn't your grandmother's Christian fundamentalism—it's far beyond that.
In fact, the Family Research Council and Alliance Defending Freedom (ADF) have been designated as hate groups for fomenting antipathy toward trans people. Their partner organization, The Heritage Foundation, works to mainstream their views into respectable think-tank, thought pieces and policy white papers.
The bottom line is that these different components of the anti-trans hate machine all have specific roles but they unite to form one force which has gained surprising traction. Just over a year ago, these organizations, along with dozens of others, came together to form an umbrella organization called Promise to America's Children. A founding principle of Promise to America's Children is to push trans kids out of the public sphere. And they are hard at work at it. Promise has developed copy and paste, model anti-trans legislation, which has been introduced and passed this year, including legislation that either seeks to ban trans children from sports or from getting the medical care that their doctors, parents and therapists say that they need.
In 2021, lawmakers in 35 states across the country, cultivated by this vast operation, have put forth 127 bills targeting trans kids, a major increase from the six introduced in 2019. Further, this year alone, nine states have passed some form of anti-trans legislation with help from Promise to America's Children and its partner organizations like Alliance Defending Freedom (ADF).
This has happened recently with ADF and the anti-trans sports legislation they are pushing. In 2019, ADF sued the state of Connecticut to stop Andraya Yearwood and Terry Miller, two Black trans girls, from running track with mostly cis white girls. That case then led to Idaho Representative Barbara Ehardt to seek out ADF's help in drafting an anti-trans sports bill. That bill, HB500, named The Fairness in Women's Sports Act, passed last year in Idaho in order to ban trans athletes from competing in sports with their cisgender counterparts. A major boost for it becoming law was ADF's backing and promise to defend it in court.
All of these political and legal maneuvers by outside national groups ultimately hurt trans youth.
I recently interviewed Lindsay Hecox, who is at the center of the Idaho case, for the upcoming investigative-series podcast, The Anti-Trans Hate Machine. Hecox's story is now all too common in our country: a young trans athlete caught in the crossfire of anti-trans attacks in a case that has garnered national attention. Hecox wanted to compete on the cross-country team at Boise State University only to find herself in a battle with HB500. This fight has created obstacles to her fulfilling this dream. "Running is a core part of who I am. Running keeps me alive," she said.
HB500 now has become the gold-standard for right-wing legislators across the country seeking to ban trans girls like Hecox from sports.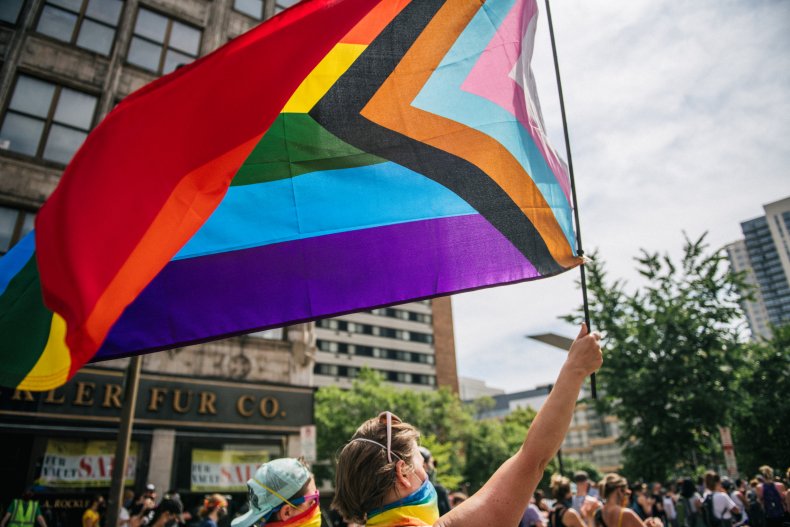 Through a sprawling network of organizations, the anti-trans hate machine has been able to drive both public discourse and legislative action on an epic scale. However, none of this would be possible without a stream of seemingly inexhaustible cash.
The Devos-Prince clan, which includes an array of foundations such as The Richard and Helen Devos and The Edgar and Elsa Prince Foundations, have backed these groups since the Reagan administration. Focus on the Family, the Family Research Council and The Heritage Foundations all have buildings or centers made possible by members of the Devos and Prince families. Since 2010, according to public records, nearly $15 million dollars have been provided to anti-trans organizations by these American dynasties.
Alongside these prominent givers are even more significant contributions from a dark-money organization used by far-right billionaires and millionaires. The National Christian Foundation (NCF), a donor-advised fund established in 1982, dwarfs all of the money given out by the Ford Foundation—the nation's largest traditional, philanthropic group—by 2.5 times. NCF is the largest funder of anti-LGBTQ groups in the country by far, accounting for 1 out of 3 dollars that the Alliance Defending Freedom receives each year.
The far-reaching anti-trans machine is lubricated with staggering sums of money, and it is one of the key reasons why it has only gotten stronger throughout my lifetime.
So what can young trans people and the people who care about them do to stop it?
Well, first and foremost, we must all acknowledge the scale of the operation arrayed against trans youth. No one can solve a problem that they don't acknowledge.
For far too long the issue of trans rights has been perceived as the latest iteration of the culture war. But it is clear to everyone in the trans community and ally community that the time, money and resources poured into the anti-trans hate machine underscore that the issue of trans rights is not a marginal or ancillary fight for the far-right but a central one.
Once these hard truths are embraced, an operation matching and exceeding the anti-trans hate machine will emerge. Americans of all backgrounds will come together to ensure that trans youth, like Hecox in Idaho, won't be used as pawns to push a vision of the country grounded in religious extremism.
But until that happens, the anti-trans hate machine will continue to grow, consequently endangering children who only want to be themselves without being singled-out for attack.
Imara Jones is the founder and creator of TransLash Media, a trans journalism and storytelling project. She is a Pop Culture Collaborative Becoming America Pluralist Visionary and host of the new podcast The Anti-Trans Hate Machine: A Plot Against Equality.
The views expressed in this article are the writer's own.